A College Student Got Death Threats After Donald Trump Bashed Her on Twitter
This is a scary sign of what's to come.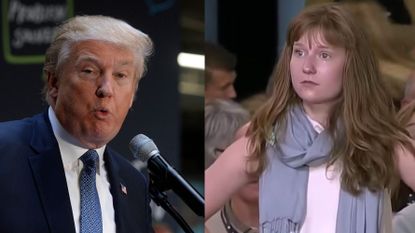 (Image credit: MSNBC / Getty )
Lauren Batchelder just wanted to get her point across. Last year, the college student attended the No Labels political forum in New Hampshire and asked a question of Donald Trump, saying she didn't think he was "a friend to women." Little did she know that one statement would turn into a living hell for her.
The next day, Trump tweeted about her, calling her an "arrogant young woman" and accusing her of being a plant from Jeb Bush's campaign, where she once volunteered. (She wasn't.) She opened up in an interview for The Washington Post about what happened next: violent, sexual threats against her life, driving her to flee back home with her family.
Batchelder said that it wasn't Trump who worried her, but it was how his supporters behaved that left her truly frightened. "I didn't really know what anyone was going to do," Batchelder, now 19, told the newspaper. "He was only going to tweet about it and that was it, but I didn't really know what his supporters were going to do, and that to me was the scariest part."
She says the threats against her haven't let up. Just a few days before the election, she got this disturbing message: "Wishing I could f---ing punch you in the face. id then proceed to stomp your head on the curb and urinate in your bloodied mouth and i know where you live, so watch your f---ing back punk."
Getting elected hasn't changed Trump's strategy either, and the way he calls out individual critics on Twitter is a scary sign for how our next president will deal with people who disagree with him. Chuck Jones, a union chief who said Trump inflated the numbers on jobs he "saved" at a Carrier facility in Indianapolis, said that when Trump tweeted about him, he immediately started getting threatening calls. Jones said his phone started ringing with people saying they knew where he lived, what car he drove, and who his kids were.
Follow Marie Claire on Facebook for the latest celeb news, beauty tips, fascinating reads, livestream video, and more.
Megan Friedman is the former managing editor of the Newsroom at Hearst. She's worked at NBC and Time, and is a graduate of Northwestern's Medill School of Journalism.