This Is Real: Deportation Agents Detain a Woman About to Get Emergency Surgery
Sooo...now people can't feel safe at the hospital?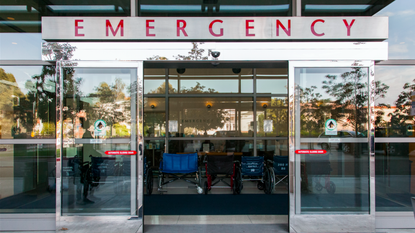 (Image credit: Getty Images)
Update, 3/3: According to Amnesty International, Sara Beltran-Hernandez, a 26-year-old single mom who suffered complications of a brain tumor while under the watch of immigration authorities, will be released from the detention facility and receive the surgery she has long been awaiting. An asylum claim is being processed and she will be allowed to live with family in New York until that process is completed.
Original Post, 2/24: An undocumented woman from El Salvador waiting for emergency surgery to remove a brain tumor was taken from a Texas hospital Wednesday night and detained. Despite being critically ill, Sara Beltran-Hernandez, 26, was ripped from her hospital bed (opens in new tab) by Immigration and Customs Enforcement agents, who bound her hands and feet. Beltran-Hernandez was so ill she had to be taken from the hospital in a wheelchair.
Her detention comes as President Donald Trump ramps up immigration enforcement around the country—and raises some questions about deportation priorities. Former President Obama focused primarily on deporting undocumented immigrants who committed violent crimes. Trump has expanded that policy to include people who have committed minor crimes. But, here's the rub: ICE officials confirmed Thursday that Beltran-Hernandez has no criminal record (opens in new tab), the New York Daily News reported.
She was captured by immigration authorities in November 2015 after reportedly fleeing from a domestic abuser in El Salvador. Her deportation was ordered last month by a judge, and she was being held (opens in new tab) in a detention facility in Texas.
That changed on February 11, when she collapsed at the facility after experiencing severe headaches, memory loss and nosebleeds. She was scheduled to have emergency surgery this weekend, and doctors were reportedly stunned when federal agents came to remove her from their care.
"I feel dizzy with pain," Beltran-Hernandez told an attorney who visited her Thursday, says the Associated Press. "Heavy eyes. Nausea. If I walk fast, I feel dizzy. Noise really bothers me. I have not eaten since yesterday . . . because I have no appetite. Sometimes, I forget things."
Attorney Chris Hamilton tried to visit the detention facility Wednesday night but was threatened with arrest (opens in new tab) for trespassing. Her legal team has filed a successful motion to get her medical records, but the family has little control over her medical care.
"I consider this a direct threat to democracy," Hamilton told the New York Daily News. "The basic constitutional rights of access to counsel and due process are what prevent people from being disappeared."
Follow Marie Claire on F (opens in new tab)acebook (opens in new tab) for the latest celeb news, beauty tips, fascinating reads, livestream video, and more.