Sales of Ivanka Trump Clothing Are Way Up
So, Kellyanne Conway's endorsement worked?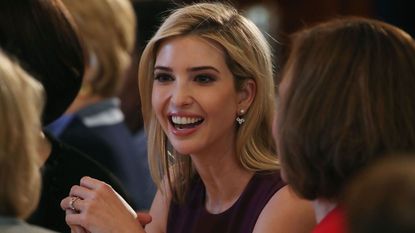 (Image credit: Getty Images)
White House adviser Kellyanne Conway gave a controversial endorsement of Ivanka Trump's clothing brand on national TV last month, and it seems like it might have helped. February was the brand's most successful month ever, according to multibrand online retailer Lyst.
"If you compare February to Ivanka Trump's average orders in 2016, the brand sales increased 557 percent" a representative from Lyst told the Telegraph. A fivefold increase for the brand is surprising; the clothing line spike comes just a month after retailers such as Neiman Marcus and Nordstrom announced that they were dropping the brand from their stock because of poor sales.
Abigail Klem, president of the clothing line, said it has seen "some of the best performing weeks" in its history. In an interview with Refinery 29, she added, "For several different retailers Ivanka Trump was a top performer online, and in some of the categories it was the [brand's] best performance ever."
The increase in sales comes amid an ongoing boycott of Trump's father's businesses. It's not clear how much of the increase comes from Conway's TV endorsement and how much comes from the line's own success. Ivanka has been spotted in her own line more often recently, and the company made a big marketing push for yesterday's International Women's Day.
Follow Marie Claire on Facebook for the latest celeb news, beauty tips, fascinating reads, livestream video, and more.