President Trump Thinks His Instincts Are as Good as Facts
Seems legit.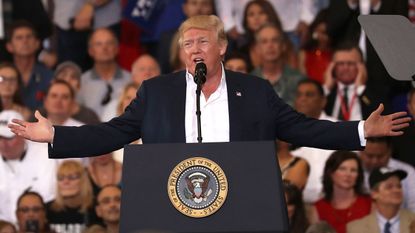 (Image credit: Getty Images)
Marie Claire Newsletter
Celebrity news, beauty, fashion advice, and fascinating features, delivered straight to your inbox!
Thank you for signing up to Marie Claire. You will receive a verification email shortly.
There was a problem. Please refresh the page and try again.
Donald Trump goes with his gut when it comes to making allegations . In an interview published Thursday with Time magazine, the president spoke about his way of handling what's true and false. Specifically, he discussed several of the issues he has been most criticized for: his accusations that President Obama wiretapped him, a statement he made where he seemed to suggest there had been an attack in Sweden the night before, and his charge that 3 million people voted illegally in last year's presidential election.
In the interview, the president said his instincts are the reason why he sometimes makes assertions before they are proven (or disproven). "I'm a very instinctual person, but my instinct turns out to be right," he said.
He referenced other things he correctly predicted, such as Brexit passing, to support his claims. But when asked about some of the things he's said that were untrue, such as his allegation that Ted Cruz's father was involved in the John F. Kennedy assassination, Trump simply brushed it off. "Well that was in a newspaper," he said. "I wasn't, I didn't say that. I was referring to a newspaper."
Trump's reliance on his own instincts before something has been confirmed are worrisome. A large portion of the American population look to the president for information, and while some of his statements have turned out to be correct—like Hillary Clinton being shown interview questions ahead of time—others have been very, very false.
He has accused both former President Obama and the British government of wiretapping him. Both have rejected his claims, and FBI director James Comey testified to Congress that there was no evidence of a wiretap.
He referenced something that "happened" in Sweden, referring to a night where nothing happened in Sweden. Though Trump later said he was referring to increasing violence in the country, even that picture is misleading. The Swedish crime rate is complicated, but reports that suggest it's more dangerous now than a few years ago are cherry-picked.
[editoriallinks id="098e539e-8bb6-4b09-87f7-bb58c6c41c3c"][/editoriallinks]
RELATED STORIES
And as for his assertion that 3 million people voted illegally? "Well," he said, "I think I will be proved right about that too."
Whether his assertion about illegal voting turns out to be true (highly unlikely), Trump does not appear to see anything wrong with his conduct. He concluded his Time interview, saying: "Hey look, in the mean time, I guess, I can't be doing so badly, because I'm president, and you're not."
Follow Marie Claire on Facebook for the latest celeb news, beauty tips, fascinating reads, livestream video, and more.
Celebrity news, beauty, fashion advice, and fascinating features, delivered straight to your inbox!