Bill O'Reilly Is Out at Fox News After Multiple Sexual Harassment Allegations
Tucker Carlson will reportedly take his place.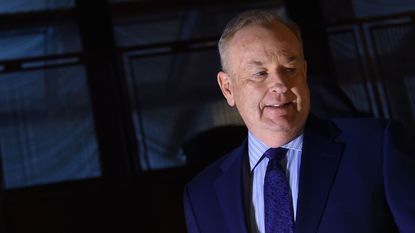 (Image credit: Getty Images)
Update 4/19: Bill O'Reilly has released a statement to the media in response to 21st Century Fox's announcement of his departure:
BREAKING: Statement from Bill O'Reilly, who is currently on a plane back from Italy >> pic.twitter.com/UCnUjNQSrSApril 19, 2017
See more
Original Story 4/19: Bill O'Reilly, the host of the popular Fox News show The O'Reilly Factor, is out at the network after a string of sexual harassment allegations, Fox announced Wednesday. The decision comes after a New York Times investigation (opens in new tab) claimed that the network stood by O'Reilly despite multiple allegations of sexual harassment; the report alleged the network and O'Reilly reached settlements with five accusers that added up to $13 million. After that report came out, dozens of advertisers publicly dropped their support for his show (opens in new tab). O'Reilly has consistently denied the allegations.
21st Century Fox released the following statement (opens in new tab) Wednesday:
In a note to Fox employees (opens in new tab), Rupert Murdoch and his sons, Lachlan and James, elaborated on the brief statement, praised O'Reilly's success, and ultimately stressed how important an appropriate workplace environment is.
NPR's David Folkenflik reported (opens in new tab) that Tucker Carlson will take O'Reilly's prime 8 p.m. time slot. In an interview with the New York Times (opens in new tab) on April 5, President Trump called O'Reilly a "good person," saying, "I don't think Bill did anything wrong."
According to the Los Angeles Times (opens in new tab), O'Reilly was by far the biggest star on Fox News, and Nielsen calculated 3.98 million people tuned in every night. Carlson was second in the ratings in the first quarter of 2017, with 3.27 million viewers. Losing The O'Reilly Factor could lower Fox News' ratings by as much as 25 percent, the newspaper estimated.
O'Reilly's exit comes less than a year after longtime Fox News chairman Roger Ailes resigned from the network, following a string of allegations of sexual harassment. Former host Gretchen Carlson accused Ailes of firing her for refusing to have sex with him, and other accusations followed, according to The Guardian (opens in new tab). Ailes insisted he fired Carlson because of low ratings, and denied the sexual harassment allegations.
We're nominated for a Webby Award—but we need your vote to win! Vote for the Women and Guns project here. (opens in new tab)
Megan Friedman is the former managing editor of the Newsroom at Hearst. She's worked at NBC and Time, and is a graduate of Northwestern's Medill School of Journalism.