Who's the Sexiest of Them All?
With an election looming, voters focus on what's really important.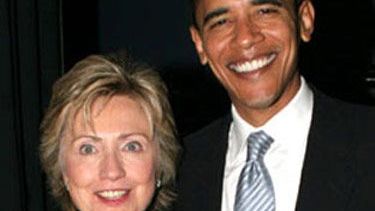 (Image credit: Arnold Turner)
I was standing in the kitchen with my 10-year-old goddaughter when she plugged in her pink iPod and began shaking her prepubescent booty (her bootylita?). Then, arms flailing in the air, she sang these off-pitch words: "I got a crush on Obama." I placed my iced tea gently on the table. Excuse me, but when did presidential candidates become objects of young lust? I don't recall peering up from under my patchwork quilt and seeing a Jimmy Carter poster next to a shirtless David Cassidy.
I can't tell you how many Washington dinners I've attended lately where the topic of how to stop the bloodshed in Iraq suddenly gives way to who's sexier, Barack or Hillary? Not long ago, Clinton could be seen on C-SPAN2 discussing the cost of higher education, which prompted an article in the Washington Post focused on the fact that the black V-neck shirt she wore during the speech seemed to reveal a bit of cleavage. Will that small airspace between her breasts really win her more votes? Personally, I'd rather have Clinton focusing on health-care reform than icing her nipples.
But it's not just the lone female candidate getting all the scrutiny. On Hardball recently, Chris Matthews wondered aloud what makes Fred Thompson sexy. "Is it the mature older-man [thing]? ... can you smell the English Leather on this guy?" Surely Thompson's virile effect owes something to his curvaceous blonde wife young enough to be his daughter, with the stripperlike name of Jeri. (Imagine the White House Christmas card.) Meanwhile, Mitt Romney's conventional handsomeness is being upheld as the sharpest arrow in his quiver. Yes, he's chiseled and has good skin, but will he raise taxes? That's not sexy!
They say that in the past two elections, votes were cast on the basis of with whom you'd want to have a beer. This time, it's about with whom you'd want to sleep. Maybe the country is experiencing a seven-year itch? Seven years of a sexless administration will do that. President Bush, with his "lights out at 9" policy (I picture pajamas and twin beds), and Laura looking so pinched and frustrated — the populace is champing at the bit for some sort of hot political climax.
Not that the presidency has, to this point, been a beacon of rectitude. A photo of perky Donna Rice on the lustful lap of Gary Hart sank his candidacy, while Bill Clinton's escapades with a cigar and a blue dress almost cost him his job. Both, however, were pre-YouTube and pre-"John Edwards Is Sexy" T-shirts being sold on the Web. Now people who refer to themselves as "Obama Girl" and "Giuliani Girl" can perform their candidate-crush smackdown for an audience of millions. Who needs debates?
But YouTube has done no favors for Edwards. Not only did he catch flack for his $400 haircuts, there's the disturbing four-minute video called "Breck Girl," in which the populist with the country drawl pats and perfects his locks before a TV appearance. You would think he'd have notes to go over, a breathing exercise, something.
We live in scary times, where award-winning journalists froth at the mouth for an exclusive sit-down with Paris Hilton, and everyone on TV, on YouTube — even presidential candidates — is that undifferentiated thing: a celebrity. Given what's at stake in this election, maybe it's somehow more palatable to fixate on sex appeal.
If so, after the Iowa caucus, why don't we just cut to the chase and add a swimsuit competition? Hillary could wear a silver bikini and juggle fire sticks while singing the national anthem. Then we'll see if she's got the balls — and the cleavage — to be president.
Marie Claire email subscribers get intel on fashion and beauty trends, hot-off-the-press celebrity news, and more. Sign up here.