International Women's Day: Let's Love the Ladies!
March 8 is International Women's Day! All around the globe, events will be held, conferences given and craft fairs created to celebrate the awesome-ness of womankind.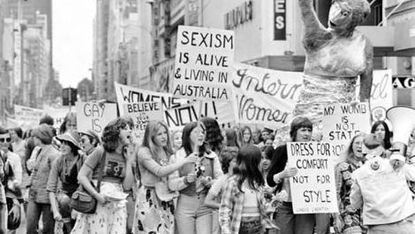 (Image credit: Archives)
Today, women may finally be able to have it all. Women go to outer space, write captivating screenplays, create (and model!) couture fashion, raise little ones and even run for president. Though we often praise the women in our lives on a small, personal level, March is the month where women are celebrated on a huge, international scheme for International Women's Month. The event may be a month-long celebration, but March 8 is the heart of it all: International Women's Day. It's a time to vamp up the praise, and look not just at the leading ladies of our own lives, but at the leading ladies of the world — past, present, and even future.
International Women's Day (IWD) has been around for over a century. Through the years, IWD provided a platform for ladies to express their dissatisfaction with the workforce, voting rights, or the status-quo of being designated housewives, while also celebrating the women who were making it out in the big world — writing books, starring in films, sitting in the front seat of buses or flying airplanes (props to Rosa Parks and Amelia Earheart; we still love you!). A century later, it's become more a celebration of how far we've come rather than a look at how far we have yet to go.
IWD is celebrated in more than 60 countries, and in some, it's even become more popular than Mother's Day (not to say we should ever forget Mother's Day, obviously). IWD events include everything from photo collections (publications and magazines gathering photos of women in their best heels, for instance) to erotic art shows (what better example of how far we've come than our sexual liberation), from conferences with titles like "Empowering Women: Changing Lives" to handmade craft fairs.
We're hoping you'll all join the cause for womanhood. Even if you can't partake in the events, send out a tweet with your wish for womankind. Using the hashtag #WomenWishes, tell us what you hope to see in the future of females — what you think needs to happen, what you hope will happen or what you don't think is happening enough. You can send a shout out to a leader of ladies, or even just tell us what is about women that's so completely awesome. And for more #WomenWishes coverage, follow @MarieClaire_W for MC's Women's Day account!
Celebrity news, beauty, fashion advice, and fascinating features, delivered straight to your inbox!