The Blogger vs. The Dictator
She's been called a liar, a traitor, a spy, and a hero. Cuban dissident Yoani Sánchez first caught the world's attention with — what else? — a blog.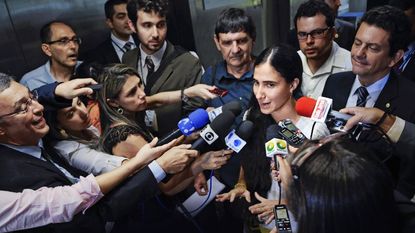 (Image credit: Archives)
Yoani Sánchez hurries through the United Nations headquarters, her long hair swinging around her waist. Wearing dangly earrings and no makeup, she has the look of a 1960s flower child. But she's far from mellow. One of the world's most influential bloggers, she's in New York City as part of a risky 12-nation tour, openly criticizing the communist regime in Cuba, where she lives. In her country, that kind of talk can get a person jailed.
A day ago she was on Capitol Hill. Tonight she heads to Amsterdam. Now she makes her way across the labyrinthine U.N. compound for a speech. "I want to talk about the real Cuba," she says in Spanish through a translator. "Not what you read in magazines, where it's an island where everybody drinks rum or everyone is in military fatigues."
Sánchez, 37, has been telling the world about life in closed-off Cuba since 2004, when she launched an online magazine and then a blog called Generation Y, where she rattled off thoughts on everyday Cuban existence and critiqued Fidel Castro's government for squashing free elections and free speech. Although Cuban authorities are notorious for imprisoning dissenting writers, they didn't attempt to shut down Sánchez's blog because "the government greatly underestimated the Internet," she says.
Left unchecked, Generation Y rocketed out to computer screens around the planet, reaching millions of readers eager for rare frank dispatches from the island. In 2008, Time named Sánchez one of the world's 100 most influential people. Then she interviewed President Barack Obama for her blog. Her newfound global superstar status made it difficult for authorities to silence her. "When they realized the virtual world was so powerful, it was too late. I had already become recognized. I had a protective shield."
Not that she hasn't suffered consequences: Sánchez says she has been arrested four times, including one incident that left her with a knocked-out tooth. She says she is regularly "slandered in the state-run media." Her family is "radioactive," says Sánchez, who is married to a journalist and has a teenage son. "We have people who won't come near us" out of fear, she says. "We've lost many friends."
And yet, Sánchez doesn't quit. Her world tour, made possible through support from human-rights groups and universities, marks the first time the blogger has left her native country in a decade. Officials denied her an exit visa some 20 times in the past few years, she says. Recently, President Raúl Castro loosened visa rules, allowing her to set forth in February. Now, after criticizing the Castro regime around the globe, she worries about what awaits her back home. (At press time, she was scheduled to return to Cuba in May.)
Sánchez dates her idealism back to when she was 5. Thousands were fleeing Cuba amid an economic slump, boarding boats in the Mariel Harbor with the government's blessing. Sánchez remembers looking down from the balcony of her Havana tenement and seeing a furious mob harassing a family that wanted to leave. "They were shouting, 'Down with traitors! Long live Fidel!'" she says. The nightmarish image stayed with her.
"I don't consider myself a person who is especially strong," she says, when asked what drives her. "Strength comes from my family, my child, and the grandchildren I don't yet have. One day I will have to answer when my grandchildren ask: 'What did you do when there was a dictatorship in your country?'"
Abigail Pesta is an award-winning investigative journalist who writes for major publications around the world. She is the author of The Girls: An All-American Town, a Predatory Doctor, and the Untold Story of the Gymnasts Who Brought Him Down.