The Crying Game
Funeral Crying Traditions in Taiwan - Different Cultures and Different Traditions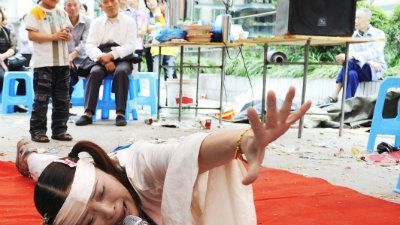 (Image credit: marie claire )
Crying your eyes out doesn't sound fun, but it can be a lucrative business in Taiwan. Jun-Lin Liu is a professional mourner: She gets paid to weep at strangers' funerals. Wearing a white robe, Liu crawls to the foot of the deceased's coffin, then lets rip a series of high-pitched cries. "It's an old tradition here," says Liu, 30, who charges fees starting at $600. "When loved ones die, people are emotionally exhausted. I express the grief they're too tired to show."
Professional mourners also exist in India, the Middle East, and Africa, and their popularity is returning to mainland China as the country rediscovers pre-communist traditions.
Liu performs at as many as 12 funerals per month. Sometimes she includes a colorful acrobatic performance with a group of young female employees. "Demand for my services is rising, so I hope it continues," says Liu. She'll have little to cry about then.