Prince William to Leave British Military to Focus on Royal Duties and Charity Work
Prince William will leave the Royal Air Force to focus on his royal duties and charity work.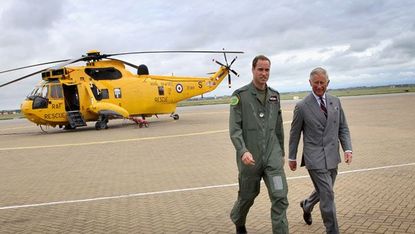 (Image credit: Getty)
Prince William's duties in the Royal Air Force (RAF) came to a conclusion earlier this week, according to BBC News (opens in new tab). His more than seven years of service included time spent in search and rescue, often saving lives in "demanding conditions." His departure from the RAF means he can now focus his talents and time on wildlife and endangered species conservation, a cause he cares deeply about and one he shares with his wife and brother.
They have formed the Royal Foundation of The Duke and Duchess of Cambridge and Prince Harry, which has partnered with seven of the world's most powerful conservation organizations under "United for Wildlife", a long-term commitment to preserve the world's natural resources. The Duke and Duchess will make an appearance this evening at the inaugural Tusk Conservation Awards at the Royal Society in London.
Prince William's departure also means a royal move from their current home in the small town of Anglesey to the much more glamorous Kensington Palace in London, where their apartment has been under construction for some time. The move begins a year-long transitional phase for William, which will eventually see him becoming a "full-time"royal. And here's hoping that his new role allows him to spend tons more time with this little one.