Hillary Clinton, Again, Brings the Fight for Women's Rights to the World Stage
Check out how Hillary Clinton is fighting for women's rights.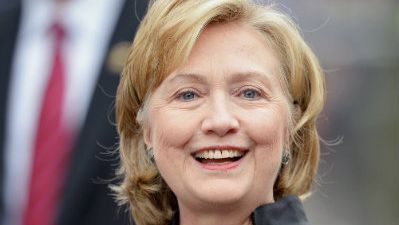 (Image credit: Archive)
It's been nearly 20 years since then First Lady Hillary Clinton famously declared, "If there is one message that echoes forth from this conference, let it be that human rights are women's rights and women's rights are human rights, once and for all," at the Fourth Conference on Women held in Beijing in 1995.
You might hear that declaration and think duh, but at the time it was major news, garnering headlines around the globe and bringing the fight for gender equality to the world stage. Yesterday, Clinton announced it was time for a progress report. "It's time for a full and clear-eyed look at how far we have come, how far we still have to go and what we plan to do together about the unfinished business of the 21st century the full and equal participation of women," she said at the Clinton Global Initiative's annual conference in New York.
As part of the two year assessment, Clinton said she will also launch initiatives to promote women in business, technology, and agriculture to the developing world. According to Bloomberg News, those initiatives will include bringing Internet access to five million women in Africa, creating a pipeline of 2,000 female technology employees in developing countries, and providing supplies and mentorship to 15,000 female entrepreneurs.
It's encouraging to see Clinton yet again give gender equality a global profile. While some countries are showing signs of progress—Japan's Prime Minister Shinzo Abe just authored an op-ed in The Wall Street Journalon how women are key to his country's economic growth, other countries—Egypt, Afghanistan, China, to name a few—have taken steps backward in recent years, curbing women's rights rather than increasing their prominence in society. And hey, it gives Clinton something to do while she mulls a presidential bid.
To learn more about the Clinton Foundation's programs to empower women and girls worldwide, visit:

http://www.clintonfoundation.org/our-work/by-topic/women-and-girls

.
Kayla Webley Adler is the Deputy Editor of ELLE magazine. She edits cover stories, profiles, and narrative features on politics, culture, crime, and social trends. Previously, she worked as the Features Director at Marie Claire magazine and as a Staff Writer at TIME magazine.