Beyond Borders
A little-known piece of immigration legislation is leaving the futures of thousands of women hanging in the balance.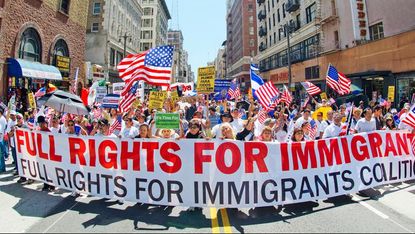 (Image credit: Joe Klamar/AFP/Getty Images)
While Congress bickers over whether to include a path to citizenship for undocumented immigrants in the pending immigration overhaul, many immigrant women who are here legally are waiting for legislators to take action on a much less controversial piece of the reform package. One of those women is Audrey Belliard Smit, 31, a French citizen who met her Danish husband in Ireland in 2007 when they were at roughly the same place in their advertising careers. A few years later, her husband started a new job in New York City.
He was granted an H1B visa—the type given to highly skilled workers whose expertise is in demand in the U.S. But despite years of work experience at Microsoft and AOL, without a sponsor of her own, Belliard Smit was given an H4 visa—the type commonly awarded to dependents of H1B holders—and told she was not allowed to work. "It was a shock," she says. "I was very career-driven; professional success has always been a big thing for me." Sure, the time at home with the couple's two young daughters has been nice, but after being out of the workforce for three years, Belliard Smit is eager to get back in. "When I look at how my husband's career has progressed, that's when it really hits me," she says. "I can't help but think, when will I get to move forward with my career, too?"
Belliard Smit is one of hundreds of thousands of spouses, primarily women, who are allowed to live in the U.S. with their spouses but not allowed to have a job. In essence, they're forced into a situation of dependency, which can cause a strain on their marriages, rather than being able to contribute to both their family's income and the economy. These women are often just as well-educated as their partners, but they're treated unequally. "It's inhumane," says Vivek Wadhwa, an immigration researcher at Stanford University. "What sort of country is this that brings people in but doesn't give them equal rights?"
H4 visas have been nicknamed "depression visas"—there's even a Facebook group called "H4 visa, a curse" that has more than 3,500 members. It was started by Rashi Bhatnagar, 30, who holds a master's degree from her home country of India, where she worked as a journalist before moving to the U.S. in 2009 with her software engineer husband. She attends as many as three classes a day at her gym to keep herself occupied. "I see a lot of women going to work, and I stay home alone," she says. "I want to do something of my own. Back home I was very independent, but here my confidence is gone."
Both the Senate and House versions of the immigration legislation currently under debate include a provision that would allow H4 visa holders to work. According to the Migration Policy Institute, legislators of both parties are mostly in favor of the provision, but as a piece of the larger, divisive reform package, it's unlikely anything will change for these women anytime soon. (A version of the immigration package passed the Senate in June, but at press time another version was stalled in the House.) "I need out of this situation," Belliard Smit says. "I need the freedom to do what I want with the skills I have. I could do so much more."
Kayla Webley Adler is the Deputy Editor of ELLE magazine. She edits cover stories, profiles, and narrative features on politics, culture, crime, and social trends. Previously, she worked as the Features Director at Marie Claire magazine and as a Staff Writer at TIME magazine.