Gabby Giffords Marks Third Shooting Anniversary by Skydiving (VIDEO)
'Grit can overcome paralysis.'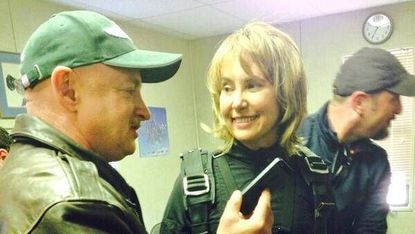 (Image credit: Gabby Giffords Twitter)
On the third anniversary of the Tuscon, Arizona shooting that left her partially paralyzed and took the lives of six others on January 8, 2011, former U.S. Representative Gabrielle Giffords decided to celebrate how much she has overcome since being shot in the head by jumping out of a plane.
Skydiving was a favorite hobby of the former Congresswoman prior to the shooting and her return to the sport shows just how far she has come. Announcing the jump on Twitter, she also noted she is gaining back movement in her right arm. "Grit can overcome paralysis," she tweeted.
Giffords, 43, also marked the anniversary by penning an op-ed in The New York Times on gun control, a cause she has advocated for since her recovery. Last year, after the shooting at Sandy Hook Elementary School killed 26 children and six adults, Giffords and her husband retired astronaut Mark Kelly started a nonprofit organization called Americans for Responsible Solutions to change laws and reduce gun violence.
"Predictably, Washington disappointed us during the first year of our work," Giffords wrote. "Many of you were outraged at the failure of the Senate to pass the background checks bill, and so was I." (In April, the Senate defeated a bill that would have extended background checks to sales at gun shows and all Internet sales; 86 percent of Americans supported the measure, according to a Washington Post-ABC News poll at the time.)
Undaunted, Giffords wrote that she plans to continue her fight: "Our fight is a lot more like my rehab. Every day, we must wake up resolved and determined. We'll pay attention to the details; look for opportunities for progress, even when the pace is slow. Some progress may seem small, and we might wonder if the impact is enough, when the need is so urgent. But every day we will recruit a few more allies, talk to a few more elected officials, convince a few more voters. Some days the steps will come easily; we'll feel the wind at our backs. Other times our knees will buckle. We'll tire of the burden. I know this feeling. But we'll persist."
The Today show was with Giffords as she went skydiving. Check out her tweets and watch her jump out of plane below.
https://twitter.com/GabbyGiffords/statuses/420956132710957057
https://twitter.com/GabbyGiffords/statuses/420956366837010433
Visit NBCNews.com for breaking news, world news, and news about the economy
Kayla Webley Adler is the Deputy Editor of ELLE magazine. She edits cover stories, profiles, and narrative features on politics, culture, crime, and social trends. Previously, she worked as the Features Director at Marie Claire magazine and as a Staff Writer at TIME magazine.