Pussy Riot Members Arrested, Again
Pussy Riot is arrested and released. But why?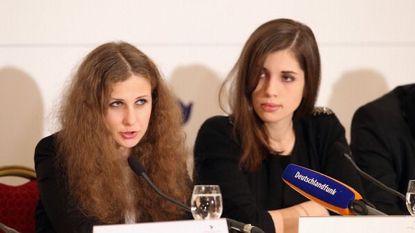 (Image credit: courtesy of getty)
Pussy Riot members, Nadezhda (Nadya) Tolokonnikova and Maria Alyokhina, were arrested earlier today in Sochi, Russia, according to The New York Times (opens in new tab). Tolokonnikova posted a photo on Twitter from a police bus with the caption reading that she was being taken to the Alder region of Sochi. Tolokonnikova confirmed to The New York Times that they were arrested and taken to police station. According to Tolokonnikova, the group was in Sochi to hold a protest against President Putin during the Olympics, although the group was simply walking when they were arrested. On her Twitter account, Tolokonnikova also mentioned that the police used force during the arrest. The women have now been released.
The arrests come as no surprise as Pussy Riot has been on Russia's radar for their protest in Moscow's main church (opens in new tab) in February 2012, which criticized President Vladimir Putin. Members Tolokonnikova and Alyokhina were intitially sentenced for two years but let out two months before their sentences ended.