Letter Alleges Harvard Did Little to Assist Student After Sexual Assault
Nine months after an alleged assault, student writes "Dear Harvard: You Win"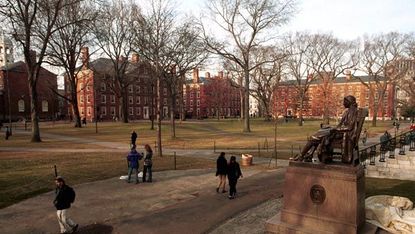 (Image credit: Archive)
Marie Claire Newsletter
Celebrity news, beauty, fashion advice, and fascinating features, delivered straight to your inbox!
Thank you for signing up to Marie Claire. You will receive a verification email shortly.
There was a problem. Please refresh the page and try again.
The Harvard Crimson published an anonymous letter yesterday from a student who says the prestigious university did little more than prescribe her anxiety medication to help her deal with the aftermath of being sexually assaulted by a friend.
The student describes the alleged assault, writing:
"He was a friend of mine and I trusted him. I said no. I was intoxicated, I was in pain, I was trapped between him and the wall, and I was scared to death that he would continue to ignore what I said. I stopped everything and turned my back to him, praying he would leave me alone. He started getting impatient. "Are you only going to make me hard, or are you going to make me come?" he said in a demanding tone. It did not sound like a question. I obeyed."
After reporting the assault, the student says she was told by a senior member of the college administration that the Administrative Board was unlikely to "issue a charge" against her assailant or to launch an investigation because the student "may not have technically violated the school's policy in the student handbook" on sexual assault. That policy, written in 1993, defines indecent assault and battery to be anything involving "unwanted touching or fondling of a sexual nature that is accompanied by physical force or threat of bodily injury." The author of the letter was told she could still press charges in front of the Ad Board, but was told they "would probably be dropped because my situation did not match the language of a 20-year-old policy." (Even though her alleged assault very much appears to meet the definition.)
When she told her House Master she was thinking of pushing ahead with an Ad Board hearing anyway, she was told it was a bad time of the semester and that there was little point in going through the process if it was going to be fruitless. She was told to forgive her assailant and move on. Making matters worse, her resident dean told her her attacker couldn't be punished because he "didn't know what he was doing" and compared their living situation to a divorced couple working in the same factory. Someone at University Health Services asked if it was possible her drinking habit was to blame.
Without a formal investigation, the student was unable to get her attacker moved to another House. "And so I found myself in the middle of the worst scenario possible: I couldn't get Harvard to move my assailant to a different House without going to the Ad Board, but I could not go to the Ad Board because of the school's narrow policy." Instead she was left to encounter him around her House as many as five times a day, which resulted in her developing both an anxiety disorder and depression. She writes:
In the end, it's the anonymous student who will have her life uprooted, essentially punishing the student for being assaulted. She says:
This is an all too common occurrence on college campuses. As Marie Claire reported in November, schools have an obligation under the law to protect victims of sexual assault. If a policy doesn't allow students to get the help they need, then it's time to change the policy. But regardless of what it says on paper, university administrators have an obligation to care for their students. It's not just a legal mandate, it's the right thing to do. We should expect nothing less than the very best from one of our nation's most heralded universities. Dear Harvard: You can—and must—do better than this.
Read Marie Claire's Big Shame on Campus for more on how colleges nationwide are failing their students.
UPDATE: The Harvard Crimson reports the Undergraduate Council, the student government of Harvard College, has formed a task force reportedly to involve students in the discussion on the school's sexual assault policies. The group will work with an existing student activist group called Our Harvard Can Do Better, which has already detailed a list of six demands, including changing the policy of affirmative consent (aka, just because someone doesn't say no, it doesn't mean they have said yes) and offering sexual assault prevention and response training to all students every year.
Celebrity news, beauty, fashion advice, and fascinating features, delivered straight to your inbox!
Kayla Webley Adler is the Deputy Editor of ELLE magazine. She edits cover stories, profiles, and narrative features on politics, culture, crime, and social trends. Previously, she worked as the Features Director at Marie Claire magazine and as a Staff Writer at TIME magazine.