5 Women Running the Show Behind Iconic Male Brands
It's not a man's world anymore!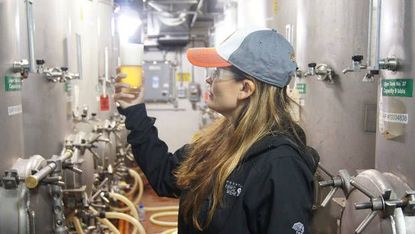 (Image credit: courtesy of subject)
Much has been said in praise of a recent changing of the guard that has ushered women to the helm of large, male-dominated companies. Notably, in the women's firsts category, there is General Motors' Mary Barra, the first CEO of a Big 8 automaker; Jill Abramson, the first editor of the New York Times, and Marissa Meyer, brains behind Yahoo!'s redesign. But women have been working their way up the ladders of male-centric industries across the board. Meet a powerful crew of entrepreneurial ladies breaking gender barriers at companies you may know of—or if not, should.
Rebecca Reid and Jill Vaughn, Anheuser Busch

The bros pounding brews at your local sports bar probably don't realize that their Shock Tops were crafted by a woman. "I get the most surprise from guys. Fifty percent of them say, 'Oh, I expected an older man with a beard,'" says brewmaster and innovations manager Jill Vaughn, who can take credit for concocting the hugely popular Shock Top line. In a St. Louis' pilot brewery, a handful of women are crafting Anheuser Busch's ales, including Vaughn, who holds a master's degree in food science from Ohio State.
Meanwhile, the recipe for Bud Light Platinum was tried and tested by Rebecca Reid, another top brewmaster at Anheuser Busch with a chemical engineering background. "From an ingredient perspective, there's a lot of fun things happening in cocktails, and being able to cull inspiration from that and work that into beer is exciting," she says of her job.
Reid says she's found people are surprised about her chosen profession, but are "very positive." Though Reid didn't grow up as a beer drinker, she was a quick convert. "People think that the job is so exciting and it is—tasting is a big part."
Working at a company with so many different brews must encourage culling certain favorites, but Vaughn refuses to disclose her preferred beer. "That's like asking who my favorite child is," she says.
Lauren Andino, DL boards

Men may outnumber women shredding in the skatepark, but Lauren Andino has been skateboarding since she was 10-years old. Today, she and her boyfriend run a skateboarding company called DL Boards from a cottage in Topanga Canyon, California, though she says she's having too much fun to consider it a business.
"Some people are just more curious about a girl who skates because of their perception that it is traditionally done by guys," she says. "Really, there are tons girls that totally rip skating. I see them all the time. And hopefully there will be more in the future."
Photo Credit: Helen Nishimura
For the past three years, since starting out of a Brooklyn apartment, they've been hand-crafting and painting custom boards for a growing clientele. She has yet to receive a surprised reaction for being a female board maker, but some people have been shocked that she was riding the boards too. "I guess you could attribute that to gender — I mean, if a guy created a handmade skateboard, you would assume that he was at least going to cruise around on it," Andino says. "I make them all the time, and some people still haven't drawn that connection."
Photo Credit: Michael Mabes
Now, the pair offers 16 surf-style cruiser boards made from Oak and hand-painted, via an attitude-filled website http://dlboards.com/ and some local soCal shops. Andino, who's also a regular of the music scene, doesn't mind her male counterparts.
"I guess I've always been in an environment with a male majority. I'm used to it, and it doesn't bother me," she says. "I like to think I get dropped in on just as much as anyone in skate parks."
Jodi Markley, ESPN

When Jodi Markley first started at ESPN in 1989, she remembers finding herself as the only woman in meetings. "Operations is typically a male dominated sector of the television industry," says Markley, who serves today as the first female Senior Vice President of the department. She got the job after planting herself firmly outside the men's bathroom so she didn't miss the hiring manager, and requested to be considered. She got it, but her convincing wasn't over yet. "Once in the role, I constantly needed to remind my colleagues that I had the technical and operational expertise to run this division and eventually they realized I do have all the necessary skills."
Photo Credit: Courtesy of Subject
These skills require her to manage 3,000 live event telecasts each year, three-times the number ESPN did when she first began in her current role. But nowadays, as the company and her role grows, women-less meetings are no longer. "Thankfully now there are many women in a wide variety of roles throughout the company," she says. "I, and other women in executive positions, have influenced numerous positive changes over the years."
ESPN has been gearing up to conquer this ignored half of the market. Five years ago, the company launched espnW, which pledges "to serve women as fans and athletes."
Markley is proud to bring "a unique perspective" to the multi-faceted sports company. "Gender diversity, in fact all diversity, makes any company better as you more accurately reflect the audience you serve."
Valerie Golson, Playboy

Playboy may be known for the women on its pages and under its bunny ears, but a few ladies are also operating the strings backstage. Starting out at Playboy eight years ago, Valerie Golson found herself as the only woman in the conference room. "Everyone assumed I was the assistant or coordinator," she remembers. "But once I opened my mouth and weighed in on topics they realized, 'Oh, wait, she actually knows more than I thought.'"
Photo Credit: Courtesy of Subject
As the vice president of gaming operations at Playboy Enterprises, Inc, Golson has found that she must not only make a name for herself in a male-centric brand, but also in a gaming industry that women still have yet to penetrate both on corporate and user levels.
"As a woman, you really have to go above and beyond to prove your value, while a lot of men just get that automatically," she says.
Playboy may find itself in the center of long-running debates on the exploitation of the female body, but Golson, a soon-to-be mother of two has never felt uncomfortable or disrespected there. "For me it's the opposite. Hef created a brand about strong women, respect, and loyalty. It still lives on 60 years later."
She's found the gaming industry could use a woman's touch, as the number of female gamers increases. "I don't believe in disadvantages.To me, theyare only obstacles you create for yourself. Being a woman at Playboy brings new perspective…An advantage for me is to look past the male demo[graphic] 18-34 and find ways for Playboy to bring women gamers to the forefront."
Brittania Boey, Harry's

Beards may be in, but that doesn't mean razors are taking a backseat. At Harry's, a razor subscription that delivers a scheduled variety of blades to your door, Brittania Boey is curating the best possible male shavers.
"The big thing for me at Harry's is that I don't shave my face," Boey, the Vice President of Product, says. "That's definitely a big physical barrier because I don't have the actual experience—I can shave almost anything else to get a sense of it—but I don't shave my face."
To circumvent this disadvantage, Boey, a self-proclaimed product junky, spends her time in focus groups, watching guys shave and surveying a full range of hair types, growth, and personal preferences. "My husband spends a ridiculous amount of time shaving in front of me and answering every question," she says, laughing. But that's what makes her good at the job. "It's spending a lot of time to get into the male psyche and understanding what the nuances are."
Boey has served her time in male dominated fields, starting out her career as an investment banker in New York City. Now, she spends her days listening to men talk about shaving and working through all different phases of product, from manufacturing to marketing.
"Honestly I think it's an advantage," she says of being a woman in the field. "One of the things in consumer products that you stay away from is coming in with bias...I don't take anything for granted which is a good thing."
Celebrity news, beauty, fashion advice, and fascinating features, delivered straight to your inbox!