College Professors Say They're Being Punished for Speaking Out Against Rape on Campus
Instructors at several schools say when it comes to sexual assault on campus, many on campus would rather they stay out of it.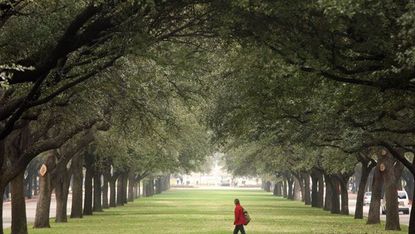 (Image credit: Archives)
Marie Claire Newsletter
Celebrity news, beauty, fashion advice, and fascinating features, delivered straight to your inbox!
Thank you for signing up to Marie Claire. You will receive a verification email shortly.
There was a problem. Please refresh the page and try again.
One afternoon this April, Caroline Heldman, a professor at Occidental College in Los Angeles, walked into her office on campus and was met with a scary surprise. A doll that usually sits on her windowsill had been moved to the center of her desk, where it sat staring straight at her chair. The doll was a figurine with a hand over its mouth, representing the phrase, "Speak No Evil." Heldman asked the cleaning woman about the doll, and she said she didn't move it.
This wasn't the first time someone had sneakily entered Heldman's office and made his or her presence known, and she thinks she knows why. In 2012, Heldman helped found Oxy Sexual Assault Coalition and, lastyear, she assisted 37 current and former students in filing a federal complaint alleging the school didn't properly handle sexual assault cases (that number has since grown to 52).
Heldman says her office break-ins are just one example of ways professors are being retaliated against for speaking out about the mishandling of rape cases on their campuses. She recently formed a new group, Faculty Against Rape, to lend support to faculty members who may have been targeted. "(Retaliation) is not just at Oxy, it's happening everywhere," she says.
Read more: Sexual Assault Survivors Speak Out Against Campus Rape
There's been a lot of attention recently on whether colleges are doing enough to respond to claims of sexual assaults. Heldman's employer is one of 55 campuses under investigation by the Department of Education for their handling of sexual assault complaints. Movie stars like Benicio Del Toro, Steve Carell and Daniel Craig recently joined President Obama in a PSA called "1 is 2 Many." And the Princeton Review, which issues annual college ratings, is being petitioned to include colleges' responses to rape on campus in their ranking criteria.
But Heldman and other college professors say the attention has done nothing to lessen the fierce pressure they feel from their employers to not speak out about sexual assaults. "Very few faculty are willing to get involved because both assumed and actual retaliation has created a very chilling environment," Heldman says, adding that faculty members have incredible power to change the culture of a college because they often stay at a university for 30 to 40 years. "Administrations are rightly concerned about faculty involvement in this issue because we have the most power of anyone to hold them accountable."
In the fall semester of 2012, the Oxy Sexual Assault Coalition started becoming more vocal and presented the administration with 12 demands, including using the campus crime alert system to send out reports of sexual assault and defining consent as verbal, not verbal and physical. That's when Heldman says the break-ins started. She says someone has entered her office without permission at least four times. Once, the intruder dumped Heldman's business cards all over her desk; the next time he or she dumped pens. A fourth time, a newspaper with an article on sexual assault was placed on her desk. She didn't report the break-ins at first, she says, because, "I realized the break-ins were meant to intimidate, and I chose not to make a big deal out of them because that would reinforce their goal." She adds, "I'm not intimidated. I did and continue to make a choice to not let whoever is doing this affect me in the way they want to affect me."
Read more: President Obama is Getting Serious About Stopping Rape on College Campuses
Heldman and other Occidental students and professors recently put their experiences of retaliation and intimidation in a second federal complaint. Jim Tranquada, a spokesman for Occidental, says the school hasn't yet seen the complaint, so administrators haven't been able to review its allegations. But, he wrote in an email, "we take the issue of retaliation seriously and our policy is to respond quickly and appropriately when such allegations are made." He added, "Allegations that Occidental is snooping on faculty communications and breaking into faculty offices are completely unfounded. We have not, do not, and will not do that."
Professors without tenure are especially vulnerable.In the spring of 2013, Kimberly Theidon, a professor at Harvard, says she was so far along in the process of getting tenure that she was told to plan where to put the furniture in her new office. Then, in two months everything changed. An article about sexual assaults on campus ran in the Harvard newspaper quoting assault victims anonymously. "The comment thread turned into this lacerating barrage of insults," Theidon says. "It was appalling." One of Theidon's students was friends with the women quoted in the story, and told Theidon the women "felt triply violated, first when they were sexually assaulted, then by the way they were treated by the university, and then when they were attacked in the press," Theidon says. "I immediately said I'd start speaking out."
And she did: posting comments using her real name on the article to defend the anonymous students and criticize the university for not better supporting them. Theidon says she feels the university hasn't provided training to students and faculty on how to stay safe and respond to problems, hasn't created a safe environment for students or faculty to report sexual assaults, and has made sexual assault survivors feel ashamed. She says the university bureaucracy made survivors feel "that the best thing to do was, in the words of one of my students, 'to just let it go.'"
Read more: Here's How You Can Curb Rape on Campus
A month later, a student was advised not to talk to Theidon about a bad experience she'd had on campus, because Theidon's "bright destiny here at Harvard still hangs in the balance," meaning her tenure could be derailed. Then, Theidon says the chair of her tenure committee told her not to continue to speak out about how the university handled rape cases because "this is a very delicate time for you." But Theidon didn't listen. "I refuse to be silent and complicit," she says. A month later,Theidon was denied tenure. She entered an internal grievance process and is now suing Harvard. She will leave Harvard this year to become a research fellow at the Woodrow Wilson Center in Washington D.C. "If this was just about tenure, I wouldn't be speaking out now, but it's not," Theidon says. "It's about the lengths that the university will go to bury sexual assault."
Theidon says students who've been sexually harassed or assaulted often seek help from younger professors who are more likely to not yet have tenure. "I was untenured, they could fire me and they did, but tenured people are safe," she says. "Why are my tenured colleagues silent? I will never understand that. Silence and complicity is just appalling to me."
Harvard spokesman Jeff Neal wrote in an email to Marie Claire that the decision to not give Theidon tenure had nothing to do with her sexual assault activism. "Dr. Theidon's claims that inappropriate judgments affected her tenure decision are flatly wrong," he wrote. "There is no merit whatsoever to her allegations of discrimination or retaliation. Any advocacy on Dr. Theidon's part on behalf of victims of sexual harassment and sexual assault was not known, let alone considered, as part of the University's decision on her tenure case." He added that Harvard "would never deny tenure due to a faculty member's advocacy for students who have experienced sexual assault. Instead, tenure decisions are based on the quality of a faculty member's research, teaching and academic citizenship."
Read more: Campus Rape Vs. Universities
Tenure comes with job protection, but it doesn't mean protection against pressure.Simona Sharoni, a tenured professor at State University of New York (SUNY) at Plattsburgh, says she was also told to keep quiet about sexual assaults at her school. "They don't think the faculty have any role in this," she says of the administration. "They don't want to see faculty advocating for survivors. The faculty who do are viewed as troublemakers and their acts of standing up and supporting survivors are viewed as acts of treason or disloyalty to the institution."
Michelle Marasch Ouellette, a spokeswoman for SUNY Plattsburgh, said whoever told Sharoni to keep quiet is wrong. "SUNY Plattsburgh does not tolerate sexual harassment and sexual violence," she wrote in an email. "Our faculty and staff receive training to support and assist victims in attaining the services they may need. They are instructed to assist in reporting incidents to appropriate college offices and police agencies."
The list of those claiming retaliation goes on: a professor at University of Oregon says she was made to feel like she was the problem for speaking out publically after a gang rape on her campus, a resident adviser at Swarthmore says she was fired for refusing to tell the school the name of a sexual assault victim after she filed a complaint against the school, and a professor at the University of Connecticut says she was not given the opportunity to apply for tenure (meaning she will be let go at the end of the 2015 school year) because she spoke out against the school's response to threats of rape and violence made against a student. (Officials at each of the schools have denied the allegations.)
Read more: New College Campus Sexual Assault Legislation Passed
Heldman says she's angry that her job, and those of other professors, has been put in jeopardy for doing what they think is right. But Theidon says they didn't have a choice. "Parents send us their sons and daughters to educate them, of course, but there is also an understanding that we will keep them safe," she says. But as professors like Theidon and Heldman work to keep their students safe, they may also have to watch their own backs.
For more on rape on college campuses, read
Big Shame on Campus
.
Related:

The Next Step in Combating Sexual Assault on Campus


Columbia University Students Demand Better Handling of Rape Cases
Celebrity news, beauty, fashion advice, and fascinating features, delivered straight to your inbox!
Claire Trageser is a journalist in San Diego, where she works for the NPR affiliate KPBS. She also contributes to a variety of outlets, including Marie Claire, Runner's World, and Parents Magazine.