The Women of the Syrian Refugee Crisis
New documentary She Is Syria looks at the war through a different lens.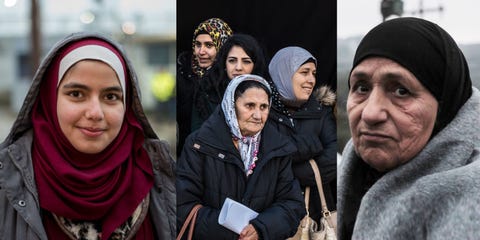 So much of war is viewed through the lens of politics and violence: men behind podiums and men with guns. Rarely do we see women and the heroic roles they play at the forefront of war—leaving their homes in search of better lives for their children, keeping families intact, caring for children and the elderly, earning an income when male breadwinners are fighting, imprisoned, or killed.
In January 2016, we launched production on the documentary project She Is Syria, traveling to Germany and Greece to document the stories of women and girl refugees through film, photography, and social media.
Many of the women we spoke to were traveling alone with children. The stories they had to tell were often disturbing and difficult to take in. Like 28-year-old Sahar from Syria who has no idea whether her husband is dead or alive—he was arrested by Assad's secret police three years ago. Determined to survive, she made the journey to Germany alone with her 3-year-old daughter, traveling by foot, bus, and train, braving freezing temperatures, and paying smugglers for safe passage across borders. Sahar's courage and sense of purpose awed us.
These women are not victims, they're heroes. Each draws upon her own strength, agency, and holds fast to dreams for her future. Here are their stories.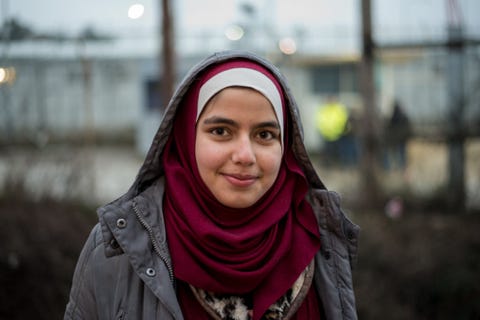 Courtesy of 'She Is Syria'
Abir, 14
We met Abir and her mother, Aveen, outside the official Moria camp on Lesvos, Greece (you can see the barbed-wire fences in the background behind her). Abir was sweet and soft-spoken and never far from her mother's side. They had just made the boat trip to the island that morning, along with her brother, leaving at midnight and arriving at 6 a.m. Abir's father died from heart complications several years ago.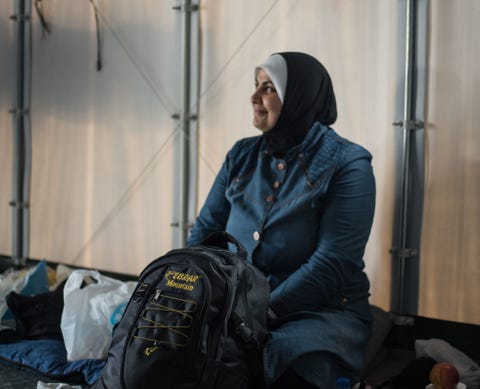 Courtesy of 'She Is Syria'
Aveen, 37
Aveen is the kind of matriarch you trust implicitly. Friendly and open, she invited us to sit down next to the wood-burning stove their group was huddled around. Remembering her home, she says, "I was happy in my house, in my country. During the war, my house was bombed and completely demolished. It was not a home any more... What I want for Syria: I want the war to stop, to go back to my country. I hope that God will solve this problem." She and her children made it to Germany and are now living at a refugee camp in Hamburg.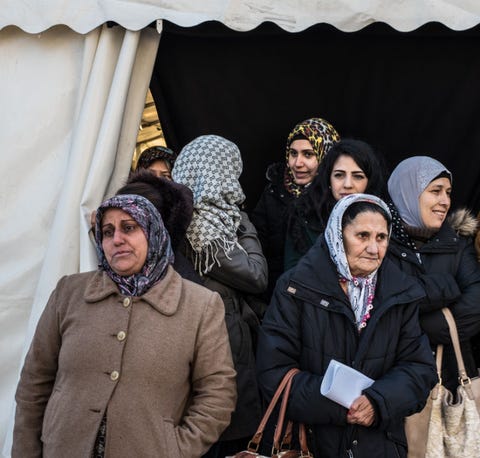 Courtesy of 'She Is Syria'
Women Waiting to Renew Their Official Refugee Documents
The woman wearing a brown coat and purple scarf is a refugee from Syria and stands with a group of other refugee women who are waiting for appointments to renew their papers at LAGeSo, Berlin's main refugee center. While she gave me permission to take her photo—many Syrian women prefer not to appear on camera or have their pictures taken—she was visibly upset about the situation. Many of them have to wait 24 hours or more, often sleeping on the ground overnight in winter temperatures, before they are seen for their appointments.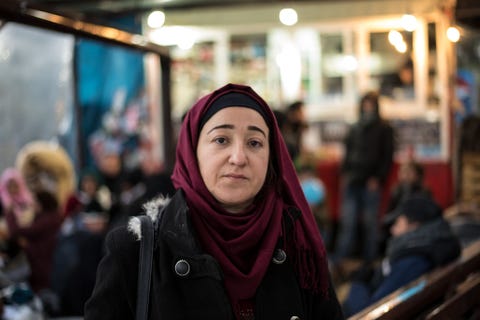 Courtesy of 'She Is Syria'
Nadia, 37
"I miss everything...my friends, my house. I think it was a good life, it was. But now, no," says Nadia, a 37-year-old from Syria. Divorced and without children, she was traveling with her mother and her younger brother who would have been conscripted into the Syrian army had he stayed behind. We asked her if she could have anything, what would it be? "I want not to die here. I want to die in my country. Not here, not in Germany. You know, if now [the war] finished, I will go back. Really, even if I don't have anything."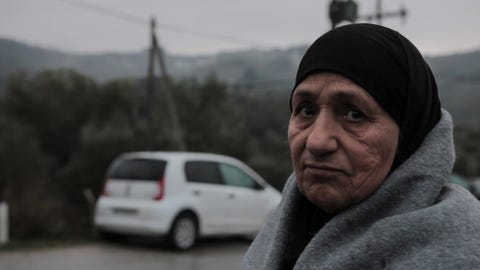 Courtesy of 'She Is Syria'
Nadia's Mother, 65
Nadia's mother has not been in good health for the last few years, a reality which made it impossible for Nadia to imagine leaving Syria without her. At one point during their freezing, four-hour boat journey from Turkey to Lesvos, Greece, she began experiencing pain in her legs and feared that she would die. Nadia told her, "No, no, no, you will not die. I will arrive and you will arrive."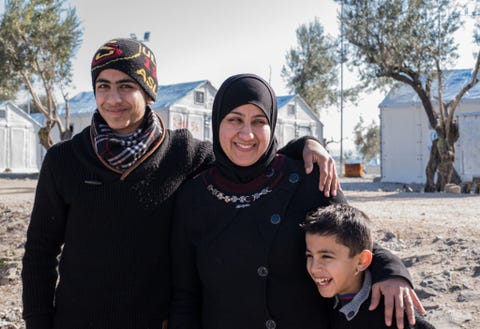 Courtesy of 'She Is Syria'
Feriel, 41
Feriel is a mother of six. Here she stands with her sons Omar and Abdullah. Her family moved to Turkey three years ago, hoping the situation in Syria would get better. It didn't. So finally, she, her husband, and five of her children made the boat journey to Lesvos. Her eldest daughter stayed behind because she fell in love with a Turkish man and they now have a baby together. The minute they got wifi at Kara Tepe camp, Feriel and her family video chatted with her to let her know they had made it safely.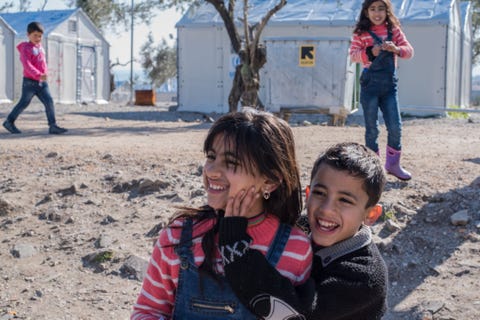 Courtesy of 'She Is Syria'
Bayan, 9, and Reem, 11
Over the course of two days, we got to know Feriel's daughters Bayan, 9, and Reem, 11. The pair was always dressed in matching pink outfits and could have easily been mistaken for twins. The girls, along with their younger brother Abdullah, 8, insisted on showing me their choreographed dance routine to Arabic techno inside their tent at Kara Tepe camp, Lesvos.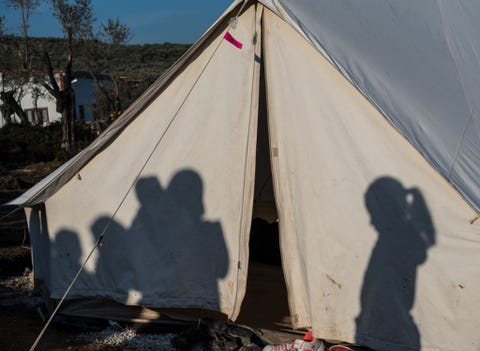 Courtesy of 'She Is Syria'
Sabah, 35
Sabah is a mother of four and elementary school teacher fleeing Damascus, Syria to join her husband in Germany. "This journey was not easy at all. As a mom, it's very hard. We wanted to turn back for the kids. It was very difficult for them. We climbed the mountain…the smuggler told us an hour and you arrive in Turkey. The trip took seven hours. We were running with our children." Sabah preferred not to have her face photographed but poses here in shadow with several other mothers and their children by their tent at Moria camp, Lesvos.
This content is created and maintained by a third party, and imported onto this page to help users provide their email addresses. You may be able to find more information about this and similar content at piano.io