He Had AIDS and I Had Hepatitis C: A Love Story
How we found each other amidst addiction, ongoing sobriety, and life-threatening illness.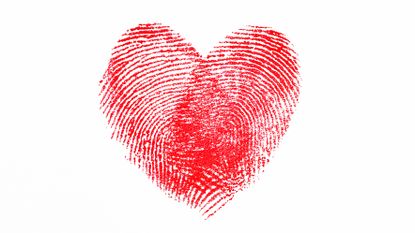 (Image credit: Getty Images)
One girlfriend slipped a mickey into my coffee," he said, "and when I passed out she poured lighter fluid on me and all my belongings and torched me."
We were sitting at Le Singe Vert in Chelsea. As the waiter strolled over I studied Steve's face. He was a blond Keith Richards type with deep lines and sharp features.
"I woke up surrounded by flames," Steve said, "and escaped with only this scar on my neck." He pointed to a small spot above his clavicle. Then he ordered our dinner in fluent French—an odd contrast to his street-life tale.
Steve and I met in an addiction recovery group where grisly revelations weren't shocking. I had confessed in AA that my odyssey began at age 11 with pot, then quickly escalated to shooting cocaine, downing loads of alcohol, and hoping to die. I came out of a blackout in my apartment on MacDougal Street and hallucinated bugs scurrying across the floor. I thought my trashcan was on fire. I'd torn up my expensive painting portfolio and gouged suicidal song lyrics with a ballpoint pen into shreds of the destroyed art. I called my cousin who rushed me to rehab before I could change my mind.
Steve could match this. When the waiter left, Steve said, "Another woman sent her brother to cave my skull in with a claw hammer." He placed my fingers into an indent under his thick hair, a crater the size of half a lime. He chuckled, "I got a hole in my head."
I wondered, "Is this a date?"
We lived a block apart and ran into each other at movie theaters and on the street. He'd say, "Hey, Bird, what's the word?" Charmed by his hipster lingo, I always felt free to launch into complaints about my boyfriend du jour. I burned through relationships—one per year. It seemed hopeless. I was depressed and bewildered about why I picked flawed men who were afraid of intimacy. My focus on their shortcomings prevented me from seeing my own.
A week before our conversation in the restaurant, an acquaintance and I ran into Steve.
"So how's it going, home slice?" Steve said.
"Sad," I said. "Another breakup."
"Too bad you're too young for me," he said.
My friend piped up: "She's not that young."
So there we sat in the chic eatery, trading life stories while Steve stared at me instead of his coq-au-vin. I'd worn a plunging neckline and tight jeans, hoping for reassurance my looks weren't gone. My last boyfriend said I was lucky to nab him. "Forty-year-old guys aren't attracted to women over 35," he'd said. But Steve stared at me like I was Häagen-Dazs.
When the waiter came back I reached for cash but Steve said, "It's on me," and pulled out his wallet. "This is a date," I thought.
On the way home all I could think about was kissing Steve. While walking along Seventh Avenue, I stepped onto a curb so my five-feet-two frame was face to face with his six-feet. "Is it okay if I kiss you?" I asked. Without waiting for an answer I leaned in and did just that. For a guy whose face was all sharp corners, his lips were surprisingly soft. I wanted to stay like that but Steve pulled back.
"Whoa," he said. "I don't have time for a relationship. Staying healthy is a full-time job and I spend most of my time helping guys quit drinking and drugging. I also treasure alone time."
Instead of the repellent he meant it to be, it made me feel safe. It was a relief knowing he wouldn't be all over me like other broken men I'd been with.
"I was diagnosed with AIDS in 1983," he said.
"I know," I said. "I've heard you at meetings. But you always seem fine."
"That's because I work at it. I see doctors all the time and I'm on every new med available."
I had been diagnosed with hepatitis C—a virus that attacks the liver. But even in this moment, I kept that to myself.
We said goodnight and I was left with the realization that my romances always began when a guy seemed uninterested. If anyone pursued me, I bolted. Spotting flaws that needed fixing was catnip. Feeling superior boosted my low self-esteem, and solving a man's problems seemed a guarantee I could turn him into who I wanted; then he'd be grateful and never leave.
But the next morning, I woke up panicked with a fairly ignorant, yet alarming, question: Could I get AIDS from saliva? I picked up the phone.
"Hello?" said the volunteer at Gay Men's Health Crisis.
"I have a crush on a guy who has AIDS. How can I stay safe?"
He explained risk factors, T-cells, and viral load. I was too nervous to follow everything, but understood when he said, "Saliva doesn't transmit the virus—it needs a direct input into the bloodstream." Elated, I called my friend who worked for Doctors Without Borders.
"How can you be so selfish?" she said. "He has a compromised immune system. There's a much higher risk you'll give him hepatitis C. He could die. Didn't you think about that?"
Never occurred to me.
"You have to tell him," she said. But I was afraid he'd scurry off—seemed he was already looking for an excuse.
I was 28 and single back when I was diagnosed with hepatitis C and thought you got it from shellfish. Turns out it's a horrible disease, usually chronic, causing cirrhosis. The liver erodes.
But nothing ever happened. My tests still show slightly elevated liver enzymes that confirm I have the virus—but nothing more. I asked every doctor if I caught it from sex. All of them said that was highly unlikely based on my history of sharing dirty needles.
Steve knew my drug stories but I'd never shared my health problem.
"You're crazy," a friend said. "You just got out of a relationship with a sociopath. Hello? Do you hear yourself? Steve is a heroin addict with AIDS."
Before I could say, "ex-heroin addict," she'd hung up the phone.
My sister said, "Here we go again."
"You're kidding, right?" said my cousin. "He's 18 years older—you'll be pushing him around in a wheelchair."
My Upper East Side pal said, "I bet he stole, lied, and broke his parents' hearts."
But she could have also been talking about me: I too stole, lied, and broke my parents' hearts.
After a few more days, an email from Steve popped up. "Wanna go for a bike ride along the West Side Highway?"
"Sure," I wrote back.
We rode down the bicycle path and stopped on the grass by Battery Park City. Steve said, "Look, I can't do relationships and you'll leave me for a younger dude. I'm just an old guy with AIDS and one more failed romance will kill me."
"Oh, boo hoo," I blurted out. "Quit feeling so sorry for yourself. You're not the only one with health problems. I have hepatitis C." He seemed startled at first but then pleased."Why are you smiling?" I asked.
"You treated me like a regular person. Most people walk on eggshells, afraid to upset the poor guy with AIDS."
On the third anniversary of our first date, we walked to a jewelers on 34th Street to buy me an engagement ring. A year after that, he bought us wedding bands. It still gives me a daily lift to stare at my rings.
Steve continues to thrive on his medication. His AIDS virus is now at undetectable levels. And my health is improving too: After a year of fighting with my insurance company, they finally paid for the new expensive meds that cure hepatitis C in three months.
We take our daily concoction of pills together at breakfast and hug. There's a spot on Steve's chest near his shoulder—just to the side of that little burn scar—where my cheek slides in perfectly to rest.
Follow Marie Claire on Facebook for the latest celeb news, beauty tips, fascinating reads, livestream video, and more.