Why Can't I Have an Orgasm?
Women experience sexual performance anxiety too—here's why.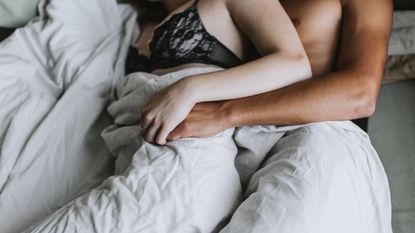 (Image credit: Getty Images)
When I say the woman I went home with that night was hot, I don't just mean she was good looking. She was essentially the lovechild of Karlie Kloss and Snow White: A total smokeshow and way out of my league. We met at a bar. She liked dancing to Robin. I liked her skin.
Usually, I have no problem reaching orgasm. When I'm alone with my wand vibe, I can come two or three times in a row. If I'm with a partner I trust, I'm typically good to go, too. So, why was it that, despite her face between my legs, there was no way I was going to climax in this girl's bed? I was freaking out. Guilt and anxiety swept over me. I made up a random excuse to leave and sprinted downstairs to hail a cab.
My experience is all too common. It's called sexual performance anxiety, and it occurs when a sexually active person isn't "performing normally" in the bedroom (Why am I not coming? Why am I ejaculating so quickly?) for a mental, rather than physical reason. What's considered normal is relative, of course, but society typically deems sexual normalcy to be the following scenario, with some (but not many) acceptable deviations: A man with a hard penis ejaculates (but not too fast!) in, on, or near a human woman. That woman then writhes in ecstasy, thanks to her partner's penis. Everyone orgasms. The end.
The narrative is very heteronormative (and to be honest, very bland). Queer sex, meanwhile, is hardly ever acknowledged in any capacity, even though the tenants of performance anxiety are not limited to straight, penetrative sex. I've experienced anxiety with both sexes. There is no gender bias to nerves.
As a culture, we're focused on male performance issues, namely the hardness or softness of the penis and the amount of time it takes to ejaculate. But what about women? The assumed cultural norm doesn't make much room for us. We're supposed to climax through whatever means our partner bestows upon us, which, because of how sex has been depicted in pop culture and porn, often that doesn't actually involve any of our true "hot zones."
Of course, all of this crap. There are many reasons a woman might not be able to orgasm. Seventy percent of women don't orgasm from penetrative sex alone. Foreplay is missing from many sexual encounters. According to clinical sexologist and host of 'Sexplantions,' Lindsey Doe, women need about 18 to 20 minutes of foreplay to become fully aroused, more than the average male-bodied person. It's difficult to ask someone to slow down and focus on your body. It's downright nerve-wracking.
Research has shown that there is a direct correlation between self-esteem, trust with a sexual partner, and the frequency and quality of a woman's orgasms. When you're having a casual hookup or are nervous about your partner climaxing, confidence and communication might be missing; it's harder to get in a headspace where orgasm is possible.
Even when women do manage to obtain direct clitoral stimulation, have partners that take time to get them where they need to go, and stimulate the many erogenous zones, women may not be able to get off because of embarrassment or shame about needing "something extra to get there."
There are reasons beyond these, of course (including physical and medical reasons, like being postpartum or suffering from vaginal pain, called dyspareunia), why your body might be inhibited. But the most common explanation is this: Having an orgasm isn't a simple, straightforward sexual action. It's complicated, and that can be stressful, and stress can prevent orgasm. "Many people do not have a true physical problem with sex; performance anxiety usually starts as a mental state," says Sarah de la Torre, M.D., an ob-gyn at Seattle Ob-Gyn Group. "It can vary from worries about pleasing their partner, to concerns over body image, to worries about having the orgasm itself, getting an STD or pregnant, or even worrying about the scent of their body parts."
There are so many mental factors that can lead to orgasm anxiety it is almost impossible to decipher them all. The good news: If you don't regularly climax, you're not alone. MarieClaire.com spoke to dozens of women about their experiences, and found that nearly every woman interviewed had had at least one experience when her orgasm was hindered by nerves.
RELATED STORIES
Self-esteem is a major factor. "You're all ready for it and then you freeze up and you think, Well, you're gonna really be a letdown. He is going to hate this because you suck. Your body is fat. You can also sometimes think there is something wrong with your vagina," MaryEllen, 26, tells me.
Porn may be to blame, at least in part, for body anxieties during sex. Viewers are presented with a picture of a hairless, perfect vulva, huge boobs, and blonde hair. This just isn't realistic. "As individuals, you must realize there is no woman like you and no vagina like yours," says Mal Harrison, a sexologist and the Director for the Center for Erotic Intelligence.
"Performance anxiety causes us to be more of a spectator during sex, with a running mental commentary on how we're doing. These thoughts decrease sexual enjoyment, including taking longer to have an orgasm or not having one at all," says Prudence Hall, M.D., founder of The Hall Center for Regenerative Medicine in Santa Monica, California.
When I think of being a spectator, memories of the beautiful girl-creature with whom I couldn't manage to come creep back to me. I was there, but I wasn't really there. She was beautiful and I just couldn't help myself from thinking that I looked like a slug. My thoughts kept returning to my giant nose and my too-white skin. I wondered if my vulva was gross from wearing tights all night.
Trust is a key component in the enjoyment of sex. "Sex gets better with less worry and more trust," says Dr. Hall. "When we are in our heads worrying if we're good enough, beautiful enough, orgasms can be unattainable."

In order to avoid dealing with these uncomfortable issues, many women fake an orgasm. But this is actually counterintuitive. It sets up an unrealistic precedent for their lover, making the possibility of a real orgasm down the line virtually nonexistent. If your partner thinks you enjoy things during sexual play that you don't, he or she isn't going to know how to please you.

"I often feel pressure to orgasm. It's not because my boyfriend will be mad, but because he'll be hurt, and this affects his sexual pleasure," says Gabby, 27. "It's a never-ending circle. I get anxiety about orgasming because I know if I don't, he'll get insecure, and then he'll enjoy sex less, which will in turn make me feel insecure and unable to orgasm."
Many of the women we spoke to felt that there was a cultural component to their anxiety, that there is an emphasis on what is considered "normal" pleasure-wise (namely, penis-in-vagina sex) and that deviating from this basic, heteronormative, missionary position–style scenario is taboo. The need for clitoral stimulation, intimacy, care, and trust isn't spoken about in any real way. We're rarely given permission to explore our bodies or our desires.
"When women allow themselves to be vulnerable by speaking up about their sexual needs the relationship can improve greatly," says Dr. Kristie Overstreet, Ph.D., a clinical sexoloist and pyschotherapist. "It helps create trust, intimacy, and allows both people to experience a deeper connection on all levels. Conflict, anxiety, and relationship stress decrease."
It sounds awkward as hell, but in order to orgasm with a partner, you probably need to tell that partner what will make you orgasm. And that may be something you need to teach yourself first. Sex ed in America is a nightmare. Typically it is abstinence-based and covers just the basics of reproductive health. Most men are not learning how to please a woman. They're not learning what a clitoris is or how to touch it. They aren't learning about foreplay. Most women don't understand how their bodies can achieve pleasure and therefore do not know how to accurately communicate their needs to a sexual partner.
RELATED STORIES
Dr. De La Torre suggests that first "a woman investigate on her own what feels good to her, whether through masturbation, reading books about sex, or watching porn."
Then, once you know what works for you by yourself, invite your partner back in—but without climaxing as the goal. "Take orgasm off the table for a few experiences, be in the moment and do what feels good to both of you," she explains. "Figure out what is pleasurable about sex besides orgasm and enjoy that experience for its pleasure without worrying about what is next."
Dr. Hall recommends "slow sex." In this method, "the woman lies comfortably and the partner strokes the clitoris in a specific way for 30 to 40 minutes," she explains. "There is no other contact. A kind of deep meditation occurs, removing the focus on whether an orgasm happens or not. It is irrelevant to the process."
Of course, it all begins with explaining what you need to someone who cares enough to listen. "It starts with communication. The partner may have no idea that the woman is feeling insecure or anxious. Vulnerability can be a beautiful thing in a trusting relationship—and is often a turn-on for men—so I advise my patients to have honest conversations with their partners about their insecurities," says Dr. De La Torre.

The point? Enjoy the journey, not the destination. Stop putting so much pressure on yourself and your partner to orgasm. Sexual expression should not be performance-based, it should be about enjoying the encounter as a whole.
Celebrity news, beauty, fashion advice, and fascinating features, delivered straight to your inbox!
Gigi Engle is a writer, certified sexologist, sex coach, and sex educator. Her work regularly appears in many publications including Brides, Marie Claire, Elle Magazine, Teen Vogue, Glamour and Women's Health.