18 Tips for a Better Orgasm
From hot baths to sex cocktails.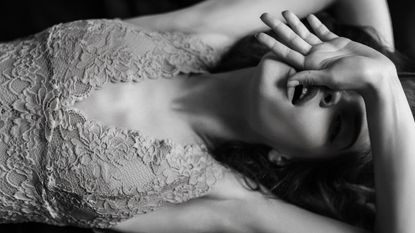 (Image credit: Getty Images)
No one actually needs to rally for the wonders of an orgasm when there's enough research—as psychologist and sex therapist Mary Jo Rapini explains—that the tremor-inducing release of serotonin and endorphins can boost the immune system and decrease stress and anxiety.
But when there's still a wide "pleasure gap" to bridge today—the term describing the slim number of women who experience orgasms during sex in relation to men—the main question is how.
Below, we consulted advice from across the scientific spectrum, from medical studies to sexperts to sex therapists, on ways to enhance the female orgasm and feel connected to your partner without giving up your primal right to come.
1. Ramp up the Foreplay
A study in the journal Hormones and Behavior shows that an increases in the "love drug" oxytocin helped couples have more intense orgasms. It doesn't require any supplements for a big boost in the hormone, though, as your average cuddling, hugging, kissing, and bonding activities can do the trick. Make sure to carve out more bonding time with each other or extend your foreplay sessions before sex to enhance your sexual performance.
2. Delay Gratification
Instead of speeding toward the finish line, science says that building your way up to the brink of an orgasm then stopping—otherwise known as edging—and building yourself back up to the point of climax can encourage better, stronger orgasms.
3. Exercise, Exercise, Exercise
Sign up for a 5K race or schedule a game of tennis. Merely anticipating a competition triggers a 24 percent boost in testosterone for women, according to a study published in the journal Evolution and Human Behavior. And any increase in that hormone also drives up your libido, so consider it a win-win. Plus, exercise stimulates blood flow to the genital area, increasing desire and lifting your mood.
4. Turn Up the Heat
Prior to sex, take a hot bath, or—if you're short on time—place a warm washcloth over your vulva for a few minutes. Heat boosts blood flow to your vagina, leading to increased lubrication and sensitivity, says Hilda Hutcherson, author of Pleasure.
RELATED STORIES
5. Try the Tantric Method
As tantric instructor Dawn Cartright explains, harnessing the power of breath can slow down your mind and make it hyper-sensitive to full-body sensations. Open yourself up to orgasmic joys by breathing and rocking together, then tightening your PC muscles before sex.
6. Sip a Sex Tonic
Let an ancient sex stimulant work its magic: Warm some milk, add a pinch of saffron, and drink up, says Aliza Baron Cohen, author of Sex: Rediscovering Desire Through Techniques & Therapies. Saffron, which releases its intense flavor when heated, has been considered an aphrodisiac for thousands of years. Or, take one of Amanda Chantal Bacon's cult-favorite Sex Dust formulas for a spin.
7. Recharge Your Batteries
Women who use vibrators say they have an easier time reaching orgasm during (vibrator-free) sex with a partner, according to a survey of 1,656 women conducted by the Berman Women's Wellness Center. If you're tech-friendly, try a vibrating "bullet" attachment that's discreet enough to fit in your pocket (or on your neck). Or, get him in the action with one of the many couples' vibrators out there, from the We-Vibe to the Eva.
8. Strike at the Optimal Moment
During the first two days of your cycle, your testosterone levels surge, your libido soars, and your breasts and clitoris become ultra-sensitive, says Gabrielle Lichterman, author of 28 Days: What Your Cycle Reveals about Your Love Life, Moods, and Potential. Intense orgasms may happen more easily than usual—and multiples are much more likely. Experts also suggest timing sex in the early morning when men experience their highest testosterone levels, or in the afternoon on weekends when women tend to ovulate.
9. Step Up for a Quickie
For stellar sex in a hurry, pull on a skirt and find a deserted staircase, suggests Sex for Busy People and The Field Guide to F*cking author Emily Dubberley. If you're shorter than your guy, stand a step or two above him. Face him or turn toward the railing so he can enter you from behind. (Hint: Grip the rail for leverage—and don't lean over too far!)
10. Try a New Rhythm Method
Majorly elevate your odds of climaxing during sex with the Coital Alignment Technique, says Dubberley. Have your partner lie on top of you, with his pelvis directly over yours. Wrap your legs around his thighs and rock together gently. Push up and forward so that your clitoris makes contact with the base of his penis. Patience is key: Find your rhythm and stick to it until you orgasm.
11. Practice Mindful Masturbation
Touch yourself for pleasure for 15-30 minutes without focusing on whether or not you have an orgasm, suggests Dr. Jessica O'Reilly, PhD, sexologist and relationship expert at We-Vibe.
"Explore your every square inch of your body with your hands, lube, massage oil, vibrating toys and/or objects of various textures and temperatures," O'Reilly says. "As you get in touch with your body's unique responses to touch, you may find that your ability to stay present during sex increases, as you're less hung up on the performance; as you abandon orgasm as a goal, you'll likely find that pleasure increases and the likelihood of enjoying an orgasm (as an experience —not a performance) increases."
12. Be More Demanding
Another pro tip from Dr. O'Reilly: Be a little (or a lot) more selfish.
"Oftentimes, we're unable to genuinely enjoy a sexual experience because we're so focused on the desire to give pleasure," she says. "We worry about what our partners are thinking, feeling and seeing. We pay attention from the outside as a spectator instead of enjoying the process as a participant. This intensifies performance pressure and is the antithesis to pleasure, so ask for what you want in and out of the bedroom."
Here are a few of Dr. O'Reilly's specific tips for demanding more in bed:
Initiate sex by making a request instead of an offer. I'd love if you'd get down on your knees and go down on me.
Give feedback. Oh I love it here as opposed to there.
Guide your lover's body. I want it nice and slow — just like this.
Get kinky with your demands. I'm not going to touch you until I have an orgasm. Would you use this toy to get me started?
13. Don't Try to Have an Orgasm
It might sound counterintuitive, but according to Dr. Jill McDevitt, you should stop trying to orgasm if you want to have better orgasms.
"This is an old trick used by sex therapists and coaches (like me) when a client is having a hard time having an orgasm, but it can also work with amplifying an orgasm," she says. "It's not uncommon for people to fall into a trap of becoming very goal oriented with sexual activity, whether with themselves or a partner. They get so narrowly focused on the orgasm that it can lose its ooomph, and in some cases, not happen at all. So focusing on the process is important—staying hyper aware of arousal, notice every touch, every kiss, every movement. When you do have an orgasm, it can be so much better!"
14. Have a Regular Kegel Routine
Nothing says "amazing orgasms" like a strong pelvic floor. Dr. McDevitt says adding kegels to your list of regular exercises can have a big impact on your orgasm game.
"A quick kegel squeeze here and there won't make any noticeable changes, but consistent,
regular, ongoing pelvic floor exercise certainly can. If that sounds like a lot of work, I recommend the Impulse Intimate E-Stimulator Dual Wand by Cal Exotics," she says. "It's a silicone vibrator featuring a g-spot and clitoral stimulator, but it also has e-stim pads that gently contract and release those muscles for you automatically, so you can get the workout in effortlessly, while masturbating."
15. Don't Be Afraid to Ask for More Foreplay
Bachelor alum Ashley Iaconetti, who was a virgin during her time on the show, has partnered with K-Y on its new #RPF campaign (short for "Resting Pleasured Face"). She says that one of the biggest lessons she's learned when it comes to sex is that you shouldn't be afraid to ask for what you need, especially when it comes to foreplay.
"Women often don't get revved up as quickly as men do and guys may not realize that we sometimes need a few more minutes to get warmed up so sex can be the most enjoyable," she says. "Try having him slowly and softly touch you everywhere except the hot spots for a couple of minutes before all the clothes come off."
16. Embrace Empathy and Connection
Dr. Holly Richmond, Somatic Psychologist and certified sex therapist, recommends getting tantric—at least in the most basic sense.
"Tantra translates from Sanskrit to /the weave,' and part of the sexy—and mindful—practice begins with eye gazing," she says. "Sit across from your partner in a comfortable position, directly facing them. Gaze deeply into each others' eyes for 30 seconds to one minute, specially focusing left eye to left eye to prevent your eyes from darting back and forth, and throwing you off your O game. Empathy is communicated through eye contact, and feeling a profound sense of depth, caring and understanding from your partner often takes orgasms to next level. My clients say that when they do eye gazing prior to having sex, their orgasms feel like they come from an embodied place, not just from their genitals, and they feel incredibly connected to their partner."
17. Up Your Sextech Game
Richmond says that using toys isn't enough—you need to be up to date on the latest in sex-enhancing technology if you want to take your orgasm to the next level.
"Science is sexy, full stop," she says. "The last five years have brought us 'smart' vibrators under the bigger sextech category of teledildonics, that let us connect remotely to our partners from anywhere in the world, syncing up pleasure patterns to help us feel more connected. There are also devices that use biofeedback technology to learn more about what you (or your partner) need to enhance pleasure, as well as what time of day you have your strongest orgasms and what settings and vibration patterns you prefer."
18. Find Your Sexual Accelerators
According to Gigi Engle, certified sex coach, sexologist, author, and SKYN Condoms Sex & Intimacy Expert, a big part of maximizing your pleasure in the bedroom is taking the time to fully understand yourself. She says it's key to be aware of exactly what turns you on—and what turns you off.
"Everyone has sexual brakes and accelerators," she explains. "These are things in the brain and body that ramp up our desire or slow it down. This means figuring out what it takes for both you and your partner to get in the mood and fully aroused. It's an excellent tool for couples with mismatched libidos to find common ground. Do you need to engage in sexual touch before you're turned on? Do you become turned on my erotic images or words? Do you get turned on out of nowhere? All of this information will help you get to know your body better. Make time to explore your sexuality together and really make an effort to go on this journey together. This will definitely lead to more embodied sexual experiences and many more orgasms."
For more stories like this, including celebrity news, beauty and fashion advice, savvy political commentary, and fascinating features, sign up for the Marie Claire newsletter
RELATED STORY
Marie Claire email subscribers get intel on fashion and beauty trends, hot-off-the-press celebrity news, and more. Sign up here.