I Met My BFF on Bumble
Let's face it: Once you've traded in college quads for office cubicles, creating new, meaningful adult friendships seems like something that happens only in '90s sitcoms. But making friends can be easier than you think—like, right-swipe easy.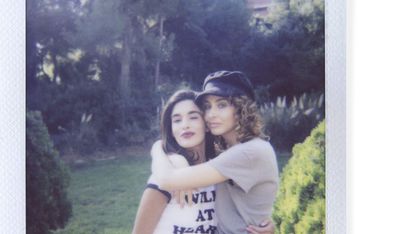 (Image credit: Guille Faingold)
Marie Claire Newsletter
Celebrity news, beauty, fashion advice, and fascinating features, delivered straight to your inbox!
Thank you for signing up to Marie Claire. You will receive a verification email shortly.
There was a problem. Please refresh the page and try again.
Not that life ever feels like you think it should at a certain age, but at 30, I felt as if things were going pretty well. I was running my own digital-strategy consultancy and it was actually making money, I had learned that two cocktails were more than enough on a date, and I was finally living in an apartment—in Brooklyn—furnished with more than just a blow-up mattress. But something was missing. Most of my friends were coupled up, and I wasn't. We were in different places in life. I didn't have a group of friends, or even a few, who were free to spend time with me, to Netflix and chill in the most literal sense of the phrase.
Enter Bumble BFF, the supposedly squad-building feature on the same dating app I'd been using for the previous six months to meet men. I was curious albeit skeptical. Online dating, or employing a website or app to find a potential partner, has lost much of its stigma; there are 40 million Americans using dating websites, as reported by eHarmony, and 20 percent of relationships today started online. Still, there was just something that felt taboo in utilizing that same technology to meet friends.
Anyone who has to use technology to make friends must not be able to make them in real life, right? Then again, when was the last time, post-college or grad school, you actually made a new, lasting friendship? Not a coworker you only gossip with during coffee breaks. Or someone you always exchange a smile with at Saturday morning yoga.
Plus, going on a friend-date did sound better than going on a date-date. On a friend-date, there's unfiltered conversation. You're not worried about presenting the best version of yourself and molding her to fit the interests of the person sitting across from you. There are no awkward "Who's going to pay?" conversations or fake-out wallet grabs. And friend dates don't end with dodging an unwanted kiss goodnight and hoping he doesn't follow you home, like in the opening scene of a Lifetime movie. I wanted a friend to come over and lounge on my couch and drink wine with and laugh over the latest swipe-right disaster story. What's a first date-date if you can't share with friends?
One night, as I sat on my couch and opened the app to swipe right and left on a new slew of shirtless bathroom selfies, office-friendly headshots, and photos of single guys posing with cute pets, in spite of my hesitations, I decided to try BFF.
I scrolled through dozens of women whose profiles said things like "I just moved back to the city in July and I'm looking to build an awesome girl squad!" and "Have lived here for seven years and many of my friends have moved away!" Instead of cheesy pickup lines and height measurements, their bios had a few lines about work, what they liked to do for fun, and why they'd ventured to the BFF side of Bumble. I was still skeptical. I saw interesting women and wanted to connect but feared ultimately we never would. If you've used dating apps, you know that follow-through can be the biggest hurdle.
An hour later, I got my first match: Chantal, a 34-year old marketing executive. Her bio read, "My life is dope. I have an interesting career, live in a sweet apartment with the man of my dreams (and our cute cat) in our favorite city. Just missing the BFF to cheer each other on, watch sci-fi, play board games, work out, drink wine, and go on adventures with." After reading her bio and swiping through her photos a few times, I messaged her: "Sci-fi, board games, wine...I'm in!" Before I hit "send," I added the smiley-face emoji, the one with hearts as eyes. Then I erased it and added the hand-raised emoji instead to show I'm enthusiastic but not crazy. A few seconds later, I got a message back: "What was that? Like the best opening message EVER?" Much like a conversation with a would-be romantic partner, Chantal and I continued messaging through the Bumble app, asking basic questions. "Where are you from originally?" Then we exchanged numbers to talk by texting and got deeper. "It's so hard to work from home and meet new people," I confessed.

This wasn't Chantal's first Bumble BFF friend-date. She had not only met but made friends with a few women through the app. She told me how she was going on a trip with two of them the following weekend. We hadn't even met yet and I was already kind of jealous. Didn't her bio say she was looking for "the BFF," not BFFs? I found an amazing woman, who seems really into me, but she's already seeing other people? That night we made a plan to get together later in the week.
I went to bed with a new event on my calendar: "Liz & Chantal meet!" Chantal had sent a meeting invite that popped up as a notification for my Google Calendar. I imagined the event on her calendar, our date sandwiched between her last work meeting and working out. She's just like me, I thought. She schedules everything, even social activities.
A few days later, after circling the block several times, I finally walked through the revolving door of her apartment building and rode the elevator up to the sixth floor. I wasn't sure if I should knock, ring the bell, or text, "I'm here!" I tapped lightly and waited. When she opened the door, she was wearing a black T-shirt and jeans. I took my shoes off and made my way to the dining-room table. She took a seat across from me, set a cheese plate down between us, tilted her head to the side in curiosity, and asked, "So, how are you?" in a way that made me feel like she really wanted to know.
For the next three hours, we shared stories about dating, family, and moving to New York—and I devoured every piece of Brie on the plate. I didn't have to feign that I wasn't starving because I wasn't on a date with a guy, pretending to be ladylike. I told her about my latest romantic Bumble encounter with a quirky comedian. I loved hearing about how she had moved from South Africa to Boston, recently making her way to New York. She wanted more details on my Midwestern roots. We were both endlessly frustrated with our family members who shared their political views on Facebook. We had stepdads we loved and dads we spent more time talking about in therapy than actually talking to. On the train ride back to Brooklyn later that night, I couldn't help but think, That's the best first date I've ever been on.
I wondered if it would remain just that—a first date after which the excitement fades and you become strangers again, like it never happened. But the excitement didn't fade. A few weeks after we met, I had a week filled with anxiety. One of the best employees on my team unexpectedly quit, and I was overwhelmed with my to-do list. It was hard to get out of bed. When I told Chantal, she encouraged me to meet her at her office. We walked to lunch, and she listened as I vented. "I'll introduce you to a few people who might be a good fit for the job," she said. "You'll find someone, and I'll help you." By the end of the day, I had a handful of e-mails from Chantal introducing me to qualified candidates who were interested in the job. The next morning, she sent a text checking in on me: "How are you feeling today? Let me know if you want matzo ball soup. I'm a connoisseur."
Like a date-date, they're not all going to be gems like Chantal. But if we're willing to swipe left and right to meet potential S.O.s, why not do the same to build a community of friends too? Over the last six months, Chantal has become one of the most important people in my life.
Unlike actual dating, you don't have to deactivate your account when you meet "the one." Chantal introduces me to her new Bumble BFF matches from time to time. Me, I open the app a little less. When I feel lonely, instead of reaching for the app, I might text or call Chantal to get together, just like I wanted.
This article appeared in the August 2018 issue of Marie Claire, on newsstands now.
RELATED STORY
Celebrity news, beauty, fashion advice, and fascinating features, delivered straight to your inbox!