I Started Dating Someone at Work. Then I Became His Boss.
A real woman explains what happened to her relationship when she was promoted over the coworker she was secretly dating.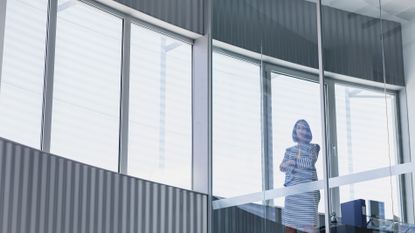 (Image credit: Caiaimage/Martin Barraud)
In 2017, I was working at a small communications company in New York City when I became involved with a coworker. I'd never dated anyone at work before and agonized over whether to ask him out—since there were only about six of us on staff, I knew it could get messy. But the attraction and feelings were so strong that it felt like something I couldn't let go of. It was more than a mild crush; it was the strongest and most deeply I had ever felt about someone.
"Jeff" was smart and funny. We had an undeniable chemistry and attraction that I hadn't experienced with anyone before. We worked in an intense environment with some crazy people and having him to commiserate with helped both of us endure the long hours. We joked about our coworkers and their ridiculous habits and—like something out of The Office—would pull light pranks on our colleagues.
When we first started dating, we had the same title, so the melding of our personal and professional lives wasn't an issue. After we'd been dating for about a month, though, things changed: I got promoted, another colleague left, and the company restructured a bit internally.
When our teams were reorganized, I became the team lead, and he had a supporting role. A trusted colleague knew about our relationship. During the internal reorg, she said to me, "You're his boss now." I panicked. This was what I had worked so hard to avoid. I knew he was a little insecure about the differences in our titles, and I knew these changes would make everything infinitely worse.
And, sure enough, they did.
At first, I let him do his thing, convincing myself that I trusted him enough to let him have autonomy. Things got uncomfortable whenever I saw the need to give him guidance on something. We'd had a rule: No talking about work outside of the office. But it didn't stick. He became resentful when I corrected his work, even though he tried not to show it. He'd go out of his way to say, "I'm so glad you got promoted! I don't have any issues with strong women!" Obviously, he was trying way too hard to prove something.
Things only got worse. After two months, we both began looking for other jobs. Ironically, he was interviewing for a position somewhere else at the same level I had been promoted to. I'd recommended that he apply for a position at his current title, and earn their appreciation and trust and get promoted based on merit. This pissed him off, I think, because it starkly illustrated my view on the differences in our quality of work.
Eventually, I left the company and we began seeing less and less of each other. Around six weeks after I started a new job, we broke up.
Even though the entire experience was difficult in so many ways, I'm grateful for the lessons I learned as a result. If that person is someone you can do without, or you're interested only in having a fling, hold back, because the potential for disaster is enormous.
If the potential for something special is there and you decide to go for it, just keep things hush-hush. Leave work at different times. Sit apart at office gatherings. Don't post photos on social media. Act polite but disengaged with each other in front of coworkers. Be alert about places you may bump into colleagues on the weekend—people pick up on things quicker than you realize, especially in small settings. We were extremely careful with everything we did to never give ourselves away.
Conventional wisdom rails against office relationships, but—in the end—the heart wants what it wants.
Celebrity news, beauty, fashion advice, and fascinating features, delivered straight to your inbox!