My Husband Left Me After 16 Years—So I Bought a Fixer Upper Across the Country
"This house could hold me. It had survived being abandoned, too."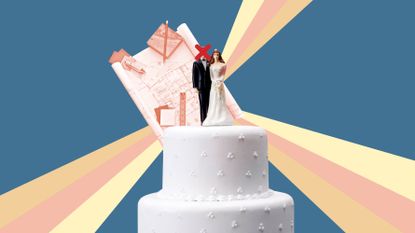 (Image credit: Alice Morgan)
The day I found the listing was the same day the judge finalized the divorce papers.
We'd been together for 18 years, married for 16. My now-ex had asked to keep the house but not our children. We had nowhere to go. I was in a spite-fueled rage, anemic, and out of my mind with grief and fear. While couch surfing, I streamed Ashley Judd serial killer movies and furiously searched realtor.com for housing in southern states. I was not sure where I wanted to live, but it was not the Midwest. It was not to the land of negative-30-degree winters and sweltering, abusive summers; failed marriage; farmers markets that my booth was no longer the star of. I wasn't a farmer anymore. I wasn't a wife. I was middle-aged, under-employed, over-weight, ex-wife. And lost.
The children and I stayed together, unimaginably poor but able to rebuild, able to heal. Together. I wrapped my grief around that word, hid under my heartbreak, and searched the realtor pages. In my imagination, Savannah, Georgia, is a place of writers and artists and warmth and sweet tea and endless boulevards. I typed in crazy parameters: hardwood floors because my son's asthma and carpet were a deadly combination; five bedrooms so each kid could have their own room and I could have a dedicated room of my own for writing; and a fireplace because I swore, Scarlet O'Hara-style, that I would never be cold again! One listing came up. One. A five-bedroom farmhouse just outside Savannah. Listing said: Needs new foundation and roof. Seller motivated. The pictures were of strange angles and every single room was painted a weird pale pink.
I sent an email and made an appointment to see a house 1,200 miles away.
The 1875 white farmhouse looked small from the road. I could barely see it through all the live oak and crepe myrtle trees. But it also looked grand; the perspective made it look like a French painting, heat from the sandy drive rising and distorting the view just enough. Garish pink-and-white azaleas, overgrown, stood guard around the full wraparound porch; camellias and flowering trees that looked like Alice in Wonderland's Red Queen's roses flanked each corner. If a whole house exterior could be shabby-chic, this one was.
I walked up the wide porch steps and opened the front door, feeling the wood floor under my feet, taking in the condition of the plumbing and wiring, the everything painted pink, the water damage, the sinks were all turned off, and the various smells of abandoned house—a mix of old smoke and dampness. I could see through the mold on the walls, the severe tilt of the floor, and the dust. This house had good bones, this house could hold me, hold me and my grief. That's all I needed. I listened to the floor creak, leaned against a doorframe, made note of cracks and buckling plaster. This house could hold me. It had survived being abandoned too.
The seller was very motivated, and the house was in bad shape—but I knew this business. Before I was a poet, I used a hammer, helping my grandfather in his carpentry shop, I helped my mother refinish floors, and went to graduate school for historic preservation. I would have heart pine hardwood floors, a bright 1950's kitchen, three fireplaces, and a wraparound porch. And I would paint it all blue. The kids and I would fill it with love and laughter. And we have.
RELATED STORIES
Celebrity news, beauty, fashion advice, and fascinating features, delivered straight to your inbox!