Why Mail-Order Brides Are on the Rise in the U.S.
The businesses that market them are as controversial as ever, but their clientele has only gone up with the recession.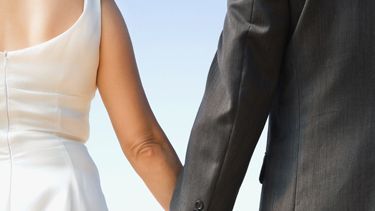 (Image credit: Garry Wade/The Image Bank)
The global economic downturn has been a boon to the people in the business of helping men find so-called "mail-order brides," as Marie Claire profiled in the November issue and as my friend Teddy Wayne reported in a piece for Bloomberg BusinessWeek.
As he writes:
In the age of globalization, the international matchmaking industry — still known in many circles as the mail-order bride trade — is thriving like never before. The Tahirih Justice Center, a nonprofit organization [near D.C.] that protects immigrant women, estimates that the number of mail-order marriages in the U.S. more than doubled between 1999 and 2007, when up to 16,500 such unions were sealed.
International matchmakers are now a growing segment of the U.S. online dating industry, which ... racked up more than $2 billion in 2010 revenue. Since the recession began, "we've seen more men sign up," says John Adams, the co-founder of Phoenix-based A Foreign Affair, which charges $4,000 for the right to attend champagne-soaked "socials" in various Eastern European cities. The company estimates it sparked nearly 1,000 engagements this year. (The Today show just did a segment on A Foreign Affair this morning, if you want to hear more from John Adams and a couple who met through his service.)
But wouldn't you think that during a recession, when people ostensibly have less money to throw around, they wouldn't be spending $4,000 a night to find a mate? Oh, but the matchmaking companies argue that such "investments" can actually be cheaper for men than long courtships, full of expensive dinners and vacations, that may go nowhere. And there is often another economic benefit for the dudes who avail of such matchmakers.
73-year-old Joseph Weiner, the founder of Hand-In-Hand, a matchmaking agency that charges male customers up to $2,000 for matching them with younger Eastern European women, explained it to Teddy by saying: "You take a beautiful woman from the Czech Republic and you bring her into your home, she does all your cooking and cleaning and ironing. At the end of the day, the service is free." Weiner estimated that a man could potentially save $150 per week, thanks to such a match.
(I'm glad there is someone to do the cleaning, since I'm about to throw up all over the floor…)
Men looking for slaves thinly disguised as wives seems dark enough, but there's an even uglier side to the business of marriages arranged by unctuous entrepreneurs. As Teddy writes:
After a few highly publicized murders of women brought to America through international matchmakers, the U.S. passed the International Marriage Broker Regulation Act of 2005. The statute requires background checks on U.S. citizens before communication via the matchmakers. … However, couples can get around this obstacle by claiming they met through other avenues. There also tends to be little enforcement ... when the agencies are based outside the U.S. (Hand-In-Hand, for example, is registered in St. Kitts.) "The mail-order bride industry is a softer version of human trafficking," says Sonia Ossorio, executive director of the New York City chapter of the National Organization for Women. Ossorio also acknowledges that some relationships work out — but perhaps not in a way that would please Betty Friedan. "A lot of people who are attracted to it are just looking for a woman who's docile and obedient," she says.
The emphasis on the youth and subservience of the women whom these companies help to find a match disturbs me, as does the idea that the women don't pay anything for their association with such businesses, while the men pay very large sums — and I imagine more than a few do so in the hopes of finding a "bargain" of the kind Weiner advertises. (Can't you just imagine some jerk-off saying, "I paid so much to find you, so you have to do as I say!")
I'm happy to hear your thoughts on all this.
Celebrity news, beauty, fashion advice, and fascinating features, delivered straight to your inbox!