Sex Story: The Underminer
The underminer asks why, if I'm as wonderful as my friend claims, am I still single?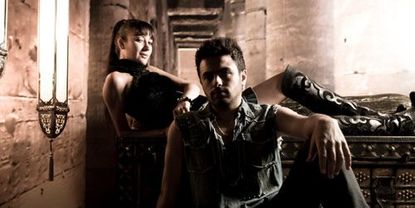 (Image credit: Cevdet Gökhan Palas)
Anna, 26, marketing manager, Atlanta
SUNDAY 7:40 p.m., restaurant: Having drinks with a friend and lamenting my dating drought. She says she has a guy for me—he's adorable, mysterious, and a doctor. She calls him to set it up.
11 p.m., bed: I Google him when I get home, and he looks totally cute in an Anderson Cooper kind of way. I lie in bed wondering if he'll be The One.
MONDAY 12:15 p.m., mall: Buy a new top for the date, since I decided that the 20 I own won't work. Get something subtle and sophisticated. Love the deep neckline.
TUESDAY 6:30 p.m., couch: He calls. After 30 seconds, he asks why, if I'm as wonderful as my friend claims, am I still single? I'm taken aback, but coolly reply that I'm just between guys. He says he wants to meet tonight but can only spare an hour. I'm in.
6:31 p.m., bathroom: Getting ready, I kick myself for agreeing to go out with him the same day that we spoke. I change bras three times.
7:10 p.m., restaurant: He's late. I feel like an idiot.
7:15 p.m.: He arrives at last. He doesn't have much to say—doesn't watch TV, see movies, or read popular fiction. He says he's about to go to Boston, so I tell him a story about my recent trip there: I was getting into a cab at the airport when the back of my jeans ripped. The rest of the ride I worried that I'd flash my ass cheek to all of downtown when I got out of the car.
7:33 p.m.: He asks, point-blank, if my jeans ripped because I was fat. Stunned, I reply, "I've always been a size 2." He nods—but is that skepticism in his eyes? What the...? I stop drinking my Peroni and quickly change the subject. I wonder when I can tactfully end this date.
8:10 p.m., outside the restaurant: It's over, thank God. We're waiting for the valet to get our cars, and he chides me for only taking out $2 for a tip. I explain that it's a Tuesday in Atlanta, not New Year's Eve in New York. He announces that he always tips at least $10. I thank him for the drink and run to my car.
WEDNESDAY 12:31 a.m., bed: Going over the date in my head. It's abundantly clear why he's single. I begin to question my friend's judgment and consider how much I should tell her about the date. I pray he doesn't call again.
8:05 a.m.: I stare at my not-at-all-fat thighs in the mirror. I'm telling her everything.
More: Best Real Sex Stories By Real Women (opens in new tab)