Single Girl's Guide: How To Drive Cross-Country
You don't need a road-trip buddy: Sarah Tomlinson on the joy of hitting the road alone. Single Girl's Guide To: Flying Solo | Traveling the World | Building Your Own House | Climbing Mount Kilimanjaro | Meditating for a Month | Starting Over | Spending, Splurging, & Saving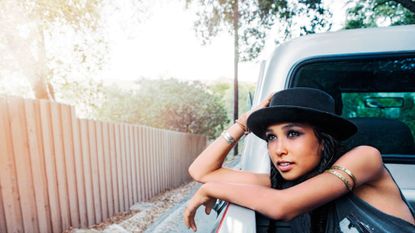 (Image credit: "Anais & Dax/August.")
My first solo road trip was impulsive: On an October Monday three years ago, while exorcising heartbreak in Los Angeles and anxiously awaiting news on a script I'd written, I decided to visit a music industry friend 2,000 miles away in Nashville, Tennessee. As I drove into Nevada, I saw one rainbow after another, six in total, which made up for the fact that I hadn't noticed that I'd taken a wrong turn until I was nearly in Las Vegas (not on my itinerary—but I quickly righted myself). When my agent called with good news about my script, he laughed when I told him where I was and said, "OK, Kerouac."
I was pumping gas at a roadside truck stop in Oklahoma City at the time. I felt elated—for the professional success but also because I realized that I'd liberated myself. By hitting the road and making my own choices—when to set off in the morning, what music to play on my iPod—instead of getting stuck in the emotional purgatory of waiting for fickle Hollywood and an ex who wasn't going to call, I discovered a whole world ready to welcome me. Thanks to that trip, the distance it gave me from my everyday life, and the simple power of putting my foot on the gas, I no longer felt so defined by my defeats or victories: Instead, I felt free.
Want to Road Trip?
Before you go:

Ask a mechanic to check your car. You never know when a tire might blow.

Map different routes—try the app Waze for real-time travel updates—but also buy a road atlas in case your phone dies or there's no GPS.
On the road:

Refill the gas tank when you're a quarter-empty so you don't end up stranded.

Pay a little extra for hotels with safer interior lobbies.

Solo road trips are perfect for marathon, hands-free catch-up calls.
Don't-miss detours:

Stop in towns where you can visit friends, or try the Gogobot app to find local places tailored to your interests.

Seek out notable landmarks. It was worth it to drive out of my way in Oklahoma to stay at a hotel designed by Frank Lloyd Wright.
Marie Claire email subscribers get intel on fashion and beauty trends, hot-off-the-press celebrity news, and more. Sign up here.