Inside One Preacher's Pornographic Past
Pastor Melissa Scott presides over a televangelist empire. Hard to believe that she was once a triple-X plaything known as Barbie Bridges.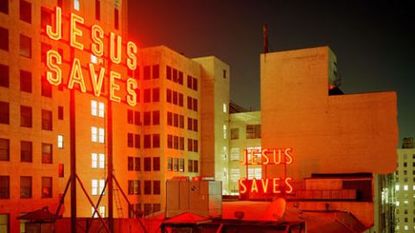 (Image credit: Dave Lauridsen)
Most folks drive right past the gritty stretch of downtown Los Angeles that houses University Cathedral, a former movie palace whose marquee now advertises weekly evangelical sermons. But on any given Sunday, several hundred parishioners converge here for a rousing service that has them swaying and shouting Hallelujah!, enraptured by the low, breathless calls for salvation from Melissa Scott. The unlikely stunner who leads this congregation, Scott, 40, struts the stage clutching a red-leather Bible, periodically flinging her endless chestnut locks. Her doe-eyed image is beamed to local cable stations—she is a late-night staple—courtesy of six TV cameras flanking the pulpit. "Before I found God's word, when things got bad, what did I have? I had friends and family forsake me," she cries, directing her followers to Deuteronomy 33:25. In unison, they bark, "Tough shoes for a tough road!" Ninety minutes later, she slips offstage and is whisked by security out of the building through a private passageway.
Scott knows a thing or two about tough roads. Four years ago, she lost her husband, Dr. Gene "Doc" Scott, the wildly popular "shock jock of televangelism"—nearly 40 years her senior—to complications from prostate cancer. In his heyday as pastor, Doc Scott reportedly collected $1 million a month in donations and amassed an empire that included two horse ranches, a 35,000-square-foot mansion in Pasadena, a private plane, and a collection of luxury cars. Shortly after his funeral, Doc Scott's comely young wife assumed University's pulpit. But after her first sermon, someone anonymously mailed churchgoers Easter cards featuring snapshots of a porn star named Barbie Bridges, who looked remarkably similar to Pastor Melissa Scott. One image showed the woman with her legs spread wide, Virgin Mary and baby Jesus postage stamps covering her privates. Another featured a "See you Sunday!" banner plastered across her bare chest; underneath, it read: "The Church Where You Can Do Anything ... Anything."
The mailing sparked a revolt. Scott's Wikipedia page was so vandalized, it had to be removed; Web newsgroups devoted to the church were overrun by users posting more damning photos. ("Who else wants to bang the bejesus out of Pastor Melissa Scott?" inquired one.) Already stinging from the regime change following Doc Scott's death, some demanded her resignation. Others claimed she was a walking billboard for the redemptive powers of faith. But Scott would cop to nothing, dismissing the incident as an expert Photoshop job, part of a sick smear campaign by religious nuts. She even trotted out a Hollywood attorney to threaten her congregants with lawsuits should any more anonymous missives materialize. It seemed as if Scott had joined the long, sordid list of disgraced televangelists like Jimmy Swaggart, Jim and Tammy Faye Bakker, and, most recently, Ted Haggard, ousted from his Colorado church following allegations that he solicited a male prostitute. But unlike those toppled icons, Scott clung to her denial and carried on preaching.
In the years that followed, Scott avoided answering any more questions about Barbie Bridges—until now.
I am consumed with my work," says Pastor Melissa Scott, soothing her raspy throat with sips of warm water. She's sitting in a private chamber at the church, decorated to look exactly like the tack room where her husband kept his saddlebred horses, replete with royal blue felt walls studded with reproductions of British foxhunts. Having wrapped up her Sunday sermon only a half-hour earlier, she's still wearing a thick layer of makeup—a worked-over blemish on her chin cracks the otherwise pristine veneer. In person, Scott is warmer than her haranguing pulpit persona. She smiles often and broadly, revealing impeccably white, straight teeth, the product of braces and bleaching. But her cordiality can't mask the occasional hard edges—the stern glance at a colleague who digs into his lunch before saying grace, the firm that's-all-you're-getting-from-me pause that punctuates her oblique answers to softball questions about her upbringing. "I moved around a lot, kind of hodgepodge, everywhere," she says. Any brothers or sisters? "Right now I'm kind of disconnected from my family. Religion should bring people together, but sometimes it tears people apart," she says cryptically.
It was in this room, she says, that she first met Dr. Scott—that's how she refers to her late husband—introduced by a mutual friend after services one Sunday back in the mid-'90s. Dr. Scott asked her if she had any hobbies. Stamp collecting, she said. Turns out, he collected stamps, too. "He said, 'I'd love to see your collection, and I'd love to show you mine.' I've never been so embarrassed. He's got these award-winning rarities; he's showed them to the Queen, showed them internationally"—unlike the ordinary post-office stamps filling her store-bought albums. "But that was our common thing, and from there things just kind of developed," she says. By 1998, they were an item. Dr. Scott ordained her his administrative pastor, though she had no formal theological training. Two years later, they wed in Reno. He was 70; she was 32. A month later, he was diagnosed with cancer. "I'm the fruit of his lifelong ministry. He birthed me," Scott says, choking up.
Scott is a markedly different preacher from Dr. Scott, who was prone to off-color rants about everything from UFOs to his ex-wife ("the devil's sister," he called her). Her sermons are more pedagogical, often involving whiteboards crammed with Hebrew and Aramaic—Scott claims she's taught herself 20 languages. The academic approach resonates with her supporters. "I've just begun listening to Pastor Melissa Scott, and it feels like I'm finally being fed real food after starving for so long," one fan commented on a Christian newsgroup. "As for those who would criticize her for any transgressions in her past, who are you to judge her?"
Asked about the Barbie Bridges matter, Scott smacks her berry-stained lips and scoffs. "It's definitely a freak show. I've seen a good portion of the stuff on the Internet, and honestly, I almost have to laugh at it," she says, flashing the smile again. Pressed further, Scott sighs deeply, then adds, "Okay, I was never an actress in a pornographic movie. So what does that do? You defend that, what else do you start defending?"
That said, Melissa Scott really was a porn star, as confirmed by several acquaintances who knew her when she worked the adult-entertainment circuit as Barbie Bridges. Though it's unclear when she adopted the moniker, by 1994 she'd already nabbed a title—Miss Nude CanAm Exotic—under the name. She posed nude, as Barbie Bridges, for Penthouse lensman Earl Miller and famed erotic photographer Suze Randall. At the time, Scott was married to Paul Pastore, who worked for an exotic-dancing agency called Fantasy Creations before launching a porn distribution outfit called Barbie Bridges Enterprises. (Among its titles: Backdoor Diaries and Heidi's High Heeled Hookers.) "If she doesn't want to talk about [her past in porn], then I'd rather not talk about it. Whatever she wants to do and say, that's fine with me," says Pastore, reached at his West Hollywood office, where he still works in adult entertainment.
Scott didn't cultivate her relationship with Dr. Scott in church, say former associates, but at his California ranch, where the fiery televangelist frequently entertained nude models like Penthouse Pet Chloe Jones and Playboy Playmate Elke Jeinsen. Congregants dubbed them his "pony girls," because he often filmed them riding his stallions in thong bikinis and broadcast the footage during televised sermons. ("Now that you see what I got waitin' for me at home," he told the audience, "you should all be extra nice to me for comin' down here to talk to ya.") "Melissa was there, always dancing for Doc topless, showing her tits right away," recalls Jeinsen, now a swimsuit model and sometime actress.
Doc often paid his pony girls to attend church, where they acted as a kind of cheerleading squad. "[Melissa] sat in the front row in skimpy outfits. When she came around, I just thought, gold digger," says Christian Shaw, son of Playboy bunny Christine Shaw, a longtime girlfriend of Doc Scott. He says Melissa's life in porn was an open secret. "Doc was big on forgiveness, and he wasn't tripping on her past. She was absolutely Barbie Bridges." Before long Melissa was singing on Doc Scott's broadcasts. Then she relaxed her big, curly hair and traded the thigh-high minis for turtlenecks and pantsuits. By the late '90s, Doc abandoned the pony-girl parties altogether and embraced Melissa as his sole girlfriend.
While Doc was a character, active in local politics, his widow is largely unknown in town. After services, she essentially disappears. Scott will not disclose where she lives, although she allows it is not at her late husband's Pasadena "church parsonage," recently listed for $17 million. "I am very much a recluse," she admits. She is constantly shadowed by a security detail, which enforces the church's strict reservation-only attendance policy. Cameras are expressly forbidden inside. "I have stalkers, people who are obsessed with me," Scott notes.
Some parishioners just don't get it. "I think she'd have a much bigger congregation if she came clean," says a former member who requested anonymity for fear of reprisal. "People would have more respect for her if she said, 'Yes, that was me, but I've repented and turned to Christ.' Instead it's, 'What else are you lying about?'"
But Pastor Scott simply won't. She points to the stained-glass window depicting the scene from John 20 in which Jesus appears to Doubting Thomas, the apostle who demands proof of Jesus's resurrection. Everyone, Pastor Scott coos, has a little Doubting Thomas in them. She pulls the Bible from her lap, licks the tips of her fingers, and flips through the worn pages. "Only three chapters [of the Bible deal with] God's perfection," she says, pinching off a small section. "The rest deals with man's fall and bringing man back. I want people to be able to start over, start a brand-new life. How do you do that if you're condemning them? God is a god of second chances."
A slow grin spreads. "I'm at perfect peace about where I am and what I'm doing. I feel that I fit right in this time and this moment." And with that, Pastor Melissa Scott rises to go. A dozen security guards standing sentinel in the hallway spring to attention and hustle her out of the building.
Follow Marie Claire on Instagram for the latest celeb news, pretty pics, funny stuff, and an insider POV.
Celebrity news, beauty, fashion advice, and fascinating features, delivered straight to your inbox!