4 Scientifically Proven Ways to Improve Date Night
Experts say these surprising activities will boost your attraction and strengthen your bond. Which one turns you on most?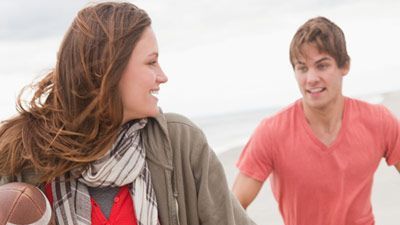 (Image credit: Jamie Grill/Tetra images)
Scientists have discovered that certain surprising activities will boost your attraction and strengthen your bond. So, what are they ... and which would you choose for your next date?
Grab coffee: Meeting for lattes may sound like an unimaginative date, but there's a romantic perk. Data from Yale University suggests that when two people drink hot coffee together, they think the other is more trustworthy, since the insula part of the brain processes both physical and emotional warmth.
Take it outside: People who spend time outdoors gazing at scenery feel closer to each other, according to a study conducted at the University of Rochester. "It's possible that when people are in nature, they're more aware of their core values, such as family and relationships," says study author Richard Ryan, Ph.D. Go hiking or fishing or plan a picnic.
Play games: Training for a marathon together or playing a game of touch football or ping-pong can boost arousal since competition triggers the release of the sex hormone testosterone, says love and sex therapist Ian Kerner, Ph.D.
Get scared: Watching a suspenseful flick or renting a sports car for the day can make you appear hotter to your date, says research published in the Archives of Sexual Behavior. "Exciting activities activate the nervous system in the same way as sexual arousal," says study author Cindy Meston, Ph.D. "When people are in scary situations, sometimes they misinterpret those emotions as romantic attraction to the person with them."
Which date turns you on the most?online survey
Tell Marie Claire: Do you believe the experts? Think these dates are better than dinner-and-a-movie? Share your thoughts in the Comments section below!