The 6 Secret Ingredients That'll Make Your Slapdash Dinner Taste Like Real Italian Food
Because if you're not in Italy, you can at least eat like you are.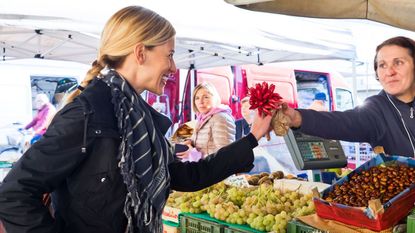 (Image credit: Marie Hennerchart)
I'm quite certain I don't have an ounce of Italian in my blood, but after a week of eating and drinking my way across Italy on a Trafalgar (opens in new tab) guided vacation, I now feel that I can claim a certain gastronomic expertise. It's nearly impossible not to fall in love with what (and how) Italians eat: Jam-filled brioche and cappuccinos for breakfast, multi-course meals of flavorful antipasti, fresh pasta (the fact that pasta is its own course is enough) and simple grilled fish, and the occasional affogato or slice of pizza when hunger strikes on the go.
In Italy, food isn't a race or a reward but a daily luxury to be savored. After an unforgettable trip to Rome, Florence, Tuscany and Venice, my promise to myself is that I'm going to let that attitude linger as long as I can, starting first with my approach to cooking and eating, followed closely by updating my shopping list. These six ingredients I developed an appreciation for while dining my way through Italy will play a big role. Buon appetito!
1. Sheep's Milk Ricotta
While ricotta fresca can be made from cow, goat or buffalo's milk, it's the sheep's milk variety that stole my heart. I had the pleasure of sourcing and cooking fresh zucchini blossoms with Chef Libero at Florence's Villa Machiavelli, (opens in new tab) where we taste-tested the lightly-fried purist version (the Florence way) and another stuffed with sheep's milk ricotta (the Roman way). Both are delicious — but when cooking at home, I'd advise everyone to go big and opt for the latter.
But there's a major difference between the ricotta you see in plastic tubs at your grocery story and ricotta fresca, found at a proper cheese shop. With a smooth texture and mild, sweet flavor, fresh sheep's milk ricotta will practically transform a tomato, olive, and basil bruschetta into its very own meal. Ricotta fresca can be just as perfect on its own, with a drizzle of honey, served alongside fresh figs and crusty bread.
2. Mostarda
I first tried mostarda at a family-run deli in Venice, alongside some taleggio cheese, washed down with a glass of friulano. The jam-like condiment of candied fruit (often quince) and mustard powder is traditional of Northern Italy, but variations can be found all over the country.
While mustard + fruit may sound like a strange combination, it's actually a refreshing and unique complement to the cheese board served at your next dinner party. Pick it up at a local speciality shop and use it in place of a chutney or fig jam to look fancy in front of all your friends; if you're more into DIY, here's a simple recipe (opens in new tab).
3. Chianti
This dry red wine is practically synonymous with Italy, and while it's fantastic to drink—I love Castello del Trebbio's (opens in new tab) Chianti Rufina, made with 100% Sangiovese grapes—it's also great for cooking. While at a wine tasting at the Castello del Trebbio vineyard, the producer told our Trafalgar group a story about how they were having problems with wild boar eating all their grapes—so they found an innovative solution: Cooking wild boar in Chianti makes a fabulous ragu and it solves that rampant wild animal issue. YUM. Pick up a bottle–and a boar—and try this recipe (opens in new tab) ASAP.
4. Fresh Pasta
If you like pasta (is that even a question?), you need to try making it at home at least once. It's so laughably easy, that I'm sure you'll want to do it again.
I was converted by Chef Fabio Bongianni during a cooking class in Rome, where we made fresh spinach ravioli. The ingredient list consisted of just four items: flour, water, one egg, and a simple pasta machine like this one (opens in new tab).1. Sheep's Milk Ricotta
5. Saffron
One of the most precious and expensive spices in the world, saffron is that extra ingredient that will set your Italian cooking apart; it adds color, aroma and flavor to both sweet and savory dishes—and a little bit goes a long way. One of my favorite recipes that uses saffron in all its glory is Risotto alla Milanese, a creamy rice dish with a single tablespoon of saffron required (I love this recipe (opens in new tab)).
But saffron isn't just for purists. While in Italy, I was introduced to a new form of saffron that I'd never seen or tasted before: Saffron jelly. Since then, I have been indulging in this simple recipe each night for the past week: 1 dollop of saffron jelly + 1 slice of salty Fontina cheese + 1 crunchy crostini = delicious.
6. White Truffles
I get so excited when I see white truffles on a menu—not truffle oil, but whole, beautiful, fresh white truffles sliced over a simple plate of pasta. And if you need to justify a plane ticket to Italy, please do so knowing that Umbria is considered the heart of truffle country.
If you can't make the trip, picking up a jar of preserved black truffles proves a close second. A simple truffled chicken recipe (opens in new tab) requires only placing sliced black truffle under the skin, seasoning appropriately, and roasting at 400°. Your kitchen will smell like heaven, you'll look like an Italian cooking master, and your guests will surely go home happy.
Follow Marie Claire on Facebook (opens in new tab) for the latest celeb news, beauty tips, fascinating reads, livestream video, and more.