Melinda Gates Reports from Malawi, Where Feminism Is Making Surprising Strides
An impressive new trend is changing conditions for women—and helping them push the whole country towards a better future.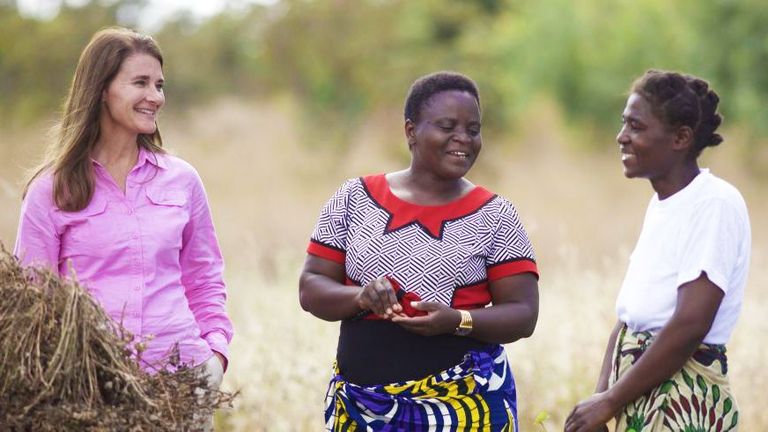 (Image credit: Courtesy of Gates Archive)
I'll always be grateful that I went to an all-girls school where our teachers were adamant that girls could be good at anything. They encouraged us to run for class president, play sports, and study subjects like math and computer science. In doing so, they gave us the chance to develop our confidence free from the constraints of cultural expectations—expectations that deem that some things are appropriate for girls and some things aren't.
Today, both as the mother of three teenagers and as co-chair of our foundation, I spend a lot of time thinking about how we can lift those kinds of constraints for more women and girls in more places.
There's an important reason why. When women and girls are empowered to participate fully in society, everyone benefits. We know, for instance, that women spend more of their income on their families than men do—as much as 10 times more. And we know that when they have a voice in decisions about family finances, women prioritize things like healthcare, nutritious food, and education, which, in turn, sets up their community for a healthier, more prosperous future.
I was reminded of this last month when I visited a rural village in Malawi, a small country in southeastern Africa and one of the most impoverished places in the world.
The women I met there are full of ideas about how they can create a better future for their families—from using new tools and technologies to improve their crop yields and lift themselves out of poverty, to ensuring that their children have more education and opportunity than they did.
But, all too often, traditional beliefs about gender roles prevent these women from putting their ideas into action. That means the people who have the potential to drive the most change for their communities have the least power with which to do it.
If you're a woman in rural Malawi, you're expected to help your husband on your family farm—but, like many women all over the world, you're also responsible for the bulk of the housework and childcare.
Even though you're the one who fixes dinner, you and your children are expected to wait until your husband has eaten his fill before sharing his leftovers, so you can't always guarantee your kids will get enough to eat.
And after the crop you've planted together is harvested and sold, your husband is the one who has final say over how to spend the income. If he'd rather use it to buy beer than pay your kids' school fees—like some of the husbands I heard about—there's nothing you can do to stop him.
It's easy to see men as the villains in this situation, but they don't always realize that they're perpetuating norms that are unfair and even harmful. The fact is that gender roles can become so entrenched that no one thinks to question them. So how can a society begin changing the behaviors that hold women down and block progress for everyone?
I was impressed, on my trip, by an innovative program that's making strides to update the gender dialogue. The initiative, called Pathways and run by our foundation's partner organization CARE, challenges locals to reconsider their points of view—in one exercise, mealtime roles are reversed and men have to face how they'd feel if they only ever got to eat leftovers. Their wives told me that, often, that exercise alone was enough for their husbands to start seeing things differently.
In another exercise, men and women take a new look at their household finances by drawing a "cash flow tree" on butcher paper, showing income and expenditures. The dialogue shows men how many aspects of managing the household women are responsible for, which helps spark a conversation between husbands and wives about the importance of including her in financial decisions.
Taken together, these conversations are helping shift gender norms across entire communities, one marriage at a time. It made me optimistic that so many of the people I met on my visit refer to these dialogues as turning points in their family lives.
One farmer, Aleck, admitted to me that he'd realized that not only can his wife manage money as well as he can, she can actually manage it better. He even said she's the reason their family no longer has a "hunger season" in which the food runs out between harvests.
These gender dialogues are also opening up new doors of economic opportunity for women. A farmer named Patricia told me that her husband is willing to support her now—he enabled her to quadruple her investment in her new seed business.
In Malawi and around the world, when women and girls have the opportunity to reach their full promise, they use it to do incredible things. So it's important that all of us—no matter where we live—use our voices to start dialogues about the inequalities we see in our own lives.
Women and girls can do anything. And all of us, everywhere, should have the chance to prove that.
To see more of Melinda's trip, check out her Instagrams here.
As co-chair of the foundation, Melinda Gates shapes and approves strategies, reviews results, and sets the overall direction of the organization. Over the last 15 years, her work has led her to increasingly focus on empowering women and girls as a way to bring transformational improvements in the health and prosperity of families, communities and societies. Melinda received a bachelor's degree from Duke and an MBA from Duke's Fuqua School. After joining Microsoft Corp. in 1987, she helped develop many of the company's multimedia products. In 1996, Melinda left Microsoft to focus on her philanthropic work and family.