5 People Suffered Minor Injuries After a Fire Broke Out on a—You Guessed It!—United Flight
The airline can't catch a break.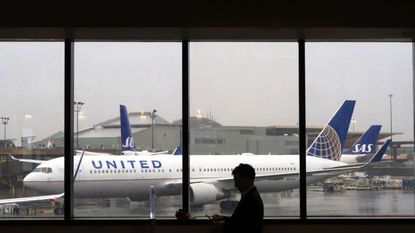 (Image credit: Getty Images)
Last night, a United flight had to be evacuated after an engine fire broke at Newark Liberty International Airport.
United flight 1579 was on its way to San Francisco, CA when the airport's tower noticed what looked like flames coming from one of the plane's engines while it was taxiing on the runway, CNN reported.
A total of 124 passengers and seven crew members were on board when the fire broke out, CBS New York reported.
After the crew was notified of the fire, they deployed the chutes and evacuated the plane. Five people suffered minor injuries, according to this tweet from the airport.
#EWR has reopened after earlier incident of plane with apparent engine fire. Reports of 5 minor injuries. Expect delays remainder of night.May 24, 2017
See more
Passenger Lo Toney posted a video from the tarmac to Twitter of emergency vehicles surrounding the plane with its slide chutes deployed.
Just had to evacuate my @united flight using the slide and everything @EWRairport pic.twitter.com/0YhAAPeoFFMay 24, 2017
See more
"The pilot came on and said that it would take about 20 minutes as we were number 18 to take off," Toney told CNN. "Then about five to 10 minutes later we started to move and then the pilot came on the air and said 'Flight attendants prepare to evac'."
The airport was closed for nearly two hours last night but has since reopened with residual delays, according to CBS New York.
The Federal Aviation Administration is currently investigating how the engine fire started.
Follow Marie Claire on Facebook for the latest celeb news, beauty tips, fascinating reads, livestream video, and more.
Lyndsey Matthews is the Destination News Editor for AFAR; previously she was a Lifestyle Editor across all of Hearst Digital Media's brands, and a digital editor at Martha Stewart Weddings and Travel + Leisure.