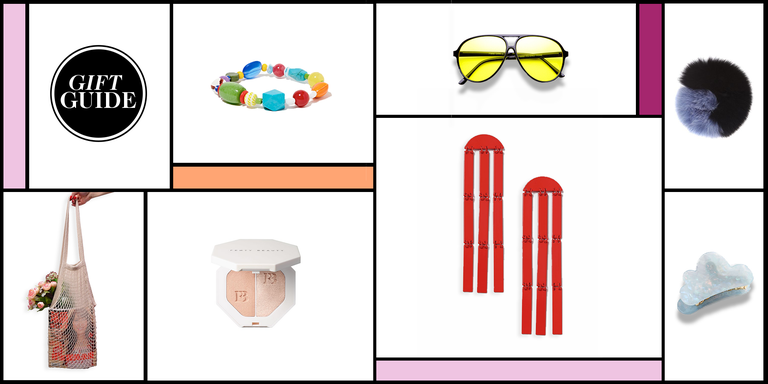 Courtesy, design by Travis McHenry
Sure, the point of a white elephant exchange is to execute a series of strategic maneuvers to end up with the least heinous gag gift possible, but you know what would make things even more interesting? If the pool were stacked with things you'd actually want. So here, we've rounded up 13 options, priced at under $5 to "definitely past the set dollar amount, but I really want to stir the pot." When the shopping's finished, all that's left to do is sit back and soak in the consequences of your own diabolical scheme.
Yeah, a bottle of tequila that'll make you lose feeling in your arms might be the more popular choice, but you'll be the one laughing in the end.
Bando, $8
Snap bracelet, but make it furry and the cause of at least one strained friendship.
Charlotte Simone, $70
This is a hand-warmer you plug into a USB port, which is much nicer than one of those packets you shake up.
Urban Outfitters, $20
Everybody wants some, "some" being a mesh shopper that's all over Instagram.
DimiDay, $5
Pro tip: To soothe any hurt feelings, just say you'll art-direct a pic of her with this velvet bow in her hair.
J.Crew, $16.50
Some people just want to watch the world burn.
Fenty Beauty, $34
Rainbow bacon barrette = possibly brawling.
Dream Collective, $50
There will definitely be one person in the group who knows what a regular Roxanne Assoulin bracelet goes for but conveniently keeps that fact to herself.
Roxanne Assoulin x Mira Mikati, $40
For the Insta-thirstiest of your pals.
Sunglasses.LA, $10
I would use my steal on this, even though I could just as easily drop a tenner on it.
Urban Outfitters, $10
You can turn your attention elsewhere if you haven't got pierced ears. Game on, otherwise.
Topshop, $28
If you don't have one of these hats, you probably want one. And if you do, you want another.
Zara, $23
So the carnage can continue.
What Do You Meme, $30