63 Gifts for Your Sister, a.k.a. Your Ride or Die
May she remember that when you "borrow" this gift.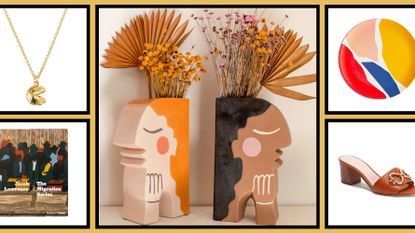 (Image credit: Design by Susanna Hayward )
Marie Claire Newsletter
Celebrity news, beauty, fashion advice, and fascinating features, delivered straight to your inbox!
Thank you for signing up to Marie Claire. You will receive a verification email shortly.
There was a problem. Please refresh the page and try again.
Even when your sister takes your new Staud dress without asking, even when she roasts you in the family group chat, you still love her to pieces. Let's face it, you've had more showdowns than the Kardashian sisters, but you've always made up and she's forever your ride or die/plus one for any parties where you feel awkward going alone. Plus, she's the only one who truly understands how scary your parents were while you two were growing up. She's there for you 24/7 and truly, you can't imagine life without her. To honor that sibling bond, make the gifts you give this season feel special. Whether you're looking for something personalized, budget-friendly, trendy, or just plain cozy for your sister to unwrap and squeal with joy over, we've got you covered. Check out the 53 holiday, birthday, or "just because" gift ideas ahead.
1/63
Farmgirl Flowers SoHo Ho Ho!
A Tiny Christmas Tree
For those spending Christmas apart this year, send your love and thoughts with this little spruce tree. The package comes with everything she'll need, from lights to the "snow," to set up a little holiday cheer in her studio apartment.
2/63
yasaf, lit APLOMB
A Vegan Candle
This phthalate and cruelty-free candle is made of a vegan blend of natural soy and coconut wax with a eco-friendly wooden wick. Once lit, the candle gives off notes of blood orange, plum honey, and spices such as cinnamon and nutmeg. When you've used up the candle, the vessel can be repurposed.
3/63
ban.do To-Do Planner - Junk Drawer
A Planner
You like to organize all your to-do lists on your iPhone while she prefers to write them down. You know then that she'll love this planner. It has 184 double-sided planner pages and 40 double-sided list pages for all her scheduling needs.
4/63
Impala Quad Skate in Pink
A Pair of Roller Skates
It's impossible not to fall in love with these colorful roller skates. It'll make a great gift for sisters of all ages and help her get her "steps" in for the day.
5/63
Wisdom Panel 3.0 Breed Identification Dog DNA Test Kit
A Dog DNA Kit
Surprise your sister with this DNA kit, so she can unpack the mystery, once and for all, of her favorite furry pal's breed. You'll also be the best auntie ever.
6/63
Urban Outfitters Female Form 12 oz Mug
A Mug
This female form mug is crafted from speckled ceramic and is great for those who don't want that cookie cutter kitchenware look. To make this gift feel a little more special, include her favorite blend of coffee or tea to sweeten the deal.
7/63
Cody Foster Vintage-Inspired Food Ornaments
A Set of Four Ornaments
You both love to snack, so this fun ornament set is sure to be a hit. Every time she looks at one of these trinkets, she'll think back to all those memories you two share.
8/63
Barefoot Dreams CozyChic Unisex Robe
A Cozy Robe
Make her feel like she's at a spa every day with this microfiber robe that won't ever shrink or pull. It's machine washable, too, which will make her already busy life so much easier.
9/63
Harry Potter Hogwarts Crest 15 Days of Socks Advent Calendar
A Harry Potter Advent Calendar
You can always catch her watching Harry Potter reruns for the hundredth time. It makes complete sense then to gift her this Harry Potter advent sock calendar. She can rock the socks while watching half-blood prince again!
10/63
Clarkson Potter Modern Comfort Food: A Barefoot Contessa Cookbook
Who else recalls watching Ina Garten on the weekends cooking up a storm with their sibling? (Nope, just me?) Either way, if she is a fan of Ina Garten, she'll want Ina's newest cookbook, which features recipes such as outrageous garlic bread and pomegranate gimlets.
11/63
Spicebox Art Studio Calligraphy Set
A Calligraphy Set
You were always slightly envious of her perfect penmanship growing up, so you know she will love this introduction to calligraphy set. For under $20, she can write you the prettiest notes and letters.
12/63
The Bouqs Co. Brenda Bloom
Gift her flowers that have a charitable mission. The Bouqs Co. collaborated with Bloom & Plume founder Maurice Harris to design this bouquet blend of purple alstroemeria and limonium with burgundy scabiosa for United with Flowers Collection. One hundred percent of the net profits will go towards Campaign Zero, supporting its mission to combat police brutality through data-informed policy solutions.

13/63
Garnett Hill Classic Cashmere Socks
A Pair of Cashmere Socks
Whether you're looking for a stocking stuffer or something extra on the side of her main gift, you'll be glad you chose these cashmere socks. They come in multiple colors, so you could even buy her two pairs if your budget allows.
14/63
Urban Outfitters Mango Wood Cross Hatch Wine Rack
A Wine Holder
This mango wood wine holder will add some warm tones to her kitchen countertops. When gifting, throw in a bottle of her favorite wine too.
15/63
Mighty Mojo Cuddly Joe Exotic 1000 Piece Puzzle
A Tiger King Puzzle
For the sister who binged Tiger King in one sitting, gift her this Joe Exotic puzzle piece. It's hilarious, and the 1,000 pieces will keep her busy for at least the whole weekend.
16/63
Briogeo Merry Multi-Masking Kit ft. Don't Despair Repair Deep Conditioning Honey Bear Hair Mask
A Haircare Kit
Treat her scalp to this hydration and restore kit from Briogeo. It works on all hair types and texture to address concerns such as dryness, split ends, and breakage. The masks are travel-size friendly too if you're going away for the holidays.
17/63
Missoma Gold Moonstone Square Locket Rope Necklace
A Locket Necklace
A pretty locket that actually opens and can contain a mini photograph of her favorite sibling a.k.a. you, maybe? The front has a cool rainbow moonstone while the chain itself is a rope design.
18/63
Tory Burch Bandana-Print Band for Apple Watch®
An Apple Watch Band
Your sis swears by her Apple Watch, so give her this band that's made of leather and has a graphic paisley pattern. That, coupled with the dark navy blue, will draw attention to her wrist in an elegant fashion.
19/63
Mark Cross Leather Essentials Pouch
A Carry-All Pouch
Instead of stuffing her face mask back into her tote bag or jacket pocket, she can keep the mask clean and sanitary in this essentials pouch. The pouch can be attached to everything from her tote bag to keychain. In addition, with every purchase, Mark Cross will donate 10 percent of the sales to the Know Your Rights Camp COVID-19 Relief Fund.
20/63
Smoko Heated Snoopy Slipper
A Heated Slipper
This Snoopy-inspired slipper is so cute and heats up to ensure her feet will be warm 24/7. Get yourself a pair so you guys can match. Once your mom sees you both, she might want a pair too.
21/63
Uniqlo Women Merino Wool Turtleneck Sweater
A Turtleneck Sweater
Your mom always told you guys to wear more layers growing up and while you guys might have rolled your eyes, she always turned out to be right. Follow mom's advice and gift yourself/your sister this layer-able turtleneck sweater for winter.
22/63
Ovalware Airtight Cold Brew Iced Coffee Maker and Tea Infuser with Spout - 1.0L / 34oz Ovalware RJ3 Brewing Glass Carafe with Removable Stainless Steel Filter
A Cold Brew Maker
She easily spends more than $30 on coffee per week, which isn't great for her wallet. Good thing you can get her a cold brew machine (that's also a tea infuser!) that cost less than her trips to the coffee shop.
23/63
Proenza Schouler 2020 New York
A Coffee Table Book
For the sister who loves all things fashion and lives in the Big Apple, gift her this beautiful coffee table book that comes in four different colors. The book features imagery from Proenza Schouler's spring 2021 collection and a love letter to New York. If she likes what she sees in book, she can pre-order the garments too.
24/63
Burton Family Tree Hometown Hero Camber Splitboard
A Snowboard
Gift your snowboard-avid sibling a fresh board for her trips to the mountain. Though pricey, it's worth it to see the look on her face when she unwraps the present. (If you're really on a budget though, consider splitting the cost with other family members!)
25/63
Urban Outfitters Karaoke Microphone
A Phone Holder Microphone
She's always singing and dancing around. Support her hobby with this microphone that features a built-in phone holder, so she can belt out her favorite tunes. The wireless mic can even record her performance.
26/63
Tanya Taylor Connie Scarf
A Fuzzy Scarf
As somebody who's spent way too long searching for scarves that are soft, chic, and well-made this season, I'm telling you this alpaca scarf is something to covet. This scarf is a vibrantly colorful option that your sister will be able to enjoy with any cold-weather ensemble.
27/63
Roxanne Assoulin Color Therapy The Big Set
Colorful Bracelets
If she needs more optimism and clarity in her life, gift her the yellow set. If she needs more harmony and simplicity, gift her the neutral bracelets. Warm colors may be energizing while cooler colors are more calming. Each bracelet set is meant to harness those colors' energies and pass them on to the wearer.
28/63
Jungalow Face Bookend Vase by Justina Blakeney
A Pair of Vase Bookends
These vase bookends double as art pieces, which means they're great for your sis if she lives in a tiny city apartment where shelf space is a premium. They're unique, colorful, and add a pop of artsiness to any home.
29/63
Mejuri Charlotte Bold Ring
A Gold Ring
Inspired by the classic Parisian Charlotte cake, the "Charlotte" collection will satisfy her hunger for new accessories. This ring, in particular, is our favorite because of the simple ridge design. It can be worn alone or stacked with other gold baubles.
30/63
Innisfree Super Volcanic Pore Clay Mask
A Clay Mask
For the sister with sensitive skin, gift her this gentle, but powerful, pore-cleaning clay mask from cult K-beauty brand Innisfree. It doesn't burn or dry out your skin, instead leaving your skin feeling smooth, fresh, and clean.
31/63
Culture Brands CultureTags Card Game
A Card Game
She loves collecting board games (and hosting game nights for the fam) so this card game is right up her alley. Described as "a game for people who love hashtags + the culture," it's sure to draw a lot of laughs and maybe even some fun banter from everyone at the table.
32/63
Our Place Always Pan
A Pretty Cooking Pan
Whether she's an amateur cook or pro chef, she'll definitely appreciate and love this lavender colored does-it-all pan. It can braise, sear, steam, strain, sauté, fry, boil, serve, etc.
33/63
Stuart Weitzman THE KOLBIE BOOT
A Pair of Brown Boots
Your sister is the most stylish person you know and you're always raiding her closet for goodies. As a thank you for all the tops you "borrowed" and never returned, gift her a pair of timeless Stuart Weitzman boots that will make all her outfits ten times more chic. She'll instantly forgive you.
34/63
Goodee Jacob Lawrence: The Migration Series
A Coffee Table Book
A beautiful book that showcases the work of artist Jacob Lawrence who created "a series of 60 small tempera paintings on the Great Migration, the decades-long mass movement of black Americans from the rural South to the urban North that began in 1915–16." This will be a coffee table book she'll actually read and hold close to her heart.
35/63
Longchamp Le Pliage Club Tote
The Perfect Weekender
This Longchamp bag is a great alternative to your traditional duffle bag and a better space-saving toting piece because it can be folded down into a compact rectangle. I've personally used this bag as a weekender and as a carry-on for souvenirs from abroad.
36/63
Phenomenal Woman Phenomenally Soft Crewneck Sweatshirt
A Motivating Sweatshirt
Remind your sis that there's nothing wrong with being ambitious and a go-getter. She can slip into this sweatshirt whenever she's feeling a little stressed or down at work to remind herself to always keep her head held high.
37/63
Boy Smells Kush Candle Variety Pack
A Trio of Candles
For the sister who likes to light up (candles that is...), she'll LOL at Boy Smells kush candle trio. They're landlord and next door neighbor-approved too.
38/63
Henkelion 10lbs Adjustable Ankle Weights for Women
Ankle Weights for Women
Upgrade her at-home workouts with a pair of ankle weights. This particular pair has over 3,000 reviews on Amazon, comes in several fun colors, and receives 4.5 stars. The adjustable weights are made of breathable"mercerized cotton" and designed for using on both ankles and wrists.
39/63
Blueland The Routine Clean
A Cleaning Set
Growing up, her room was the tidy one while yours was a mess. To honor her Monica Geller-esque tidying habit, give her this eco-friendly cleaning set. She'll have everything she needs to keep her place spotless.
40/63
Swarovski Birthstone Pendant Necklace
A Birthstone Necklace
She loves sentimental gifts, which means she'll appreciate this birthstone necklace. The minimalist piece can be worn every day or layered with her other jewels when she wants to make a statement.
41/63
Beyond Yoga Featherweight Romp Around Jumpsuit
A Casual Jumpsuit
She loves working out and only wears athelsiure, so this one-piece from Beyond Yoga will keep her fitness-loving self content and comfortable. She can wear it as is or layer it with a denim jacket and white sneakers.
42/63
Golde Superfood Latte Sampler
A Wellness Set
Whenever you talk to your sis, she's always recommending a new health trend or trying to get you on board with her wellness initiatives. Surprise her, then, with this travel-friendly pack of three superfood lattes. You just might end up getting a set for yourself too.
43/63
Givenchy Mini Antigona Bag in Grained Leather
A Luxury Handbag
You want to splurge a little on your sis this year, so give her one of Givenchy's iconic Antigona bags. This accessory will last for seasons to come and make her feel like the fanciest person in the room.
44/63
Rare Beauty by Selena Gomez Lip Souffle Matte Cream Lipstick
A Matte Finish Lipstick
Any beauty junky will love to test drive Selena Gomez's makeup products from her beauty line. Start with this weightless air-whipped lipstick that has a matte finish and comes in multiple wearable hues. The beauty product makes for a great stocking stuffer too.
45/63
Bando Bamboo Dinner Plate Set in Fragments
A Compostable Dinner Plate Set
This set of four bamboo dinner plates are made from bamboo fiber and cornstarch, finished off with a bright pattern to liven up any dining table during meal times. Another plus? They're 100 percent biodegradable.
46/63
Kate Spade New York Elouise Slip-On Sandal
A Pair of Sandals
The holidays is one of the rare times you should over indulge your sister in her obsessions, namely her love for shoes. Give her this cute, easy-to-wear slip-on sandal and depending on where she lives, she can either rock it the next day or save it for her tropical vacation.
47/63
Fortune and Frame Mini Fortune Cookie Pendant
A Fortune Cookie Necklace
Raise your hand if you love cracking open fortune cookies and reading them out loud. Now you can get this fortune cookie-inspired necklace and wear it around your neck 24/7. With this on, your sis will have all her wishes come true.
48/63
We Are Knitters Dragonfly Blanket Knitting Kit
A Beginner's Knitting Set
For anyone who wants to take up knitting, We Are Knitters makes the easiest-to-follow-along sets. Start her off with a blanket before advancing to something a little more complicated like a sweater.
49/63
HomeRoots Hand-Painted Black and Beige Ceramic Bottle
A Pattern Vase
I'm loving the Jason Wu x Loews collab in the home decor arena, especially this pattern vase. It's tall enough to stick pampas grass or your favorite faux twigs in and can be displayed just about anywhere in your home.
50/63
Brandon Maxwell Anniversary Patch in Collaboration with Fort Lonesome
A Bulldog Patch
A pup patch that will add some whimsy and fun to her canvas tote bag or denim jacket. This design was done in collaboration with Fort Lonesome, an Austin, Texas-based company.
51/63