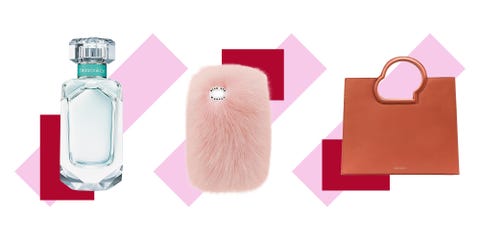 As the needlepoint pillow goes, "Life made us sisters, but love made us friends." Even when she takes your new Staud dress out without asking first. Even when she roasts you in the family group chat. Still, you love her to pieces, so here, 10 gifts she'd never buy herself.
She might not know this young brand, so you'll seem even cooler.
Danse Lente, $575
Oh NO, I got these in MY size accidentally, so sorry.
Frances Valentine, $345
Sure, she could wallpaper her bathroom in that flamingo print everybody has. Or she could do this stylized cactus thingy.
Wallshoppe x Clare V. , $5
Listen—you can really only give people you're very close to seemingly boring gifts like bedding, because you know what they need more than anybody else. Though, at the same time, who'd be mad at receiving these striped linens from a collab between a great designer and an equally great home brand?
Parachute x Jenni Kayne, $369
Just weird enough that maybe she won't like them, and you can have them all to yourself.
Marni, $290
An elegant way to send a hint. Just kidding!
Tiffany Eau de Parfum, $130
Classic but modern and disproportionately well-cut for the price, this is a forever piece she'll be surprised she likes so much.
J.W. Anderson x Uniqlo, $150
Buy one membership to this service that ships you a new book every month (like the name says), and buy her one so you can both be *cultured* and have even more to talk about.
Book of the Month, $144
Because you're tired of looking at her screen, which is one tumble away from full-on shattering. Good luck!
Wild and Woolly, $385