37 Stress-Relieving Gifts That Will Put Anyone at Ease
The pandemic burnout is real.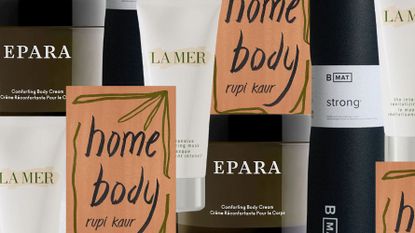 (Image credit: Design by Morgan McMullen)
2021 was a rough, exhausting year. Between the overwhelming news cycle and living through a pandemic for the second year in a row, life has been turned upside down for just about everybody these days. Thankfully, affordable stress-relieving gifts are here to help us unwind and remind ourselves to focus on the joy that still exists in the world. Shop the best relaxing gifts for yourself and your loved ones, ahead.
1/37
Grove Co. x Jeremiah Brent Limited Edition Simple Ceremony Incense Set
Designer Jeremiah Brent launched sustainable limited-edition home essentials and cleaning products in collaboration with Grove Co. This incense set, which comes with a marble incense holder, incense sticks, nested marbly trays, and an organic cotton towel, will inspire the person in your life to create comforting and calming rituals after long work days.
2/37
Be Curious Today Mini Mantras Puzzle
Depending on who you speak to, completing a puzzle may not be the most ~stress relieving~ activity, but this "Be Curious Mini Mantras" pick is a happy medium. The chic 42-piece puzzle provides a dose of inspiration and encourages the puzzle-goer to focus their mind on one task rather than everything else going on in the world.
3/37
"What Do You Meme?" Adult Card Game
As they say, laughter is the best medicine. Play adult card game "What Do You Meme?" when you want to blow off some steam with a couple friends before you binge-watch 'And Just Like That' together. During the game, players match photo cards with caption cards, ultimately creating their own funny memes. (It can also be easily played over Zoom!)
4/37
Briogeo Scalp Revival™ Stimulating Therapy Massager
What could possibly be more soothing than this scalp-reviving head massager? Wrong answers only.
5/37
La Mer The Intensive Revitalizing Mask
If they'd never splurge on La Mer on their own, they'll be obsessed with this intensive revitalizing mask to use on their most stressful days. The directions encourage users to breathe in deeply three times while rubbing the mask on their face.
6/37
Tate's Bake Shop Tate's Bake Shop Sampler Small
Who doesn't love a great dessert after a stressful day? Send them one of Tate's signature gift baskets that includes chocolate chip cookies, double chocolate chip and walnut chocolate chip cookies, two chocolate brownies, a blondie, and a crumb cake.
7/37
Forvr Mood The Big Mood Candles & Room Sprays Bundle
Never underestimate the power of a great candle (or two) and accompanying room sprays during a relaxing night at home.
8/37
B Yoga B Mat Strong
If they've been holding out on attending workout classes in person, gift them this supportive yoga mat beloved by yogis so they can continue to do their workouts at home on a comfortable mat.
9/37
Domain by Laura Hodges Studio Mini Eucalyptus Steam Shower Cubes
Eucalyptus is known to create a calming presence. Use these eucalyptus steam shower cubes concentrated with cooling peppermint to relax your mind, clear your lungs, and focus on the present.
10/37
thisworks® Sleep Together Calming Spray
This game-changing calming spray will help a friend or family member achieve a better night's rest, thanks to the product's calming ingredients like lavender and vetiver.
11/37
Lunya Washable Silk Set
After a long week of meetings and seemingly never-ending to-do lists, put on some Netflix and cozy up in this bestselling set of silk pajamas.
12/37
AlwaysFits The New York Housewives Coloring Book
The next best thing to binge-watching 'The Real Housewives of New York' after a stressful day at work? Sitting down with this New York housewives coloring book and a glass of wine.
13/37
Jungalow Raveena Vase
The key to a more calming space begins with plants...and a super cute vase to put them in.
14/37
Lula's Garden Jewel Garden
Speaking of plants, these pre-planted fresh succulents will spark joy every time they look at them. This set from Lula's Garden is a perfect holiday gift.
15/37
Bala Resistance Band Set
This resistance band set will give them that extra boost of motivation they need to complete their workout, ultimately reducing stress levels.
16/37
Jo Malone Peony & Blush Suede Body and Hand Wash
Allow her to take care of her skin (and smell amazing!) with this Jo Malone peony & blush suede body and hand wash.
17/37
Aya Paper Co. Manifestation Journal
There are few things that have the ability to lower one's stress level more than a pretty journal dedicated to setting daily intentions and crossing off an extensive to-do list.
18/37
MoMa Scrabble Luxe Edition Game
Instead of doom scrolling, whip out this luxurious Scrabble set—featuring a large rotating board with linen texture and raised-letter grid—and try not to beat your partner for the third time in a row.
19/37
Mother Denim Busy Doin' Nothing Socks
There has never been a bad day that a bag of chocolate and pair of cute warm socks can't fix.
20/37
Gray Malin The Gray Malin at the Parker Two-Sided Puzzle
Yes, as we mentioned above, we still do puzzles over here. Gray Malin's double-sided, 500-piece puzzle is for the guaranteed puzzle lovers and a great distraction from the current state of the world.
21/37
Epara Comforting Body Cream
There's no better way to unwind than taking a warm shower, wrapping a towel around your head, and rubbing moisturizing lotion all over your body. Epara's comforting body cream is an ideal gift for the fiscally-responsible woman who wouldn't dare spend the money on the luxurious lotion for herself (even though she secretly wants to).
22/37
Slowdown Studio Gua Sha