Stress-Relieving Gifts That Will Put Anyone at Ease
The pandemic burnout is real.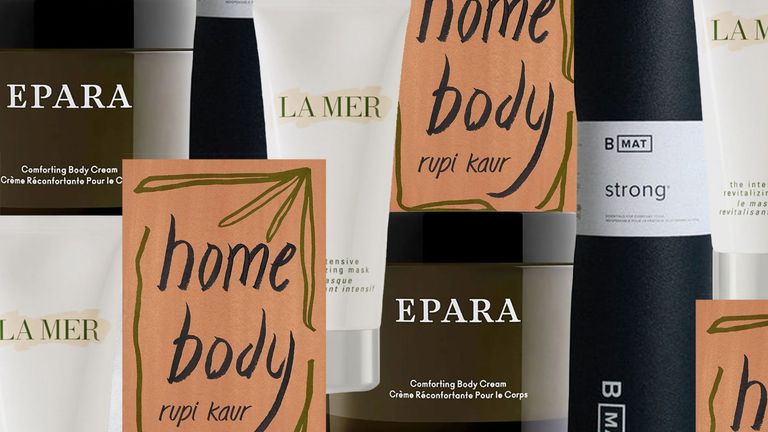 (Image credit: Design by Morgan McMullen)
It's been a rough, exhausting year. Between the overwhelming news cycle and living through a pandemic, life has been turned upside down for just about everybody these days. Thankfully, affordable stress-relieving gifts are here to help us unwind and remind ourselves to focus on the joy that still exists in the world. Shop the best relaxing gifts for yourself and your loved ones, ahead.
1/36
Briogeo Scalp Revival™ Stimulating Therapy Massager
What could possibly be more soothing than this scalp-reviving head massager? Wrong answers only.
2/36
La Mer The Intensive Revitalizing Mask
If they'd never splurge on La Mer on their own, they'll be obsessed with this intensive revitalizing mask to use on their most stressful days. The directions encourage users to breathe in deeply three times while rubbing the mask on their face.
3/36
Tate's Bake Shop Tate's Bake Shop Sampler Small
Who doesn't love a great dessert after a stressful day? Send them one of Tate's signature gift baskets that includes chocolate chip cookies, double chocolate chip and walnut chocolate chip cookies, two chocolate brownies, a blondie, and a crumb cake.
4/36
Forvr Mood Lavish Bundle
Never underestimate the power of a great candle (or two), a silk headband, and a chic candle coaster made out of natural stone during a relaxing night at home.
5/36
B Yoga B Mat Strong
If they've been holding out on attending virtual workout classes because they "prefer to do them in real life," encourage them to finally book that class by gifting them this supportive yoga mat beloved by yogis.
6/36
Domain by Laura Hodges Studio Mini Eucalyptus Steam Shower Cubes
Eucalyptus is known to create a calming presence. Use these eucalyptus steam shower cubes concentrated with cooling peppermint to relax your mind, clear your lungs, and focus on the present.
7/36
thisworks® Sleep Together Calming Spray
This game-changing calming spray will help a friend or family member achieve a better night's rest, thanks to the product's calming ingredients like lavender and vetiver.
8/36
Food52 x Poppy Handcrafted Popcorn Advent Calendar
Instead of stress eating the whole bag of popcorn, encourage them to pick from one of these 24 sweet and savory popcorn packets from a pretty Food52 x Poppy advent calendar.
9/36
Lunya Washable Silk Set
After a long week of meetings and seemingly never-ending to-do lists, put on some Netflix and cozy up in this bestselling set of silk pajamas.
10/36
Always Fits The New York Housewives Coloring Book
The next best thing to binge-watching The Real Housewives of New York after a stressful day at work? Sitting down with this New York housewives coloring book and a glass of wine.
11/36
Jungalow Raveena Vase
The key to a more calming space begins with plants...and a super cute vase to put them in.
12/36
Lula's Garden Jewel Garden
Speaking of plants, these pre-planted fresh succulents will spark joy every time they look at them. This set from Lula's Garden is a perfect holiday gift.
13/36
Bala Resistance Band Set
This resistance band set will give them that extra boost of motivation they need to complete their workout, ultimately reducing stress levels.
14/36
Lingua Franca Piqué Cotton Button Down Embroidery Kit
While the left-brain people out there may consider this embroidery kit an additional stressor, others will find joy in creating their own Lingua Franca embroidered shirt without any external distractions.
15/36
Jo Malone Peony & Blush Suede Body and Hand Wash
Allow her to take care of her skin (and smell amazing!) with this Jo Malone peony & blush suede body and hand wash.
16/36
Aya Paper Co. Manifestation Journal
There are few things that have the ability to lower one's stress level more than a pretty journal dedicated to setting daily intentions and crossing off an extensive to-do list.
17/36
MoMa Scrabble Luxe Edition Game
Instead of doom scrolling, whip out this luxurious Scrabble set—featuring a large rotating board with linen texture and raised-letter grid—and try not to beat your partner for the third time in a row.
18/36
Mother Denim Busy Doin' Nothing Socks
There has never been a bad day that a bag of chocolate and pair of cute warm socks can't fix.
19/36
Gray Malin The Gray Malin at the Parker Two-Sided Puzzle
Yes, we still do puzzles over here. Gray Malin's double-sided, 500-piece puzzle is a great distraction from the current state of the world.
20/36
Epara Comforting Body Cream
There's no better way to unwind than taking a warm shower, wrapping a towel around your head, and rubbing moisturizing lotion all over your body. Epara's comforting body cream is an ideal gift for the fiscally-responsible woman who wouldn't dare spend the money on the luxurious lotion for herself (even though she secretly wants to).
21/36
Slowdown Studio Gua Sha
Feel zen while using a gua sha that depuffs, contours, and stimulates healthy drainage and circulation for the skin.
22/36
'Hallelujah! The Welcome Table' by Maya Angelou
If they have a history of stress-baking, gift them the late Maya Angelou's Hallelujah! The Welcome Table: A Lifetime of Memories With Recipes, where the acclaimed writer and civil rights activist shares recipes that impacted her life and the stories behind them.
23/36
Slip Pure Silk Pillowcase
The stressed out beauty lover in your life will appreciate a brand new silk pillowcase from Slip, which is known for its positive effects on skin and hair.
24/36
Diptyque Figuier Hourglass Diffuser
Any Diptyque candle hoarder will be obsessed with this glass Figuier hourglass diffuser, which releases warm notes of fig and fresh leaves, to create a calming setting in their home.
25/36
'Home Body' by Rupi Kaur
Rupi Kaur's latest collection of poetry, Home Body, will inspire them to be at home within themselves. The book is filled with stories of love, loss, and, ultimately, growth.
26/36
Chakra Zulu Crystal Sets Based on Zodiac Sign
Chakra Zulu sells crystal sets based on zodiac signs, putting a personal touch on a gift for someone in need of a good cleanse and energy recharge. The Florida-based, Black-owned shop has quite the following on Instagram.
27/36
Aerie The Box of Emotions
The Box of Emotions consists of 80 colorful cards with mini essays on different emotions to help you process whatever you're feeling. If you're up to it, schedule a Zoom call with your best friend and go through them together.
28/36
Society6 Safe Space Art Print
Support Black artists like Akujixxv today and every day. This "Safe Space" print is instantly calming upon first glance, and will bring a sense of peace amidst the chaos every time you spot it in your living room.
29/36
Dodow Sleep Aid Device
This nifty sleep aid projects a little light on your bedroom ceiling for you to synchronize your breathing with—it'll expand and withdraw slowly, in line with recommend inhalation and exhalation times for maximum relaxation. After either eight or 20 minutes of this (you can pick which one), it'll gently turn itself off, leaving you to drift off.
30/36
UncommonGoods Swivel Bath Tray
Skip the shower, grab a book, and unwind with a glass of wine thanks to this swivel bath tray. No phones allowed.
31/36
Cammie and Kip Weeks Therapy Dough
Art therapists often use dough to help people manage anxiety and depression. If you can't afford a therapist right now, invest in your own therapy dough that will be there for you to squeeze after work. Choose from either lavender,- orange,- or peppermint oil-infused dough.
32/36
Vitruvi Organic Lavender Essential Oil
Vitruvi's organic lavender essential oil belongs on every person's nightstand. The oil's calming scent is packaged directly from French lavender petals and is best used right before bed to assist in getting a good night's sleep.
33/36
Dammit Dolls
Need to unleash your rage? There's a dammit doll for that. Avoid the massive hole in the wall and slam one of these dolls against your bed instead. (That's literally what they're made for.) Utilize this pack of three by gifting two to your best friends and keeping one for yourself.
34/36
'Wow, No Thank You' by Samantha Irby
Samantha Irby's hilarious Wow, No Thank You will help take your mind off of everything going in the world—namely, living in the middle of a pandemic—with her brilliant, relatable essays about, well, being a person today.
35/36
YnM Weighted Blanket
Weighted blankets: The trend that became a bedroom staple, thanks to their legitimate anxiety-fighting powers. This cozy, affordable version by YnM has 3,650 five-star reviews to its name on Amazon.
36/36
'The Little Book of Mindfulness II' by Alison Davies
The follow up to the original The Little Book of Mindfulness is practically a meditation class transformed into a mini book. It's a reminder to slow down, pay attention to your breathing, and be present. Take it one day at a time.