Makeup How-To: Reverse Wing Eyeliner
Giving Cleopatra a run for her money.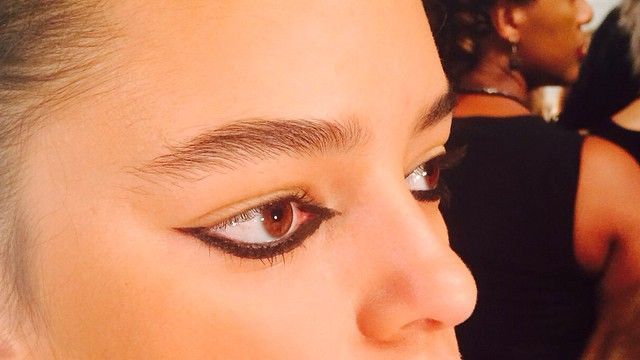 (Image credit: Kathryn Wirsing)
Photo Credit via Avon Insider Pinterest Board
Inspired by the Nicholas K Spring Summer 2015 runway show (pictured above), the edginess of the heavily lined lower lash, wasn't just cool, but actually very wearable. We immediately headed into our studio to recreate this look with just slightly less intensity so we could wear it to the office.
Step 1: We prepped the eyes with Guerlain Ombre Eclat Eye Shadow Primer over the lid with a finger.
Step 2: Next, we added a gold matte eyeshadow from lash line to crease (we suggest Make Up For Ever Matte shadow in Mustard).
Step 3: Then, apply Butter London Union Jack Black Matte liquid Eyeliner from inner corner to outer corner extended at both ends.
Step 4: Finally go over the line you just created in Step 3 with Make Up For Ever Eyeliner Brush 254 with Bobbi Brown Black Ink Gel Eyeliner.
For More Beauty How-Tos, Try:
How to Create a Shimmery Grey Steel Eye
Make Your Eyes Pop with Dark Green Eyeliner
The Black Winged Eyeliner Tutorial You'll Use Again and Again