The 12 Best Gel Eyeliners, According to Beauty Experts
Pigmented liners that glide on with ease.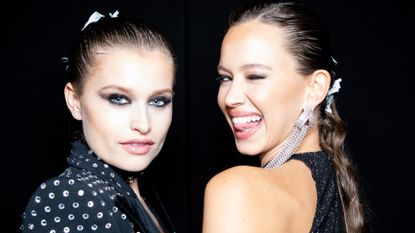 (Image credit: Photo by Rosdiana Ciaravolo/Getty Images)
Let's be real: Eyeliner might just be the hardest makeup product. If your hand has ever trembled while holding an eyeliner pencil or if you've ruined a sharp line with a twitch, then you know what I mean. But don't let that deter you from the MVP beauty product. The best eyeliners can define your eye shape and make your eyes pop. Meanwhile, liquid eyeliners are amazing at graphic shapes and creating sharp lines. But if you're a tad intimidated by liquid formulas, might we suggest gel eyeliner, which can do all of the above?
The benefits of gel eyeliners are nearly endless. They feel smooth and silky on the lid and glide on seamlessly, making just about any liner look a breeze. I'm personally a huge fan of gel liners' magical staying powers—they legitimately last all damn day. Another huge draw? Their versatility. You can let the product dry down into any shape you want or you can smudge it out into a sultry smokey eye. And whether you prefer to use a brush or retractable pencil, you've got options with gel liner.
If you're still not convinced, try one of the best gel eyeliners for yourself. We pored over customer reviews, tried some liners ourselves, and consulted celebrity makeup artist Ashlee Glazer to bring you this list of the best of the best. These liners have top-notch pigmentation, silky smooth texture, and long-wear formulas.
What to Look For in a Gel Eyeliner
So, you've decided to try your hand at gel eyeliner. Before you go rushing off to the makeup aisle, there are some key things to consider before making your purchase. First, you'll want to decide on the type of applicator. Gel eyeliners typically come in either a pot (in which case you'll need a brush), a pencil, or a retractable pencil. It's really up to your preference and skill level, but we'd recommend having a steady hand if you want to go the pot-and-brush route.
After landing on an applicator, you'll want to consider texture and color says, Glazer. "I look for the smoothest glide and the richest pigment," she says, so look for keywords like "creamy," "smooth," and "pigmented" in the product's description. To ensure your liner stays put, you'll also want to look for long-wear formulas, or you may even want to consider a waterproof pick. Just make sure you have a great makeup remover on hand.
The Best Gel Eyeliners
Best Colored Gel Eyeliner
Haus Labs Optic Intensity Eco Gel Eyeliner Pencil
Lady Gaga has had some incredible beauty looks over her career (case in point: Gaga's 2019 Met Gala makeup) so it should come as no surprise that her makeup line, Haus Labs, houses stunning eyeliners. This gel pencil is offered in a rainbow of shades and pretty finishes, from shimmery magenta to matte teal. Ingredients like vitamin E and argan oil ensure this pencil glides on the lid like a dream, plus this one has some serious staying power.
Pros: Comes in over 15 shades; Smudge-proof; Waterproof;
Cons: Reviewers note some shades are drying
Best Black Gel Eyeliner
If you're hoping to achieve a deep, dark line, look no further than Morphe's gel liner. This little pot contains a gel liner with such a rich color payoff, your eyes will stand out from a mile away. In addition to rich pigmentation, this liner seriously stays put. Like, seriously. One reviewer even wrote, "I cried every day for a week and my eyeliner never smudged!" If that's not enough to convince you to try this $10 pick, then I don't know what will.
Pros: Longwearing; Waterproof; High pigmentation; Under $20
Cons: Requires a brush to apply; May dry out over time
Best Gel Eyeliner Pencil
ONE/SIZE by Patrick Starrr Point Made 24-Hour Gel Eyeliner Pencil
Versatility is at the forefront of this gel pencil created by pro makeup artist Patrick Starrr. Its ultra-silky formula has the smooth texture of a liquid eyeliner, yet has the perfect amount of blendability for smudging (just make sure you work with it before it dries). So whether you're going for a smokey eye or a sharp flick, this liner will do the trick. The best part, though, is that this liner will last you up to 24 hours without budging.
Pros: Longwearing; Waterproof; Vegan formula; Under $20
Cons: Only available in two shades; Difficult to sharpen
Best Gel Eyeliner for Everyday Wear
MAC Colour Excess Gel Pencil Eyeliner
Gel liners should be easily blendable, long-lasting, and highly pigmented, and this MAC pick ticks off all of those boxes. MAC's Colour Excess pencil delivers a seamless smooth application and intense color (hence the name "Colour Excess"). They also last up to 24 hours on the lid and a whopping 12 hours in the waterline. Marie Claire's e-commerce editor, Julia Marzovilla, has personally tried almost every shade of this "great" pick and says, "These are the eyeliners that I keep in my everyday makeup bag because they apply so smoothly."
Pros: Comes in 18 shades; Waterproof; Long-lasting; Works well in waterline
Cons: Over $20; Some reviewers note that the tip is prone to breaking off
Best Gel Eyeliner on Amazon
This little pot may be small, but it's mighty. With intense color payoff, a silky smooth texture, and waterproof formula, it's no wonder this gel liner is a favorite among the pros. Glazer is especially a fan of this pick's staying power, noting, "it does not move." This liner also doubles as a body and face paint! Simply add in a drop of Inglot's Duraline liquid and mix to create a liquid consistency.
Pros: Smudge-proof; Waterproof; Under $20; High pigmentation
Cons: Requires a brush to apply
Best 2-in-1 Gel Eyeliner
Tarte Double Take Liquid & Gel Vegan Eyeliner
Why buy one eyeliner when you can get two? This pick from Tarte features a gel liner on one side and a liquid formula on the other, so the possibilities are endless. Need sharp lines? Opt for the liquid side. Or maybe you need a liner for your waterline, in which case go with the gel. Both sides deliver long-lasting, intense color with a formula that glides seamlessly across the lid. Pro tip: Layer the liquid over the gel for a look that won't budge or bleed.
Pros: Comes with two formulas; Good value; High pigmentation; Vegan
Cons: Only available in two shades; May be difficult to remove
Best Overall Gel Eyeliner
Pat McGrath Labs PermaGel Ultra Glide Eye Liner Pencil
With products as good as this eyeliner, Pat McGrath is a legend in the beauty world for a reason. Her PermaGel Eyeliner Pencil is a cult favorite thanks to its ultra-rich pigment and long-lasting capability, emphasis on the long-lasting. I personally applied this eyeliner at 6am and it lasted over 12 hours without any smudging. It may also be the creamiest, smoothest eyeliner I've ever used. If you're on the fence about gel eyeliner, I suggest picking this one up.
Pros: Easy to apply; Long-lasting; High pigmentation; Waterproof
Cons: Over $25
Best Vegan Gel Eyeliner
Ulta Beauty Collection Gel Eyeliner Pencil
If you're wanting to test out gel eyeliner for the first time, don't sleep on Ulta's in-house collection. The beauty retailer houses a seriously impressive gel pencil. Over 2,000 reviewers gave this pick a 5-star rating, citing the pencil's seamless glideability and extensive color range as major draws. You have your pick of 18 vibrant shades in a variety of finishes, plus they are all vegan, cruelty-free, and made with clean ingredients. What's not to love?
Pros: Under $15; Comes in 18 shades; Glides on smoothly
Cons: Difficult to sharpen
Best Gel Pot Eyeliner
Bobbi Brown Long-Wear Gel Eyeliner
Sure, pot-and-brush gel liners may get a bad rep for being hard to apply, but with some patience and a steady hand, the payoff is totally worth it. This cult-favorite pick from Bobbi Brown only requires one quick sweep for intensely defined eyes. You won't have to worry about smudging either. Once it's dry, your look isn't going anywhere. MC's style editor Emma Childs counts herself a fan and says "this product lives up and then some to its promise of longevity."
Pros: High pigmentation; Long-lasting; Waterproof;
Cons: May dry out after a while; Over $25; Requires a brush to apply
Best Gel Eyeliner for Lashline
Hourglass 1.5mm Mechanical Gel Eyeliner
Insanely sharp precision is yours with this pick from Hourglass. Inside this pencil might be the thinnest eyeliner you've ever laid eyes on. With a 1.5mm tip, you can create ultra-neat lines with insane accuracy. It's the perfect choice if you want to just line your lashline or waterline, but you can also layer it up for a thicker line. Its long-lasting and waterproof formula also means your liner stays on until you take it off.
Pros: Precise tip; Cruelty-free; Long-lasting; Waterproof
Cons: Mechanical pencil is difficult to advance;
Best Budget Gel Eyeliner
L'Oreal Infallible Gel 24HR Lacquer Liner
This L'Oreal pick is proof you don't need to shell out a ton of money for an amazing eyeliner. This one even saved the day for Glazer. She says, "True story: I ran out of my Inglot in Miami with a 1960's period look (loads of liner) ahead of me, and I ran into the drugstore to grab this one. It not only stayed perfectly, but it was also dark, it was smooth, and it comes with a brush!"
Pros: Under $15; Comes with brush; Long-lasting; High pigmentation
Cons: May transfer with hooded eyes
Best Gel Eyeliner for a Smokey Eye
Smashbox Always On Waterproof Gel Eye Liner
Smashbox's Always On gel pencil creates the easiest smokey eye in seconds. Thanks to its amazing blendability, all you have to do is smudge out your liner within a few seconds of applying and you have a perfect going-out look. It's that simple. But if smudgy-sexy isn't your thing, that's ok too. This waterproof pencil doesn't budge on your lid or waterline either. According to the brand, this liner stays put for over 24 hours. Color us impressed!
Pros: Blends easily; High pigmentation; Waterproof;
Cons: May smudge; Over $20; Only offered in one shade
When to Use Gel Eyeliner
Unlike liquid eyeliner, gel eyeliner is very forgiving, so it's a great pick for beginners. "If you have trouble holding the pencil, shaky hands, bad eyesight, or textured lids, the gel is really the easiest liner to apply for all ages," says Glazer. Gel liners are also typically formulated to be long-wearing and waterproof, which Glazer says is "super helpful in any category."
Glazer herself explains she "almost always" uses a gel formula. "I like to layer my liners when working on a client for their wedding or red carpet," she says. For example, if she's doing a smokey eye look, she will use a gel liner as a base and use a fluffy brush to smoke out the liner, getting a rich pigment on the eye first before going in with other products. "Think of it as a really great eye shadow primer," Glazer adds. "Just be sure to blend immediately so it doesn't lock in." Additionally, the pro explains that gel liner can be used on top of pencil liner in the waterline and lashline to ensure there is absolutely no smudging.
Meet the Expert
Ashlee has been a lover of beauty for as long as she can remember, working in every corner of the industry from the counter to the red carpet. Her clientele includes brides and celebrities including Christy Turlington, Rachel Zoe, Nikki and Brie Bella, and Georgina Chapman. Ashlee has made several TV appearances lending her expertise to shows such as TODAY, The Wendy Williams Show, Nick Cannon, and The Rachael Ray Show.
Brooke Knappenberger is the Editorial Fellow at Marie Claire, where she writes across the board from fashion and beauty to books and celebrities. As a pop culture junkie, Brooke obsessively consumes and writes about the latest movie releases, streaming TV shows, and celebrity scandals. She has over three years of experience writing on fashion, beauty, and entertainment and her work has appeared on Looper, NickiSwift, The Sun US, and Vox Magazine of Columbia, Missouri. Brooke obtained her Bachelor's Degree in Journalism from the University of Missouri's School of Journalism with an emphasis on Magazine Editing and has a minor in Textile and Apparel Management.