Winged Eyeliner: The Ultimate Guide to Mastering It
Everything you need to know about the classic liner look, straight from the pros.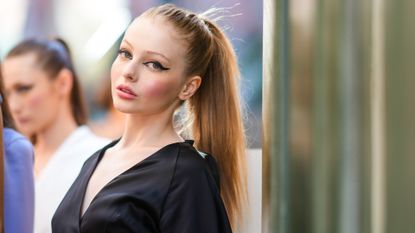 (Image credit: Edward Berthelot/Getty Images)
Marie Claire Newsletter
Celebrity news, beauty, fashion advice, and fascinating features, delivered straight to your inbox!
Thank you for signing up to Marie Claire. You will receive a verification email shortly.
There was a problem. Please refresh the page and try again.
Adele. Audrey Hepburn. Amy Winehouse. Cleopatra. What do all of these names have in common? Each is known for rocking a killer winged eyeliner look. Ever since the ancient Egyptians used kohl around the eyes, celebrities, makeup artists, and everyday people from across the globe have turned to this classic eyeliner look. "Winged eyeliner has stood the test of time as it simply enhances our eyes," explains pro makeup artist Alexandria Gilleo. "It can have the appearance of widening, elongating, and lifting our eye shape, creating definition and a 'snatched' look."
Sure, winged eyeliner may be straightforward in concept—it's simply eyeliner on the upper lashline ending in an upwards flick. If you really want to go crazy, you can line the bottom line to connect to the winged top for a cat-eye look. But in practice, winged eyeliner is one tough feat to master. For years now, I myself have been using my favorite brown eyeliners to create my daily subtle flick, but I still find plenty of imperfections in my liner look. And that's OK! When it comes to eyeliner, practice (and lots of it!) truly makes perfect, but we promise that nailing winged eyeliner can be done.
If you're ready to venture into the world of winged liner, you've come to the right place. Ahead is everything you need to know from experts Gilleo and celebrity makeup artist Adam Oaknine to recreate a winged look on yourself. And when we say "everything," we really mean everything. From tips for different eye shapes (including winged liner's number one enemy, hooded eyes) to expert pro pointers for crisp, clean lines, we've got you covered. But before you get to drawing, you're going to need a damn good eyeliner, aka one of the editor- and pro-approved picks below.
Best Eyeliners for Winged Eyeliner
If you're wondering which eyeliner formula to grab for your winged liner look, it really depends on what style of wing you're looking to achieve, explains Oaknine. For example, if you're going for a smoked-out wing, he suggests using a kohl pencil liner, or if a graphic colorful liner wing is your goal, you'll want to opt for a water-activated liner like Suva Beauty's, below. Gel and liquid formulas, which are Gilleo's favorite for winged eyeliner, are also an option. "I personally love a liquid liner in a pen because I find it to be extremely precise and holds the most longevity in a makeup application," Gilleo says. "A liquid pen allows you to create a sharp and thin line." For whatever winged look you're going for, we have options for you, below.
ONE/SIZE by Patrick Starrr Point Made Waterproof Liquid Eyeliner Pen
Gilleo says she currently has a love affair with the ONE/SIZE eyeliner pen and it's easy to see why. Created by famed makeup artist Patrick Starrr, this little pen packs a mighty punch of color with a precise felt tip. With its comfort grip and teeny, tiny tip, this liner is great for beginners and those wanting precise lines.
Pros: Pro-approved; Precision felt tip; Highly pigmented; Long-wearing; Smudge-proof; Waterproof; Vegan formula; Features a comfort grip.
Cons: Takes longer to dry.
When it comes to winged eyeliner, Oaknine's favorite method of action is to use Inglot's gel eyeliner pot with an angled liner brush. He says it's the best to use when you're going for a classic winged look and it's great for other working artists. For easier application and a creamier texture, mix this gel with a little bit of the brand's duraline.
Pros: Pro-approved; Smudge-proof; Waterproof; Highly pigmented; Long-wearing; Multi-use.
Cons: Requires a brush to apply.
Stila Stay All Day Waterproof Liquid Eye Liner
Marker-like tips like the one on this cult-favorite eyeliner pen make drawing tiny, thin lines a walk in the park. Stila's Stay All Day liquid liner is well-known in the beauty world for its incredible staying power. If you need a liner that won't budge the entire day, this is the one to go with. My liner even stayed flawless during an extra sweaty HIIT class.
Pros: Editor-approved; Incredibly long-wearing, Smudge-proof; Waterproof; Glides on smoothly; Precision felt tip.
Cons: Not very pigmented; Difficult to remove.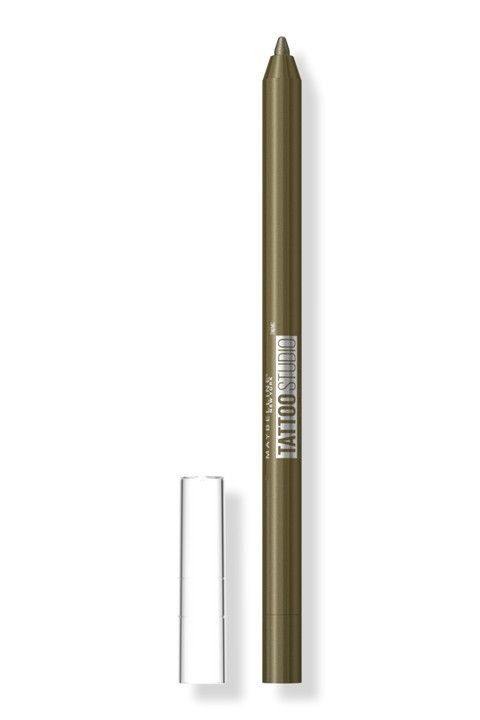 Maybelline TattooStudio Gel Pencil Eyeliner
Maybelline's TattooStudio Gel pencil is one of our favorite drugstore eyeliners of all time. MC's Beauty Editor, Samantha Holender, specifically loves this under-$15 pick for its "ridiculously smooth glide" and "uniform pigment." This one is the perfect fit if you're going for a smokey wing—it's blendable enough to smoke out, but once the liner sets, it's not going anywhere.
Pros: Editor-approved; Under $15; Long-wearing; Waterproof; Blendable; Offered in over 10 shades; Highly pigmented.
Cons: Dries fast; Difficult to sharpen.
e.l.f. cosmetics Intense H20 Proof Eyeliner Pen
If you're a winged eyeliner novice, pick up this $7 pick and get to practicing! The tip on this pen is super fine, so you can draw any kind of line you want. Even though this liner is waterproof, reviewers say it's easy to remove with makeup remover, a huge benefit for beauty newbies. Plus, this liner comes pro-approved with Oaknine calling it "fantastic at the drugstore."
Pros: Pro-approved; Under $10; Waterproof; Precision felt-tip.
Cons: Not very pigmented; Tip may dry out over time.
Gucci Stylo Contour Des Yeux Khol Eyeliner
Sure, this pick is definitely on the pricier side, but once you see the gorgeous color options, you may forgive us. Plus it's a favorite of Gilleo's. "When working with a kohl eyeliner, I am absolutely loving the Gucci Beauty pencils," she says. "The colors are intense, vibrant, and waterproof." With its extra creamy texture, this is a great pick to work into your waterline, as well.
Pros: Pro-approved; Highly pigmented; Long-wearing; Dermatologist and ophthalmologist-tested;
Cons: Over $30; May smudge on oily eyelids.
Revlon Colorstay Liquid Eyeliner
This is the eyeliner I SWEAR by for an easy, high-impact application. I've been using it just about every single day since middle school and it never fails to deliver ultra-pigmented color and long-lasting results. While this liquid liner is different than the marker-like versions, I've found that the long handle is incredibly easy to use. At just $9, I probably won't ever switch it up from this pick.
Pros: Editor-approved; Under $15, Long-wearing; User-friendly; Highly pigmented color.
Cons: Formula can become clumpy after a while.
Plain black eyeliner can get boring after a while, so when you're ready for a fun switch-up, turn to these bright little pots. With a touch of water, these turn into a creamy formula that delivers high-voltage color—it even glows under UV light! Oaknine says this is one of his favorite liners and it's perfect for graphic or colorful looks.
Pros: Pro-approved; Smudge-proof; Highly pigmented; Glows under UV light/blacklight; Vegan formula;
Cons: Requires a brush; May take practice to find the right water-to-pigment ratio.
How to Apply Winged Eyeliner
Now that you have a great eyeliner on hand, it's time to put your pencil to paper, or liner to eye, if you will. Follow these simple steps from Gilleo and Oaknine to achieve the perfect winged eyeliner, every time.
After applying any primers or eyeshadows, begin by lining the upper lash line starting at the center of the eye using small, short strokes. Make sure to keep your eyes open and look straight ahead to avoid any weird angles.
Glide the liner from the center of the eye toward the outer tip in an upward and outward motion following the natural angle of your lower lash line.
After drawing your line out to your desired wing length, connect the line back to your upper lash line in your desired thickness.
From there, connect the center to the inner corner.
Afterwards, grab a cotton swab and dab it in makeup remover to sharpen up any edges and clean up wherever needed.
Finally, finish off your winged liner look with your favorite mascara or false lashes, if you desire.
Winged Eyeliner for Different Eye Shapes
Depending on your eye shape, winged eyeliner is going to look slightly different on everyone. But rest easy–Oaknine says, "There is a style of winged eyeliner to flatter everyone!" Keep reading for pro tips on how to achieve a flattering winged look for your eye shape.
Hooded Eyes
Hooded eyes are undoubtedly the most difficult shape for winged eyeliner. If you've ever thought you nailed a sharp wing only to look up and get that dreaded "swoop," then you know what I mean. But don't stress—Gileo has a few recommendations to nail your winged eyeliner. First, she says to stare straight into the mirror when applying eyeliner and to hold the mirror straight on, not upwards or downwards. Then, she says, "Start at the outer corner of the wing first to ensure the wings are evenly applied and visible and not lost in the application." Finally, make sure to use a waterproof or long-wearing formula as hooded eyes may leave a crease or transfer mark on the lid.
Upturned Eyes
If the outer corners of your eyes are higher than your inner corners, then you have upturned eyes. For this shape, Oaknine says, "Lifted cat eye winged liner is your best friend." With your winged eyeliner, add a line from the edge of the lower lash line up toward the temples at an angle perpendicular to the front of the brow. This will give an even more uplifting effect to upturned eyes.
Downturned Eyes
Downturned eyes are essentially the opposite of upturned eyes, meaning the outer corners sit lower than the inner corners. With this eye shape, Gilleo explains, "A winged liner can lift downturned eyes upwards," so don't be afraid to reach new heights with a long wing. Additionally, you can apply liner along your natural downward shape for a different effect. "Your eyes will droop in a style originated in Japan that gives your lids a cartoon puppy roundness," says Oaknine.
Almond-Shaped Eyes
If you have almond-shaped eyes, your eyes are longer in width than they are round, plus they taper by the tear duct and outer corners. For this eye shape, Oaknine recommends using more of a straight angle with your winged liner. He explains, "If you apply it straight out from your lash line, it will accentuate the length and shape of your eyes, giving an extended almond effect."
More Tips and Tricks for Winged Eyeliner
For beginners: "No matter what eye shape," Gilleo explains, "you can always start your wing soft by using a pencil or eyeshadow with an angled brush. This is good for everyday and soft makeup."
For added drama: If you're going for a big and bold look, Gilleo says, "You can add a liquid, kohl, or gel liner right on top to go over the pencil outline."
For a universally flattering shape: "For the most universally flattering winged eyeliner shape, follow the angles of the front of your brow and lower lash line," Oaknine says.
Don't be afraid to experiment: "Feel free to use any color you want; winged liner doesn't always have to be in black," says Gilleo. "Sometimes I love to add a bold or vibrant color for fun. If I want a softer appearance, a brown, plum, or grey will look nice as well."
Meet the Experts
Alexandria has always been captivated and inspired by the beauty that each individual possesses. Her goal is to make her clients look good and feel beautiful, and it is instantly identifiable in her signature makeup style: gorgeous, radiant faces that seem to glow from within. Whether the task is a commercial, advertising, video, interview, press, or print, she will adjust her technique to answer the demands of different lighting set ups, scenarios, and pressure-packed situations. Alexandria has appeared on the Tyra Banks show, has won several awards for her freelance work, and has raised over $35,000 for charities including St. Jude's Children's Hospital. Her work can be seen in Ulta, Sephora, Kohl's, and Philosophy stores globally, and has been seen on faces including Ali Krieger, Ashlyn Harris, Adriana Lima, Alexander Wang, Charlie Sheen, Camila Coelho, and Paul Rudd, to name a few.
Adam Oaknine (@facesbyadam) is a self-taught celebrity makeup artist from Toronto, Canada. He has worked with Vogue, Ryan Destiny, Prada, Kiesza, LNQ, Ssense, H&M, Dew of the Gods, Spotify, Rick Owens, Burberry, Ali Gatie, Penny Oleksiak, Adidas, Belif, 437, Rolling Stone, and more. He is known for his celebrity glams and editorial campaign looks. His work can also be found on TikTok under the same handle, where he posts more tutorials and special effects work. He takes inspiration from high fashion references, queer culture, and vintage classic artistry.
Celebrity news, beauty, fashion advice, and fascinating features, delivered straight to your inbox!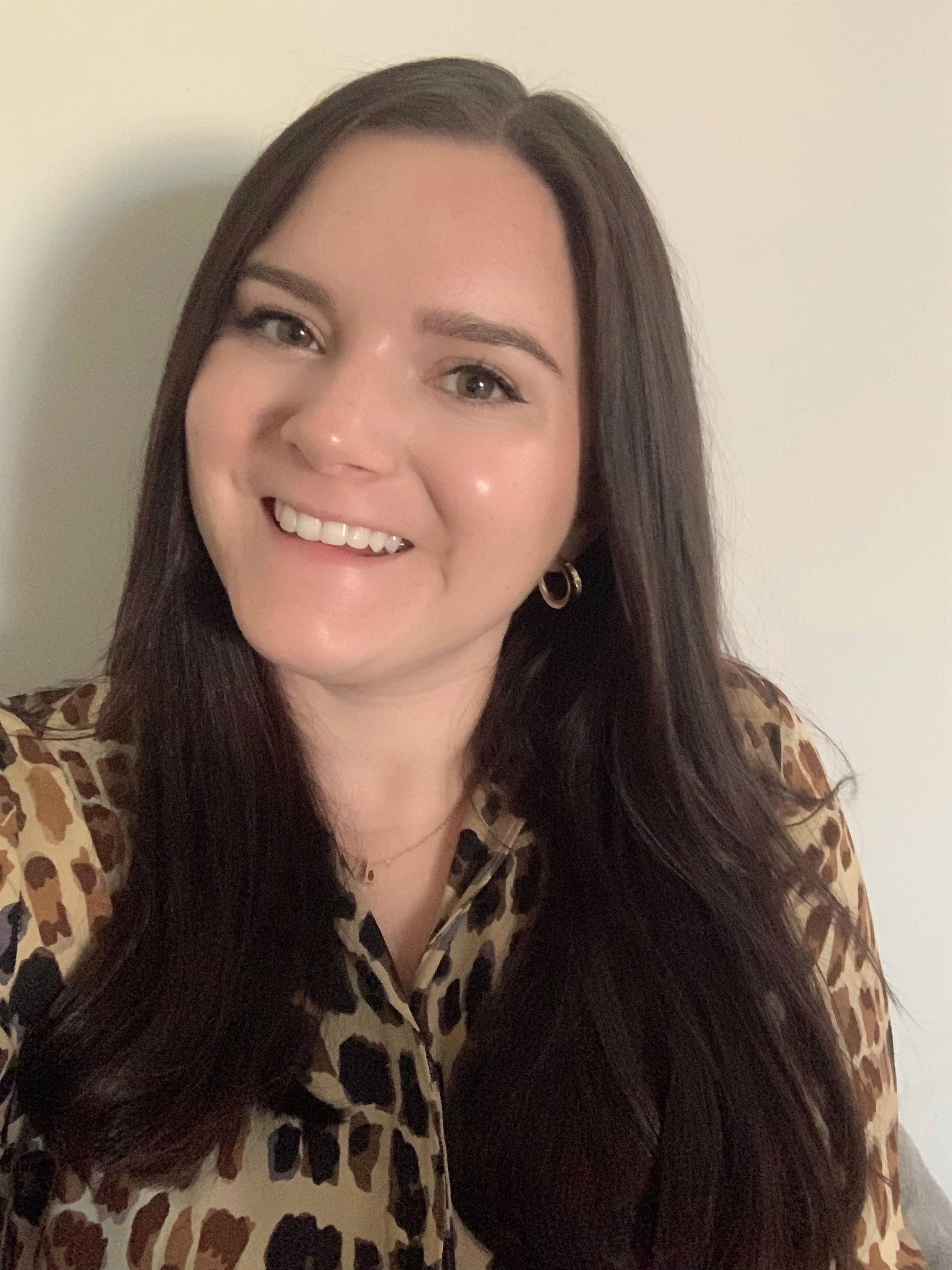 Brooke Knappenberger is Contributing Writer at Marie Claire, where she writes across the board from fashion and beauty to books and celebrities. As a pop culture junkie, Brooke obsessively consumes and writes about the latest movie releases, streaming TV shows, and celebrity scandals. She has over three years of experience writing on fashion, beauty, and entertainment and her work has appeared on Looper, NickiSwift, The Sun US, and Vox Magazine of Columbia, Missouri. Brooke obtained her Bachelor's Degree in Journalism from the University of Missouri's School of Journalism with an emphasis on Magazine Editing and has a minor in Textile and Apparel Management.