Is This Urban Decay's New "Naked Cherry" Palette?
The Nancy Drews of the internet strike again.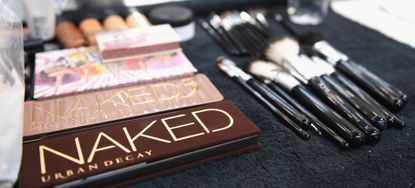 (Image credit: Stuart C. Wilson)
If you're still in mourning following last week's announcement that Urban Decay is discontinuing its legendary Naked (opens in new tab) Palette, don't worry: You won't have to wait very long for the next one, if these rumors are to be believed. According to an alleged leak, the next Naked Palette to emerge will be the Naked Cherry palette.
Popular Instagram account @trendmood1 (opens in new tab) was the one to share news of the "leak" late Tuesday evening, captioning the image, "O-M-G! Got so many messages about this!!!...is this happening??!!"
If it's real, Naked Cherry appears to come in a metallic burgangenta—that's burgundy + magenta, of course—case, with 12 rose and blush-toned shimmer and matte shades ranging from a light creamy pink to a matte chocolate brown.
Other shades include "Bang Bang", a light pink sparkle/shimmer; "Ambitious", an goal-worthy metallic bronze, and "Devilish", a matte deep rose— enough for a gorgeous Valentine's Day or holiday party look. Plus, it comes with the standard Naked double-ended brush.
Even more evidence to the legitimacy of this palette? I may have taken a jaunt over to the United States Patent and Trademark Office and done a search like the Sherlock Holmes I think I am.
With last week's announcement of Naked OG's discontinuation, Urban Decay founder Wende Zomnir said the brand hoped to "turn the grief into even more greatness" and followed it up with an even more ominous and hopeful statement, "Urban Decay will continue to thrive in Naked's memory and honor—just wait and see."
We're still waiting on official confirmation from Urban Decay, but if Naked Cherry really is the real deal, we won't waiting much longer.
RELATED STORY
Amanda Mitchell is a writer and podcaster with bylines at Marie Claire, OprahMag, Allure, Byrdie, Stylecaster, Bon Appetit, and more. Her work exists at the apex of beauty, pop culture, and absurdity. A human Funfetti cake, she watches too much television, and her favorite season is awards season. You can read more of her work at amandaelizabethmitchell.com or follow her on Instagram and Twitter @lochnessmanda.