I Tried Butt Masks, and My Booty May Never Be The Same
Warning: The following contains multiple butt puns.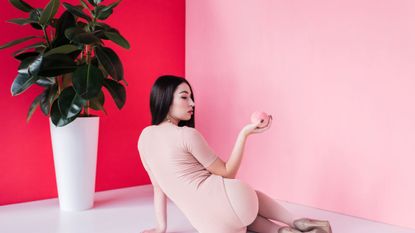 (Image credit: LightFieldStudios)
My television idol and inspiration is Tina Belcher from Bob's Burgers, mainly because we have the same passion: butts. My love for butts is unparalleled. Seriously, my butt obsession is deep. The amount of interest I show in any type of sporting event is fully dependent on how the players' backsides look in their uniforms. My favorite song is Lady Gaga's "Why Did You Do That?" from A Star is Born, because the first lyric is "Why do you look so good in those jeans? / Why'd you come around me with an ass like that?" The only thing I love as much as I love butts is my mom, television, and skincare.
So when I came across the concept of "butt sheet masks," I pretty much yelled TAKE ALL OF MY MONEY. As a person who has fallen asleep with a sheet mask on her face and a foot mask on her feet while swiping "#butts" on Instagram, this very specific product speaks to my needs perfectly. Should we all be butt masking? Is that something we should be getting behind? (I'll try to keep the butt puns to a minimum, but no promises.) I gave the masks a whirl to see what the big booty deal was.
I tried out the Bawdy Beauty sheet masks, of which there are four to choose from: BITE IT! Hydrating + Toning Mask with plant-based collagen, SHAKE IT! Firming + Illuminating Mask with marine algae, SLAP IT! Retexturizing + Detoxifying Mask with caffeine, and SQUEEZE IT! Brightening + Rejuvenating Mask with citrus. The packaging of the masks, both inside and out, is basically built for Instagram, with the name of the masks printed on the sheets themselves, which come packaged in their own essence and come in pairs—one for each cheek.
It's the middle of winter in New York, where I live, so my butt is in hibernation, hiding behind leggings and jeans. I love a short-short and have been known to mistake a t-shirt for a dress, so my hopes were high that if these masks worked out, I'd have a whole extra reason to want to display my goodies come summertime. But for now, the only people looking at my butt are, well, me. And like the rest of my skin during the winter months, it needed some hydrating and some toning—because I don't drink enough water and barely work out. So I bit into the Bite It mask.
The first thing I noticed was the size—the individual sheets are large, and I thought they'd be too large for me. As much as I desire a larger behind, I have more of an '80s style "bun of steel" than a Cardi B "booty," and I'm okay with that. But the sheets themselves weren't obnoxiously large once applied, they actually fit me perfectly, even though I had to do a little adjustment to make sure they sat perfectly on my "problem areas," or the bumpy chicken-like skin that randomly made an appearance a few years ago without permission and hasn't gone away. I was a little ASS-tonished at how easy they were to put on, but I won't lie: The cold sliminess I so appreciate on my facial sheet masks was a little jarring on the other end. It made the 10 minutes of suggested wear time feel much, much longer.
About wearing them: It wasn't easy, and I won't even pretend it was. I wound up laying on my stomach for most of the time, watching RuPaul's Drag Race. I did make a solid attempt at walking around my apartment without them sliding off, and I made a lot further than I imagined. Forget taking care of household chores while butt masking—you're better off trying to empty out your email inbox or beating that level of Angry Birds while you wait. Apply the masks while standing, and then face-plant on your bed for ten minutes. There are worse things.
But here's the best part—it worked. My g0-to butt regimen for years has been to slather my lower-half with all kinds of body oils, shimmers, and lotions, like Sol de Janeiro's Brazilian Bum Bum Cream, so my standards for a smooth, toned tush are high. And after removing my mask, the effect was tremend-ASS. I'd gotten the same effect as the lotions, but my hands didn't get covered in sparkles this time. My butt looked moisturized and as delicious as the peach emoji. I could feel the hydration, and the glow can only be compared to Jennifer Lopez's glitter in the music video for "Waiting For Tonight." I couldn't tell if it looked more toned, but that's okay with me—I'm sure if I did multiple sheet masks, I might have a better idea of the "toning" abilities. I took a belfie (that's a butt-selfie) and sent it to my closest friends, but I won't share it here because it is very NSFW. Just trust me.
It may not be conventional or even really comfortable, but the results are good enough that come summertime, I'll probably bust these out before making my first bikini appearance of the year. It's one of those products that works by being a little "weird," and I wouldn't hesitate to use a butt mask with my friends while we were sheet masking. Honestly, I'll let Tina tell you the best part of all of this:
Here's hoping there's some jealASSy in your future! (I really tried, I promise.)
For more stories like this, including celebrity news, beauty and fashion advice, savvy political commentary, and fascinating features, sign up for the Marie Claire newsletter.
Celebrity news, beauty, fashion advice, and fascinating features, delivered straight to your inbox!
Amanda Mitchell is a writer and podcaster with bylines at Marie Claire, OprahMag, Allure, Byrdie, Stylecaster, Bon Appetit, and more. Her work exists at the apex of beauty, pop culture, and absurdity. A human Funfetti cake, she watches too much television, and her favorite season is awards season. You can read more of her work at amandaelizabethmitchell.com or follow her on Instagram and Twitter @lochnessmanda.