The Beauty Products These Five CEOs Swear By
What some of the busiest women out there use on the daily.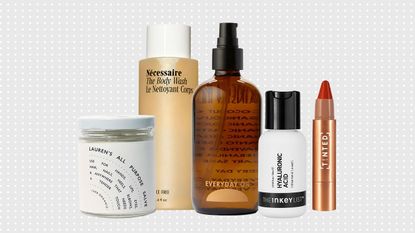 (Image credit: Hearst Owned)
Colette Laxton, co-founder, The INKEY ListCyndi Ramirez, founder and CEO ChillhouseFiona Morrison, founder and creative director, Wolf CircusAriel Kaye, founder and CEO, ParachuteMeena Harris, founder & CEO, Phenomenal Woman Action Campaign and Head of Strategy and Leadership, Uber
It takes a lot to run a company, from long days at the office to staying in constant communication with investors and employees alike. That said, squeezing in a little me-time is crucial to avoid burnout. And while the best-case scenario might involve booking a long, luxurious day at the spa, equally important is slotting in a few minutes before work or at the end of the day for a relaxing body or skincare routine.
With that in mind, we asked five very busy, very successful women for the beauty products they count on to get them through the seemingly endless demands of their day-to-day. Check them out—and take notes—below.
Who she is: A self-proclaimed beauty junkie, Laxton started her career at the UK's iconic health and beauty megastore Boots, where she handled everything from marketing to product development for leading cosmetics and skincare brands.
It's there she discovered a gap in the market: There weren't many brands that made skincare easy to understand, with quality products that were equally easy to use. From there, The INKEY List was born.
Today, beauty lovers can't get enough. The brand's minimal packaging, extremely wallet-friendly prices (like, under $15 friendly), effective formulas, and basic rundown of what each product can do for you on its packaging have all contributed to the buzz.
What she loves: "Our Hyaluronic Acid serum is the product I couldn't live without, no matter what season it is or what my skin is going through. I use it after cleansing—both morning and night—to draw my following serums deeper into my skin, while giving my skin an immediate plumped feel."
Cyndi Ramirez, founder and CEO Chillhouse
Who she is: Cyndi Ramirez set out on a mission to create "a destination for modern self care," and with Chillhouse, she's done just that. The unpretentious, laid-back cafe, bar, and day spa hybrid quickly became a New York City favorite, with enough demand to merit a second location in Soho.

Ramirez has devised the perfect place to unplug with a CBD-infused latte, museum-worthy nail art, and a selection of the newest, need-to-know beauty and wellness products on the market—while still keeping it all, well, chill.
What she loves: "As the temps drop, there's one deeply penetrating moisturizing solution I swear by and that's Lauren's All Purpose Salve. It comes in two sizes, so I keep one at the office and the smaller one in my bag for those days where my face, hands, and everything else is so dry."
Fiona Morrison, founder and creative director, Wolf Circus
Who she is: Based in Vancouver, Canada, Fiona Morrison started to dream up her whimsical, budget-friendly jewelry brand Wolf Circus while she was still in university.

The plan was never to actually be a jewelry designer—she says she learned everything from YouTube—but the brand took off and the rest is history. Today, Morrison leads an all-women team of highly trained designers, and recently introduced a sister line of fine jewelry, Ok Fine.
What she loves: "Currently my skin and hair have been loving Everyday Oil. This dreamy all-natural oil has been really moisturizing for the colder months, and the versatility of it makes it one of my favorite travel products. I use it on my face as an oil, all over my body, and on the ends of my hair to keep my frizzy waves a little more tame."
Ariel Kaye, founder and CEO, Parachute
Who she is: After a decade-plus in advertising and brand development, Ariel Kaye took her love of all things home and comfort and filled a major hole in the market with Parachute. What started as an online-only, direct-to-consumer bedding brand in 2014 has become one of the most recognizable home brands on the market today, thanks to its high-quality range of products and breezy modern aesthetic that Kaye has so effortlessly defined.

What she loves: "One of my favorite nightly rituals is taking a hot shower to unwind and relax. Showering literally washes away the stresses of the day and signals to my body that it's time to prepare for sleep. I have been using Necessaire's The Body Wash in Eucalyptus for the past year in the shower and am obsessed! The smell is intoxicating—I always take a few deep inhales while lathering—and the rich formula always leaves my skin feeling refreshed."
Meena Harris, founder & CEO, Phenomenal Woman Action Campaign and Head of Strategy and Leadership, Uber
Who she is: To say that Meena Harris is busy would be the understatement of the century. Between her leading roles at Uber and the Phenomenal Woman Action Campaign, as well as racking up frequent flier miles along her aunt Kamala's campaign stops (yes, that Kamala), she's got a lot on her plate. And yet Harris still makes time to uplift women every day, on- and offline.
What she loves: "As a consumer, I love nothing more than to find and support women-owned brands—and especially women of color-owned brands. My must-have, keep-it-in-every-bag beauty product is The Huestick from Live Tinted in the color Rise. It's a multistick, which means I can do so much with just one product.
I use it for my lips (sometimes with a light gloss on top), as an eyeshadow base, and on my cheeks. If you have hyperpigmentation—e.g., dark circles under your eyes like I do! #motherhood—you can also use it as a color corrector. Bonus: It's gentle and clean. I'm obsessed."