9 Badass Beauty Tips From Pro Surfers
They explain exactly how they pick their go-to SPFs.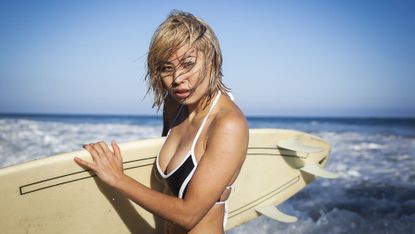 (Image credit: Getty Images)
Surf pros like Tatiana Weston-Webb, Alessa Quizon, and Leah Thompson make sure they're equipped with a beauty routine that works as hard as they do in the water. As you might imagine, the prolonged time surfers spend in the salt water and sun can take a major toll on their hair and skin. In the same way they ride the steepest waves, they have ways of dealing with the impact down to a science. From how they pick their SPF products to their go-to hair rituals, read on for their best beauty tips—the ones you won't want to skip on your next summer adventure.
Use a Water-Resistant SPF Formula
Whether you're holding out for a potential swell or just don't know how long you'll be in the sun on any given day, using a water resistant SPF is essential. It serves as longer-lasting protection from the sun's harmful rays for the moments you're splashing around in the water or have simply broken a sweat. (Just make sure to reapply it often throughout the day.)

Weston-Webb explains that she opts for sunscreen formulas that absorb quickly and that aren't slippery (as slicker SPFs make it difficult for her to grip her board). For options that check off all the boxes, try the quick-drying Australian Gold Extreme Sport Collection, as the picks feel comfortable on skin and resist sweat and water for up to 80 minutes.
Protect Easy-to-Forget Areas
To avoid sun damage, pay close attention to those easy-to-forget spots like your ears, lips, and eyelids. "The area around my eyes is more sensitive than the skin on the rest of my face, so if I miss them with sunscreen, the burn can be pretty painful," Thompson says. "I'll use a sunscreen stick around my eyes for extra protection, which also prevents the lotion on my face from running into my eyes when I get into the water."
The Australian Gold Face Guard SPF 50 is a solid stick option for the areas around your eyes and ears, while a layer of the brand's SPF 30 Lip Balm ensures your lips also stay protected. As for the rest of the easily neglected areas on your body—like the spots between cutouts and straps—opt for a veil of the Sport Spray Gel With Ultra Chill Sunscreen. On top of its hardcore sun-protection, it delivers an instant cooling sensation to overheated areas.
Opt For Reef-Safe Products
Word of the day: oxybenzone. Do a quick scan of your sun-protection products' ingredients to make sure they don't contain the chemical, which can damage coral reefs. "Surfers are trying to make its harmful effects more known so that we aren't impacting the environment with the sunscreen we use," Weston-Webb says.
While products that are clearly labeled "reef-safe" may be an indicator of formulas that won't harm marine life, the term isn't heavily regulated, as the industry is still aligning on a universal definition of the phrase.
So for now, do your due diligence and nix anything with oxybenzone or its equally troublesome counterpart octinoxate. Australian Gold's Extreme Sport Lotion is one of our favorite SPFs that skip both. Instead, it is loaded with vegan ingredients like the vitamin C-rich kakadu plum, and tea tree oil.
Do a Fit Check to Chafe-Guard Skin
Chafing is caused by friction against the skin while in water, which can happen on a long day wading in the ocean or pool. While a rash guard or other protective clothing can help, it's important that wearables fall into the Goldilocks zone in terms of size—not too big or too small.
"Usually when you chafe, it's because you're doing a lot of movement, or you're using a bikini or wetsuit that's a little too big," Quizon says. "Check the size and fit to make sure there isn't anywhere the water could get in, but make sure it isn't too tight."
All three pros also agree on applying a layer of Aquaphor Healing Ointment to prevent further irritation to the chafed area. "I have a huge tube of Aquaphor, and I'll use it on chapped lips, cuts and scrapes, and wherever I have any rash or chafing," says Weston-Webb. Apply the stuff in areas you expect to chafe to act as a preventative shield, and irritated spots to hydrate and soothe.
Keep Post-Sun Skincare Simple
To make up for the time spent in salt water, you might think you'd need a cocktail of products to restore moisture to your skin, right? Not necessarily. Thompson uses only one product—Botanicals' Rosehip Seed Daytime Face Cream—to rehydrate her complexion.
Weston-Webb relies on natural jojoba oil. She applies it allover her body, especially chafed areas, for moisture, relief, and healthy radiance. "A lot of surfers don't like oils because you get in the water and you slip everywhere," she tells us. "My method is to apply a layer after I've showered and leave it on overnight, then rinse it off the next morning before I surf."
Take Time to Soothe Your Burns
While the ultimate goal is to avoid a sunburn, it can happen to even the most diligent among us. Quizon, Weston-Webb, and Thompson all agree that soothing a burn requires three things: aloe, hydration, and rest.
"If I get a bad sunburn, I definitely avoid the sun for the next day or two, and use aloe to cool it off," Quizon says. "Moisturizing your skin is important to helping it heal, so if I'm not going outside, I'll use coconut oil to restore hydration." She adds that if she is going outside, she swaps the coconut oil out for a soothing lotion to avoid worsening the burn.
Prep Your Hair Before Going In the Ocean
Avoid stiff, salt-saturated hair when you're at the beach by wetting it with water from your sink or shower prior to going into the ocean. "People forget to do that, but it's my go-to move for preventing my hair from soaking up too much sea water," says Quizon, whose blonde strands stay resilient, despite her busy surf schedule.
Keep Your Hair Moisturized
Real talk: Depending on your hair type, the constant lather-rinse-repeat cycle that comes with hitting the water each day can strip your strands of much-needed natural oils. Weston-Webb actually often skips her post-swim shampoo, and just makes sure her hair stays moisturized. "Because I surf, my hair doesn't produce a lot of natural oils, so my method is to rinse all the salt water out, then follow with a conditioner to moisturize it and get all the knots out."
We get itching to wash your hair after time spent in the ocean or pool. On the days you do decide to shampoo, just make sure to remember to re-introduce moisture to your hair via an emollient leave-in conditioner.
Marianne Mychaskiw is a former beauty editor and copywriter turned freelancer, covering topics like beauty, wellness, sex, and relationships. She likes long walks on the beach, and still gets emotional about Ginger leaving the Spice Girls.