The 16 Best Spray Sunscreens for Face and Body in 2023
From kid-friendly mists to SPF-packed setting sprays.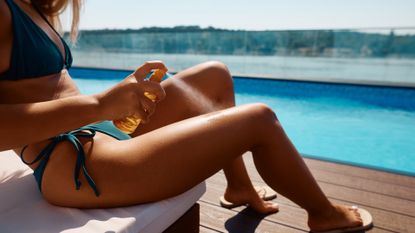 (Image credit: Getty Images)
Marie Claire Newsletter
Celebrity news, beauty, fashion advice, and fascinating features, delivered straight to your inbox!
Thank you for signing up to Marie Claire. You will receive a verification email shortly.
There was a problem. Please refresh the page and try again.
I could write a dissertation about the best sunscreen products in my sleep. SPF is my holy grail, my can't-live-without, my must-have. I've tried dozens upon dozens of formulas through the years, and I'm confident that there's nothing as quick, easy, and convenient to apply as one of the best spray sunscreens. Because whether I need to reapply sunscreen over makeup or want a non-sticky full body mist to use on the beach, a super-fine SPF spray is always going to be my MVP.
The convenience can't be beat, and while a spray can be just as effective as a cream sunscreen formula, it's important to take a little extra caution during application to avoid bizarre tanning patterns (been there, done that, not cute) or sunburn. The recipe for success? Hold the bottle no more than six inches away from your body and thoroughly rub everything into the skin. As for the face? Start off with a cream formula (mineral or chemical will do) and reach for a facial-friendly spray SPF for reapplication.
To get a crash course in all things spray sunscreen, I strongly encourage you to keep reading. Not only have I rounded up some of my personal favorite products, but I also tapped board-certified dermatologists Dr. Lindsey Zubritsky and Dr. Hadley King to get their top application and safety tips. From fine mists with a barely-there feel to makeup setting sprays loaded with SPF, here's a definitive guide to the best spray sunscreens.
Is Spray Sunscreen Safe?
You may remember back in 2022 when Johnson & Johnson recalled some of its sunscreens after finding low amounts of benzene in some samples. What is benzene, you may ask? According to board-certified dermatologist Dr. Hadley King, benzene is a known carcinogen found in a number of aerosol sunscreens. Now, before you ditch spray sunscreens for good, Dr. King says that investigations have often focused on the effects of benzene after it's been ingested or inhaled, not through our skin. "We still don't know how effectively benzene penetrates through the skin, or how the benzene behaves after skin penetration," she explains. Dr. King does say that inhaling benzene can be harmful to the lungs, adding, "It has been hypothesized that benzene contamination may come from isobutane, a spray propellant used in aerosol mechanisms." So, if you want to reduce the risk of benzene contamination and still want a spray sunscreen, Dr. King recommends using options that are non-aerosol and to be sure you don't inhale any product.
Additionally, the EWG profiled more than the formulas and performance of 1,700 sunscreens and found just one in four met their standards. The study searched for chemical ingredients such as oxybenzone, octinoxate, homosalate, octisalate, octocrylene, and avobenzone. While these ingredients do provide UV protection, they may cause adverse effects such as skin allergies or hormone disruptions. Take into account, though, that all sunscreens are regulated by the FDA and must pass certain tests, and any sunscreen is better than going without—and Dr. King would agree. She explains: "Avoiding an effective preventive measure such as sunscreen could prove more harmful than exposure to trace amounts of benzene, ultimately to be determined by the FDA. The same can be said of theoretical risks of some chemical sunscreen ingredients." Of course, if you have any allergies and particular concerns, consult with your doctor before using a new sunscreen.
Overview
The Best Body Sunscreen Sprays
"When using sunscreen, I recommend applying at least one ounce of sunscreen to the entire body—this is the equivalent of a shot glass," explains Dr. Zubritsky. "This can be hard to determine using a spray-on sunscreen, so a good rule of thumb is to apply the spray until the skin glistens." You'll want to keep the bottle close to the skin (no more than a six inch distance) and rub the product in.
For reference, a standard size bottle of spray sunscreen should last *only* six body applications. Let that sink in: one bottle is worth only six body applications.
The Best Face Sunscreen Sprays
First things first: the face is sensitive, so it is going to be best to start off with a cream formula. That said, a spray can be used for reapplication—just make sure you're using one of the best formulas. "Choose a spray sunscreen that is specifically made for the face to prevent clogging pores and acne breakouts," explains Dr. Zubritsky. "Be sure to avoid getting any in your eyes and keep your mouth closed while spraying."
The Best Makeup Setting Sprays With SPF
A setting spray packed with SPF is Dr. Zubritsky's go-to for reapplication with makeup. Setting sprays easy as can be to apply over makeup and won't mess up your foundation or cause your mascara to bleed. Just make sure you're applying enough product to actually get the benefits on the bottle. Reminder: you want to "glisten." If you're more into a matte look, check out the best powder sunscreens.
The Best Ultra-Fine Sunscreen Sprays
If you *despise* the sticky, greasy feeling of sunscreen, we have some good news: There are a handful of products that spew out SPF so fine, you barely feel it. They sink into the skin, dry down in seconds, and won't leave your face or body with a damp or wet feel.
What's The Difference Between Chemical and Mineral Sunscreens?
If you prefer spray sunscreens over other formulas, you'll have to decide whether to use chemical or mineral sunscreens, with each having their own pros and cons. Here, Dr. King breaks down the difference between the two formulas and gives her recommendations for each.
"Chemical sunscreens are made up of chemicals that are absorbed into the skin, where they can absorb the UV rays and create a chemical reaction that changes the UV rays into heat and the heat is then released from the skin," explains Dr. King. These formulas typically contain a combination of oxybenzone, octinoxate, homosalate, octisalate, octocrylene, and avobenzone, which come may have harmful side effects, as mentioned above. If you have a darker skin tone, you may want to opt for a chemical sunscreen as these formulas don't leave a harsh white cast. Dr. King recommends avoiding oxybenzone and octinoxate as there are other chemical ingredients that are reasonable alternatives.
Mineral or physical sunscreens
Mineral sunscreens, a.k.a. physical sunscreens, contain zinc oxide and titanium dioxide and work by sitting on the skin's surface and reflecting the sun's UV rays. All in all, Dr. King recommends these formulas as they are less likely to irritate sensitive skin, are photostable (meaning they won't degrade if exposed to UV light), and have fewer concerns about absorption and safety. Additionally, she says, "Physical sunscreens are less likely to clog pores and irritate complexions, particularly for those with sensitive skin." However, physical sunscreens may leave behind a white cast, but Dr. King notes that the formulas of today "have come a long way from their chalky, white, hard-to-spread predecessors."
Meet the Experts
Celebrity news, beauty, fashion advice, and fascinating features, delivered straight to your inbox!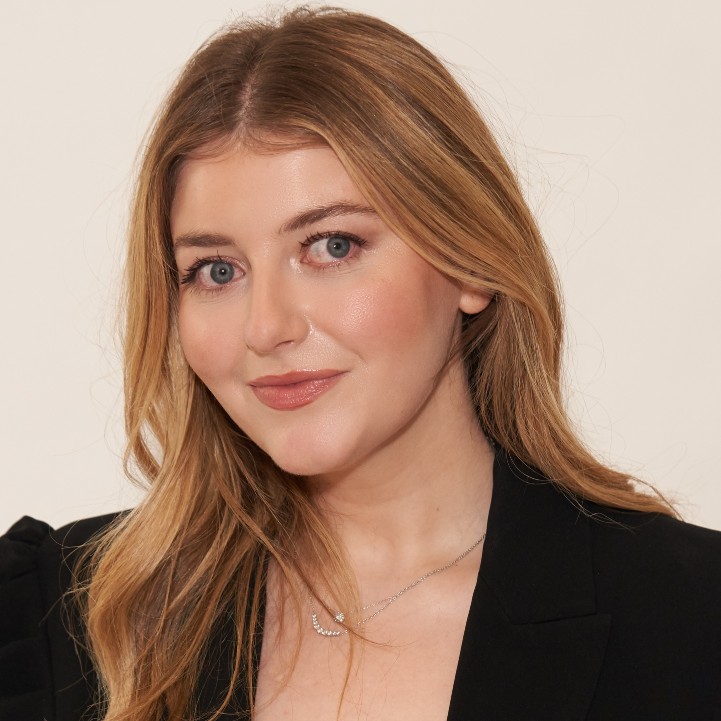 Samantha Holender is the Beauty Editor at Marie Claire, where she reports on the best new launches, dives into the science behind skincare, and keeps up with the latest trends in the beauty space. She has previously written for Us Weekly, Popsugar, Makeup.com, Skincare.com, and Philadelphia Wedding. Follow her on Instagram @samholender.