Skincare Devices Worth the Investment
We asked a dermatologist how to choose the best skincare devices and tools to work into your routine, including microcurrent, LED light therapy, and more.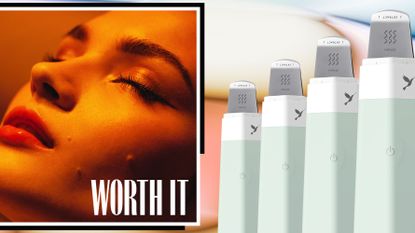 (Image credit: Morgan McMullen)
Marie Claire newsletter
Celebrity news, beauty, fashion advice, and fascinating features, delivered straight to your inbox!
Thank you for signing up to . You will receive a verification email shortly.
There was a problem. Please refresh the page and try again.
You've found a regimen that keeps your complexion looking smooth, glowing, and youthful. But topicals and ingestibles have their limits, and you, overachiever, are constantly seeking optimization. Thanks to some recent advancements in skincare technology, a slew of devices and tools that look like props from Back to the Future have hit the market. Their aim: to increase the effectiveness of your favorite beauty products. From electric microcurrents that tighten and firm your neck to LED lights that eradicate acne breakouts, the future of skincare is handheld. New York City-based dermatologist Joshua Zeichner explains how to choose the best device to level-up your skincare.
Marie Claire: Are at-home devices worth the investment?
Joshua Zeichner, M.D.: They can offer complementary benefits to your topicals and help them do a better job.
MC: What are the most effective uses?
JZ: Microcurrent technology can be paired with elastin-stimulating products for synergistic benefits. And microcurrents have been shown to stimulate collagen and strengthen the skin. Also, device-assisted exfoliating may enhance penetration of active ingredients into the skin.
MC: Can DIY tools extend the effects of a professional peel or laser?
JZ: High-strength in-office treatments are most impactful, but skin ages over time. These devices may help maintain results and minimize the number of professional treatments that might otherwise be necessary.
Image 1 of 4
Dermapore Ultrasonic Pore Extractor & Serum Infuser
DERMAFLASHsephora.com
$99.00
<a href="https://www.sephora.com/product/dermapore-ultrasonic-pore-extractor-serum-infuser-P448181" target="_blank">shop it</a>
Consider this a handheld facialist. It has two ultrasonic vibration functions to reform clogged complexions. Use its extract mode to eradicate dirt and oil from pores, then switch over to infuse mode to help your products penetrate skin. 
Luna Mini 3
<a href="https://target.georiot.com/Proxy.ashx?tsid=141596&amp;GR_URL=https%3A%2F%2Fwww.amazon.com%2Fdp%2FB08295WGC8%3Ftag%3Dhawk-future-20%26linkCode%3Dosi%26th%3D1%26psc%3D1%26ascsubtag%3Dmarieclaireus-row-4448626776639650000-20" target="_blank">at Amazon</a>
$159
Foreo's palm-size device pulsates 8,000 times per minute to buff  away dry skin and help your cleanser dissolve more grime. To level up, shift into Glow Boost mode, which times these pulses for 30 seconds to ensure that post-facial luminosity. 
Optimizer Voyage Tri-Light Glasses LED Light Treatment for Eyes
SKIN INC.nordstrom.com
$175.00
<a href="https://www.nordstrom.com/s/skin-inc-optimizer-voyage-tri-light-glasses-led-light-treatment-for-eyes-nordstrom-exclusive/5398923" target="_blank">shop it</a>
These "glasses" project three shades of LED light to rejuvenate skin and improve dark circles, but consistency is key. "Think of light treatments like marathon prep: If you don't do the training, you'll never cross the finish line," says Zeichner.  
OX
Ziip Beautyziipbeauty.com
$480.00
<a href="https://ziipbeauty.com/products/ziip-ox" target="_blank">shop it</a>
Ziip's newest microcurrent tool uses multiple electric-current settings to give you a lift and spur lymphatic drainage for a more shapely visage. Sync it with its app on your smartphone to ensure you're on track. 
A version of this story appears in the Summer 2020 issue of Marie Claire.
subscribe here (opens in new tab)
RELATED STORY
Taylore Glynn is the Beauty and Health Editor at Marie Claire, covering skincare, makeup, fragrance, wellness, and more. If you need her, she's probably roasting a chicken, flying solo at the movies, or drinking a bad Negroni at JFK.