35 Gorgeous Makeup Tutorials By Black YouTubers
It's important to support Black creatives now and always.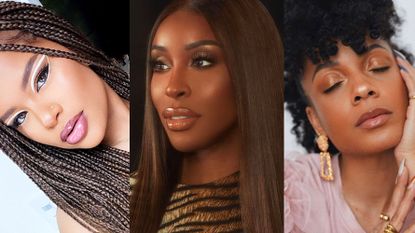 (Image credit: Instagram)
Uplifting the voices of Black creatives and supporting Black-owned businesses is not a seasonal trend—it's a forever staple. To keep this movement at the forefront of everyone's minds, I'm here to shine a light on talented Black creatives in the beauty industry. The YouTube community is full of content creators who spend countless hours on camera self-shooting, editing, and producing striking makeup looks and in-depth skincare reviews for loyal audiences, ranging from a few thousand viewers all the way up to the millions.

With the rapidly growing number of makeup tutorials being uploaded by the minute, it's not easy finding creators that speak to every skin tone. Especially if the beauty reviews for darker skin tones aren't being promoted at the same rate as white influencers. It's time we go against the algorithm and showcase the Black beauty content that doesn't deserve to be overlooked.
Get ready to like, comment, and subscribe to these Black YouTubers that continue to inspire the masses with their beautifully crafted videos. We all could use some summer beauty inspo to boost our moods, right? Ahead, in no particular order, you'll find a comprehensive and diverse collection of 35 makeup tutorials for all shades of brown, from creators to support now and always.
Tamara Renaye
If you're feeling adventurous, play up your eyes with a vibrant shadow that complements your outfit for a monochromatic moment. An eyeshadow this bright may seem intimidating, but with the right color and technique you'll be snapping dozens of selfies from all different angles in no time. Watch Tamara demonstrate how to seamlessly blend vibrant green shadow topped with lashes, finishing with a flawless complexion.
Artistry by Aleiyah
In need of some date night inspo? Try this soft and sultry look. Aleiyah blends these burgundy, cranberry, and golden hues to perfection to create a subtle cut crease. With an eye this gorgeous, all you really need is a glowing nude gloss to finish the look off, as shown here.
Jackie Aina
The title of this makeup tutorial says it all: Imagine Not Stanning Pat McGrath...COULDN'T BE ME! Same, though. Watch Jackie Aina apply a full face of Pat McGrath's Labs makeup products, and prepare to be thoroughly entertained by her hilarious memes and girl chat.
AllyiahsFace
For a full-on glam session, get ready with AllyiahsFace for a night out. Take notes as she styles her hair, puts together an outfit, and completes a quick and easy neutral makeup look.
MsAaliyahJay
If you're an OG subscriber of Aaliyah Jay, you know all about her her budget-friendly beauty tutorials. Here, Aaliyah recreates a colorful look from her early days on YouTube, and gives viewers a rundown on the best drugstore products for dry skin.
Samantha Maria
Have you converted to cream blush yet? If you're just as obsessed with Fenty Beauty as I am, then you're going to want to tune in as Samantha Marie samples every shade from the Cheeks Out collection.
Taylor Anise
Whether you're a heavy makeup wearer or just looking for a foundation-free routine, check out this teenage-friendly tutorial. Taylor Anise shares a simple natural beat to enhance your features instead of covering them up.
Nyma Tang
It's no secret that finding complementary shades for deep skin tones can be daunting, and figuring out where to apply your highlighter and contour can be even more tricky. Fortunately, this comprehensive tutorial from Nyma Tang sets the record straight on the best techniques to highlight and contour your beautiful skin tone.
The Tennille Life
Tennille Murphy, of The Tennille Life, is skincare and makeup over 40 goals. Check out this video as she provides tips for mature skin and creates a natural makeup look using Black-owned beauty brand Mented Cosmetics.
Arnellarmon
If you have hooded eyes, check out this game changing makeup transformation by Arnell Armon. Follow along as she puts Bella Hadid's Fox Eye Lift hack to the test—the results are amazing!
Shahd Batal
Here's a fresh look you'll want to recreate all year round. Shad Batal shares her skincare routine and shows her tried-and-true natural makeup look suitable for every occasion.
Uche Natori
Uche Natori shows off an Instagrammable beauty look worthy of all the double taps. Tune in as she gives a step-by-step guide to creating a dreamy, colorful eye look.
VICKYLOGAN
If you have oily skin, you'll understand all too well the struggle of a fresh summer glow turning into a greasy mess. Watch as Vicky Logan puts her makeup skills to the test to create a dewy look suitable for combination to oily skin types.
Briana Monique'
Briana Monique' is the queen of natural beauty tutorials. Here, she shows her subscribers how to create an effortless, second skin, I-woke-up-like-this makeup look.
Lexsa Marie
Watch as Lexsa Marie proves once again that oily skin types can create a sweat-proof, glowing makeup look during the summer months with the right products.
TheNotoriousKIA
For some much-needed makeup therapy, check out this beautifully bronzed look by Kia Marie of TheNotoriousKIA.
Teaira Walker
Teaira Walker will inspire you to let your skin shine through this summer. Plus, if spending most of your time in the mirror is not your vibe, you'll appreciate this 10-minute makeup look.
ItsMyRayeRaye
Here's another opportunity to slay your face on a budget. Raye Boyce illustrates how to score a sun-kissed glow with accessible beauty products you can find in the drugstore.
Maur Life
Here, a beautiful, no-brainer beauty look for deep skin tones at your service. Maur Life shows how she executes her flawless everyday makeup look.
Alissa Ashley
Alissa Ashley never ceases to amaze her followers with creative content, and this makeup tutorial is no different. Here, she recreates Ariana Grande's white cut crease from her "Rain on Me" music video.
Tarek Ali
This one goes out to all the beauty boys who also deserve to glow this summer. Look to Tarek Ali's tutorial as he creates a golden bronzed glow that'll turn heads.
Jasmine Brown
Disclaimer: Recreating this monochromatic, light blue look will require you to show up as your boldest self this summer. Watch as Jasmine Brown makes the case for a summer of fun eyeshadow colors.
Aysha Harun
Whether you're planning to tie the knot soon or attending a summer wedding, use this bridal beauty look by Aysha Harun for inspo. Watch as she creates a long-lasting look that'll be sure to stand up to humidity.
Slim Reshae
The easiest way to accentuate your melanin is with a good glow. Watch as Jasmine of Slim Reshae creates this light-catching look.
Kaiser Coby
The key to a beautiful makeup look is a flawless foundation routine. Kaiser shares tips and tricks to perfect and set your foundation for an all-day wear.
Makeupshayla
As we continue to uplift the voices of Black creators, it's important that we also support Black-owned businesses. Here, makeup veteran Shayla creates a stunning summer look using nothing but Black-owned beauty brands—now that's B.O.M.B.!
VariJStylez
Since we're all wearing masks in the COVID-19 age, it's time to draw attention to the eyes. In other words, you need VariJStylez's shimmering eye tutorial, stat. He also shares a personal review of the budget-friendly No Filter Foundation ($12) by Colourpop.
Dana Alexia
Allow Dana Alexia to turn your makeup all the way up with this face full of Fenty Beauty tutorial. From the perfect winged liner to a glistening nude lip, you'll definitely be feeling yourself after recreating this look.
Kyra Knox
Let your brows and skin do all the talking this summer! Kyra Knox shares details on how to achieve a defined, bushy brow and her foundation-free makeup routine.
Simply Nikki
If you're nervous about experimenting with bold colors on your deep complexion, this will push you to move past that. Nikki Thot incorporates subtle shades of pink, brown, and berry into her makeup routine in the most beautiful way.
Andrea Renee
Here's a minimalist guide to a no-makeup makeup look that supports Black-owned beauty brands. Andrea Renee shows off a simplistic look using Fenty Beauty, Mented Cosmetics, Pat McGrath Labs, and Beauty Bakerie.
Maya Galore
Maya Galore wants you to live your best life this summer without sweating off your makeup. Your hard work won't go to waste this season with her tips and tricks for a long-lasting, humidity-resistant makeup look.
Yvonne Victoria
Those with oily skin types can certainly take away a few gems from this everyday makeup routine for dark skin tones. Yvonne Victoria drops tips for prepping oily skin and application tips for a flawless finish that will last all day.
Faceovermatter
In this video, Jaelan, a.k.a Faceovermatter, reviews a foundation from Black-owned beauty brand Juvia's Place. She seals the deal with a bright red lip you're going to want to know the name of.
Yasmine Simone
Here, Yasmine Simone creates a beautiful soft glam makeup look in celebration of Eid.
Chelsea Hall is the Assistant Fashion and Beauty Editor at Marie Claire, where she covers celebrity style, fashion trends, skincare, makeup and anything else tied into the world of fashion and beauty