Lana Condor Talks Skincare, Her Go-To Board Game, and Going Foundation-Free
The actress is the new face of Neutrogena.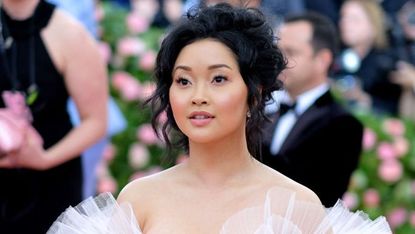 (Image credit: Getty Images)
Lana Condor has been sitting at home in Seattle for the past few months, trying to keep a big secret: The 23-year-old actress is the new face of Neutrogena, and could not be more ecstatic. "I've been waiting throughout quarantine to spill the news," Condor tells me over Zoom. "It's been so tough keeping my mouth shut because I've been sitting at home, staring at a wall and wondering how I can spice up my life. Maybe I tell the world about Neutrogena? Nope, Lana, don't do it!"
Then, last week, she was finally allow to share, and the response to her announcement has been massive. On Instagram, the To All the Boys I've Loved Before star racked up more than 500,000 views and hundreds of congratulatory comments. "My mom introduced me to Neutrogena products, so I've been using this brand since the beginning and for as long as I can remember," she recollects. "I actually feel equipped to talk about the products, which gives me relief because talking about skincare would suck if I knew nothing about it."
In addition to keeping her big news under wraps, Condor's been spending the past few months playing board-games with her boyfriend, wearing less makeup, and experimenting with skincare. Below, she reveals the one product that actually improves her dark circles and shares why she's been going foundation-free.
No matter how tired she is, she never goes to sleep with makeup on.
"I was a dancer when I was younger, so I wore a lot of stage makeup. To drive home the importance of taking off my makeup off every night, no matter how tired I was, my mom was like you gotta do it. So she, introduced me to Neutrogena's Makeup Remover Cleansing Towelettes (opens in new tab)($5). I mean, they're iconic. I see so many makeup artist's kits and no matter what, they always have the wipes.
My mom also doubled down on SPF, because she never wore SPF when she was younger, would tan all the time, and has some skin problems because of it. So she was really intense about making sure I wear sunscreen. I carry this Neutrogena Ultra Sheer Face Mist SPF 55 (opens in new tab) ($13) [around], it's amazing. In front of me right now I have coffee, tea, water, and Neutrogena sunscreen—I don't really know what else I need."
She's been going foundation-free all quarantine.
"Before quarantine, I was working non-stop and a big part of my job is wearing a lot of makeup. So, my skin really needed to heal, even more than I thought it did. My skincare routine has changed a lot, but for the better, because I have so much time and have been experimenting more. I've been drinking a ton of water. But the biggest thing that's helped my skin is going foundation-free, because if I don't have to wear it, I'd rather not and let my skin shine through. Instead of foundation, I use concealer to focus on certain areas of my skin."
Her hack for under-eye dark circles involves turmeric.
"I have really dark under-eye circles and I can't tell if they're genetic or if it's because I'm tired. I can't really use the tired excuse anymore since I've been getting a lot of sleep lately in quarantine... I started noticing my dark circles five years ago and have been using this Neutrogena Bright Boost Illuminating Serum (opens in new tab) ($23) ever since. I've been using it more consistently the past six months, and I'm finding that the turmeric has really helped brighten and de-puff my dark circles. I don't love products that leave your skin super shiny. I feel like you can always see a sparkle and you're going to look like a disco ball, which is not my personal preference even though I know some people love it. I like that this serum actually illuminates my skin from within, which is the most important, in my opinion.
This discussion around promoting beauty from within is one of the reasons I'm most excited about working with Neutrogena. The brand has always been about that message, and this is a platform for me to talk about the things that I believe in, to empower my voice. There are brands that might say they want to help you do that, but don't actually allow you to use your voice and preach about the things you believe in. Now, more than ever, it's so important to have a message. People follow you because they believe in you. But you've got to show them what you believe in, or else what's the point?"
The partnership isn't just about skincare for her, it's about representation.
"To be completely honest, I feel really proud to be an Asian face of Neutrogena. The initial response from my followers has been about how awesome it is to see an Asian face in skincare for such an iconic brand. I want young girls and guys to see this [announcement] and believe they can do it, too. And I want them to feel safe using this skincare. For example, shades are the most important thing when it comes to makeup. It's really scary when you don't see a wide variety of shades because as a consumer you don't feel safe. I really want to represent inclusion in makeup; beauty can be very ostracizing if you don't see yourself in it. With skincare, my hope is that everyone feels proud of the skin they're in. I want to show others who may feel alone, that we can all feel safe, represented, and a part of something. Inclusion is the first and foremost thing I look for in a brand, and we can always do better. I'm excited to be a part of that."
She's been embracing her inner-child while on lockdown, and loving it.
"During quarantine, I've been dueling my life away playing this Yu-Gi-Oh! game (opens in new tab) with my boyfriend. I don't know if you're familiar, but Yu-Gi-Oh! is a game for those who are 6 years old and up, so here we are. I love my pretty board, and all of my cards are my prized possessions. I have a blue eyes white dragon deck, which is exactly what it sounds like—it makes me feel powerful. My boyfriend and I sit across from each other, play ancient Egyptian music, and I duel him. I made the music a part of the game, we're going the extra mile. Recently, I even ordered props and costumes."
RELATED STORY
Maya Allen is the former Digital Beauty Editor at MarieClaire.com where she covered makeup, skincare, haircare, wellness, you name it! She has a 15-step skincare routine, owns over 200 red lipsticks, and enjoys testing the latest and greatest in beauty. On most weekends, you can find her at her happy place, which is her makeup vanity. There, she's usually blasting her speakers while singing along to lyrics at the top of her lungs, and making sure her highlighter is on point.