The Benefits of Chebe Powder, Explained
The history of this ancient African practice, explained.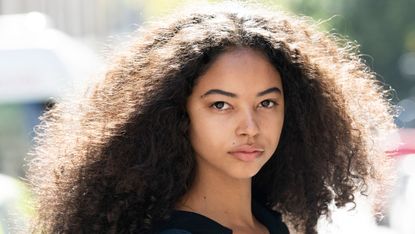 (Image credit: Kirstin Sinclair)
Let me present you with a frustrating conundrum: Although curly hair looks amazing at every length, growing extra-long curls is a feat due to a myriad of factors. For one, natural curls are very fragile, which leads to strands being susceptible to dryness and breakage. When hair breaks, surprise surprise, growing it down to your waist seems like an impossible goal. Add in other variables, like damaging hair treatments and hot tools (can you sense my guilt?), and you might see split ends or experience dryness, which also stifles growth. Explain then, how some women manage to have natural, curly hair that practically hits the floor? While some of it may be due to genetics, good haircare practices, and pure luck, there are also some cultural practices that might hold the key to long, healthy, and curly hair—like chebe powder. If you love long hair secrets as much as I do, you've just stumbled upon gold.
Traditionally used by women in Chad, Africa, Chebe powder is a ground mix of seeds and local ingredients that are used to strengthen locks so that they can grow without breaking. And I'm talking growth, like past your shoulders and into the waist territory growth. This product is specifically beneficial to those with curly, textured hair.
What Hair Type Benefits From Chebe Powder?
While anyone can take advantage of the hydrating, deep conditioning, pH balancing powers of Chebe powder, it has been traditionally used by women with curly hair. It's designed best for 3A to 4C curl types. If your hair is on the finer, straighter side, chebe powder can still be used, with a very light hand, or it might feel excessively heavy.
How Do I Use Chebe Powder?
Here's the fun news: Chebe powder can be used in a bunch of different ways, depending on what you're comfortable with. Although Chebe powder is added in some products, for the traditional experience, the powder itself can be mixed in with other ingredients to use as a treatment. One popular method of getting the benefits of Chebe powder is to use it as a hair mask. Because it is contains deep conditioning properties, it works well in place of your regular weekly hair mask. One way to do this is to mix a tablespoon of the powder with your favorite hair conditioner and leave it in damp hair overnight. Another popular method of creating this mask: instead of mixing it with conditioner, mix it with your favorite hair oil instead for the most hydration possible.
It's also possible to use Chebe powder on its own as a leave-in styling product. When hair is damp, spread the powder through your strands. The powder, when mixed with liquid, is a mud-like consistency and color. In order to protect your sheets and clothing, put your hair in protective styles and cover with a shower cap so you can reap the full benefits with none of the mess. After a few uses, you'll feel your hair feeling stronger, more hydrated, and healthier. Length will follow!
RELATED STORIES
Marie Claire email subscribers get intel on fashion and beauty trends, hot-off-the-press celebrity news, and more. Sign up here.
Tatjana Freund is a Beauty Commerce Writer, covering makeup, skincare, and haircare products and trends. She's a fan of vodka tonics and creepy Wikipedia pages.