This Perfume Has a History (and Is the Sexiest Scent I've Ever Worn)
Some famous names have rocked it, too.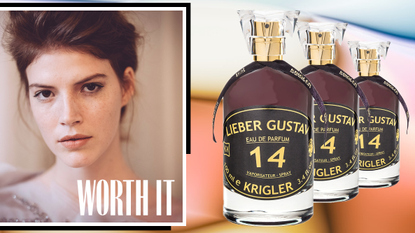 (Image credit: Morgan McMullen)
Welcome back to Worth It, a bi-weekly breakdown of the new beauty products I've tested and adored: I'm talking that drain-it-to-the-bottom-and-tell-my-friends-I've-found-The-One kind of love. If it's featured here, consider this my permission to splurge on it. Read on for the product you don't want to live without, and catch up on the latest Worth It breakdown here.
The Promise
Legendary fragrance house Krigler has always been firmly rooted in romance. In fact, it was born from an almost cinematic love story: When German chemist Albert Krigler fell hard for the daughter of a French perfumer in 1879, he created a fragrance to gift to his beloved in honor of their engagement. In 1904, Krigler set off to create a full-blown fragrance brand (including his first creation, Pleasure Gardenia 79) which has since produced dozens of deeply poetic and celeb-adjacent perfumes. JFK was known to rock the sporty America One 31, and Grace Kelly credited the floral Chateau Krigler 12 as her good luck charm the night she won an Oscar for her role in The Country Girl. But unlike the brand's more wholesome fans, I've found myself deeply devoted to one of the brand's more seductive scents.

Enter Lieber Gustav 14, a heady blend of leather and black tea reminiscent of 1910 Berlin, and romantic floral notes of geranium and lavender, inspired by love letters sent between young fiancés. It was originally sold as a cologne, but when actress and singer Marlene Dietrich waltzed into the Krigler boutique in the 1930s and declared it her new signature scent, the house decided to market it as its first unisex offering. Its reputation grew within the literary set as well: Zelda Fitzgerald gifted it to her author husband Scott while he was writing Tender is the Night.
Why I'm Obsessed
I like to think of myself as a hopeless romantic with a healthy cynicism—I was an English major, after all—so the story behind the scent was enough to enchant me into sweeping up a bottle. You know that scene in Midnight In Paris when an antique car full of hedonistic Frenchmen picks up a wine-smashed Owen Wilson and transports him back in time to the city's Années Folles at the stroke of midnight? This perfume has a similar effect for me. Though it's true that the leathery scent reminds me of nights spent hand-rolling cigarettes for new friends in the Pigalle district, it also invokes a mood. One spritz and I'm instantly tempted to treat myself to a New York Sour at my East Village stand-by Prune, or go out dancing until my heels are bruised. (Maybe it's the influence of wearers past—no one partied harder than the Fitzgeralds.) Rather than choosing this perfume because it fits my vibe on a particular day, I find my mood transforming to match the perfume itself.
It's sexy in every sense—and functional, too. The liquid's herbaceous lavender note freshens up the deep leather and tea underneath, so it's assertive without being overwhelming. And it's completely androgynous, which means it somehow goes with every outfit or occasion. And the deep, creamy notes of sandalwood and tonka bean are so heady that just one or two sprays of it sticks to my skin and lasts all night long, which means that one bottle offers me months and months of haunting sultriness. Lately, it's been tough to put a price on feeling indomitable, and the confidence Lieber Gustav 14 gives me is worth every penny.
Taylore Glynn is the Beauty and Health Editor at Marie Claire, covering skincare, makeup, fragrance, wellness, and more. If you need her, she's probably roasting a chicken, flying solo at the movies, or drinking a bad Negroni at JFK.