24 Hours of Skincare, Makeup, and Running a Beauty Biz with Wende Zomnir
The founder of Urban Decay Cosmetics shares the best advice she's ever received and her foolproof self-care move.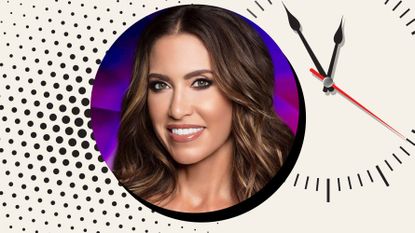 (Image credit: Design by Hanna Varady)
Welcome to Beauty Around the Clock, Marie Claire's weekly peek into the daily lives of some of the most game-changing women in their industries. Ever wonder how they get it all done in a day? Here's your answer.
Wende Zomnir, the founding partner and chief creative officer of Urban Decay Cosmetics, calls herself an "Original beauty junkie" via her Instagram bio (opens in new tab). To lead a rule-breaking brand like Urban Decay, which has over 11.2 million Instagram followers and counting, is no easy feat. Ahead, the Orange County-based founder, mother of two, and avid surfer-snowboarder shares a day in her life.
Rise and Shine
I used to wake up and check my mail, then read my newsfeed. Kind of tragic, right? So lately, I've switched it up, and have been working through the Meditation course on the Calm App (opens in new tab). About three times a week, I pop on my Celluma LED mask (opens in new tab) for a treatment while I meditate. Optimal hours of sleep for me is about eight and an half—but usually I get about seven. I used to be worse, getting only five to six hours a night. But quarantine has helped me prioritize some of the healthy things I wasn't doing before.
Power Start
I eat a hard boiled egg, baked sweet potato fries, and berry smoothie that my husband makes. I drink an Americano that I make at home, and put some Laird Superfood Non-Dairy Creamer (opens in new tab) in it. The creamer is amazing. I love the plain, vanilla, and chocolate mint flavors. It's great in smoothies too.
My favorite fitness routine is to mix it up—I love tennis, surfing and mountain biking in the summer. I add in some livestream yoga with one of my favorite teachers, David Danon. He's also does hair on TV and movie sets so he has great stories. I built out a gym in my house, so I go do crossfit style workouts, but I miss the camaraderie of the strong badass women at my gym.
Morning Maintenance
In the mornings, I start with a cool water rinse. Then, I apply Skinceuticals LHA Toner (opens in new tab), CE Ferulic (opens in new tab), Metacell Renewal B3 (opens in new tab), plus the AOX Gel (opens in new tab)under my eyes. In the evening, I double cleanse with Shu Uemura Cleansing Oil (opens in new tab) and Skinceuticals Simply Clean Cleanser (opens in new tab), followed by the same LHA Toner (opens in new tab). After that, I pick a treatment: Retin-A, Skinceuticals Glycolic 10 Renew (opens in new tab) (mixed with a couple of drops of Le Prunier Plum Beauty Oil (opens in new tab)), or a deep hydrating mix of Skinceuticals B5 Gel (opens in new tab), HA Intensifier (opens in new tab), and some oil. I top it all off with a layer of Skinceuticals Triple Lipid Cream (opens in new tab), AGE Eye Cream (opens in new tab), and a slick of Latisse (opens in new tab). I use Skinceuticals Discoloration Defense (opens in new tab) and lots of pore-clearing masks as needed.
Hair Help
My bedhead works for me. I like to let it air-dry after the shower. One of my favorite hair hacks is to go to bed with it damp, after putting Kerastase Elixir Ultime (opens in new tab) on the ends, tossing the roots, and then lathering Innersense Volumizing Foam (opens in new tab) on my mid-lengths. Then I sleep on my back with my hair radiating out like a halo. In the morning, is looks sexy and effortless.
Signature Look
I always say that a lady needs a quiver of go-to looks for different occasions. But my signature is probably a luminous purple eye. My mainstay products to create this look are the Urban Decay Eyeshadow Primer Potion (opens in new tab), Naked Ultraviolet Palette (opens in new tab), and the 24/7 Glide On Eye Pencil in shade Psychedelic Sister (opens in new tab). I top my eye off with our Lash Freak Mascara (opens in new tab) and All Nighter Setting Spray (opens in new tab).
Self-Care Ritual
I listen to a lot of self-help podcasts, mostly when I'm feeling stuck, or need a different point of view. I'm working on learning how to know my own mind and feelings, then think, then act—the meditation helps with everything. My foolproof self-care move is a hot bath in the evening, with a bunch of magnesium salts thrown in. I love Dr. Teals Epsom Salts (opens in new tab) and Coach Soak (opens in new tab) in the citrus scent.
Quarantine Routine
The slower pace has given me a different perspective and has allowed me to explore a lot of the wellness ideas. I'm trying to sleep more and make sure I'm still exercising. I'm working on emotional wellness and I've pulled most of the sugar out of my diet. I used to rationalize dark chocolate snacking, but I've been slowing down and finding time to make meals, and eat good food instead of snacking. I'm spending less time in the car, which is a huge wellness booster! Although the pace has picked back up, the changes in the world have allowed me to make some pivots in how I live, and the pivots are sticking. I also believe that current world affairs will help us all see each other more clearly and feel more empathy.
Worth It
My Celluma Pro LED Device (opens in new tab) ($1795!) isn't cheap, but it treats wrinkles, pain and acne…and I have all of those things in my house. With athletes and teenagers under my roof, everyone uses the Celluma! There is real science behind LED light therapy, and I decided to take the plunge and buy one when my pro surfer friend was using the therapy to help recover from a concussion. The Celluma is a panel that bends, not a face mask, so you can mold the shape and use it anywhere. I love doing treatments on my décolleté too.
Cheap-But-Chic
I can't live without my Lansinoh Nipple Cream (opens in new tab)! It is so versatile. I got it as a gift after my first son was born, and I didn't like it as nipple cream. But I'm against throwing out good product, so I started experimenting with it. I found out that as lip balm, barrier cream, and cuticle cream, nothing beats it. Now everyone in the house uses it.
Beauty Icon
Gloria Steinem.
Best Career Advice
Realize that you have limited bandwidth, and learn to tackle the things that only you can do. Also, balance is the key to everything.
Hidden Talent
I gave my husband a really good haircut during the quarantine. And I am a master doodler—just ask anyone who's seen me transform a printed agenda during a meeting.
Lights Out
My optimal bedtime is 10 p.m., but I usually get to bed around 11:59pm. I always keep the Laneige Lip Sleeping Mask (opens in new tab) and a big bottle of water next to me. And the last thing I do is read a few pages of a good book. Right now it's The Mirror and The Light (opens in new tab) by Hillary Mantel.

For more stories like this, including celebrity news, beauty and fashion advice, savvy political commentary, and fascinating features, sign up for the Marie Claire newsletter.