Byredo's New Makeup Line Is Absolutely Dazzling
Buy it for the packaging alone.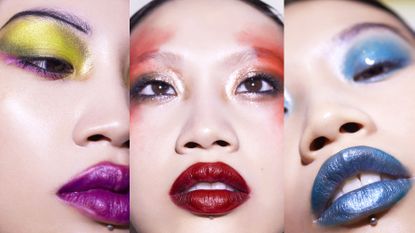 (Image credit: Courtesy of brand)
Byredo, the genius brand behind newly iconic scents like Gypsy Water and Lil Fleur, has launched a stunning new makeup line in collaboration with makeup artist Isamaya Ffrench. The collection that dropped today features the Colour Sticks–multi-use, brightly-hued cream sticks that can be worn on the eyes, lips, or cheeks. The colors range from Versaille-esque golds to '70s disco blues, so every taste is met. Also launching are Byredo lipsticks, which come in satin and matte formulas, and are housed in pretty spectacular metal casings. There's also mascara, liquid liner, and lip balm.
This collection, the brainchild of Byredo founder Ben Gorham and Ffrench, brings the classic Byredo aesthetic to a whole new level. The packaging alone is enough to get excited about—a twist on Byredo's classic minimalist style, fashioned into tools that look more at home in a museum than your makeup shelf. Each product is an artistic object–both in design and practicality; effective, stylish, and innovative. And, as evidenced by my selfies, you don't need to be a makeup artist to make these work because everything is made to be easily applied in whichever way feels most natural. My personal favorites are the Colour Sticks and Lipsticks: The pigment payoff is insane, and there is literally no way to apply them incorrectly. Dabbed on with fingertips or a brush, bold eyes and lips are just a swipe away. This isn't the last you'll hear about Byredo stepping into the makeup game, either–the brand has a stunning eyeshadow palette in the works as well. Stay tuned!
Shop Byredo's New Makeup Launch
Tatjana Freund is a Beauty Commerce Writer, covering makeup, skincare, and haircare products and trends. She's a fan of vodka tonics and creepy Wikipedia pages.